SAARC Literary Festival: Speaking up for a Cleaner World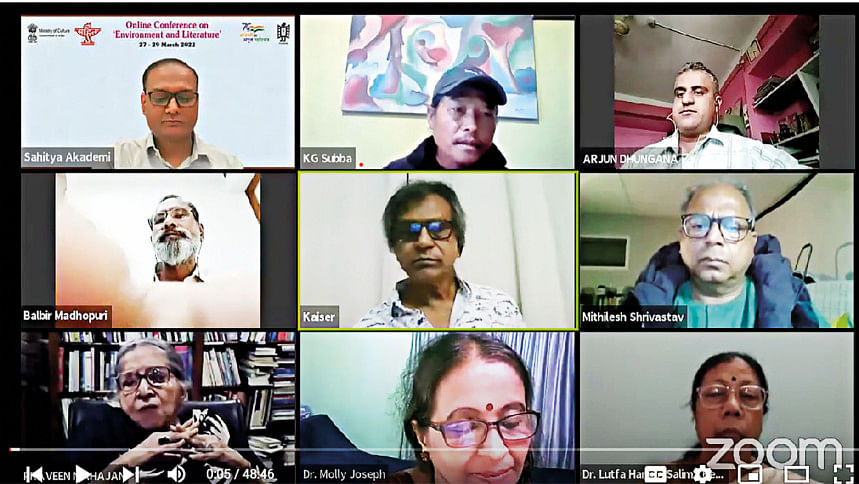 Like all previous years, many writers, poets, translators and academics from Bangladesh participated in the conference.
This past March, Sahitya Akademi and Foundation of SAARC Writers and Literature (FOSWAL) arranged an online Literature Conference on "Environment and Literature" with participation from Bangladesh, Bhutan, India, Myanmar, Nepal, Sri Lanka and Thailand. The three-day conference spanned through March 27- 29 where writers from all the above mentioned countries read from their work and engaged in discussions and conversations. All the sessions of the conference went live on youtube.
Ajeet Cour, the Chairperson of FOSWAL and one of the organizers, in her welcome speech set the tone of the conference: "It is high time that we talk about our own problems related to our environmental degradation, butchering of our forests, neglect of our beautiful sea-coasts, mindless expansion of our industries on cultivable land, melting of our glaciers, our oceans sighing with anguish called Tsunamis, drying up of our water bodies effecting not only human life but also the lives of birds and animals and fish."
Like all previous years, many writers, poets, translators and academics from Bangladesh participated in the conference. Some of the highlights of the conference include conversations and interviews of authors such as Syed Manzoorul Islam, Kaiser Haq, Selina Hossain, Niaz Zaman, Fakrul Alam, Muhammad Nurul Huda, Jharna Rahman, Bimal Guha and Ashraf Jewel.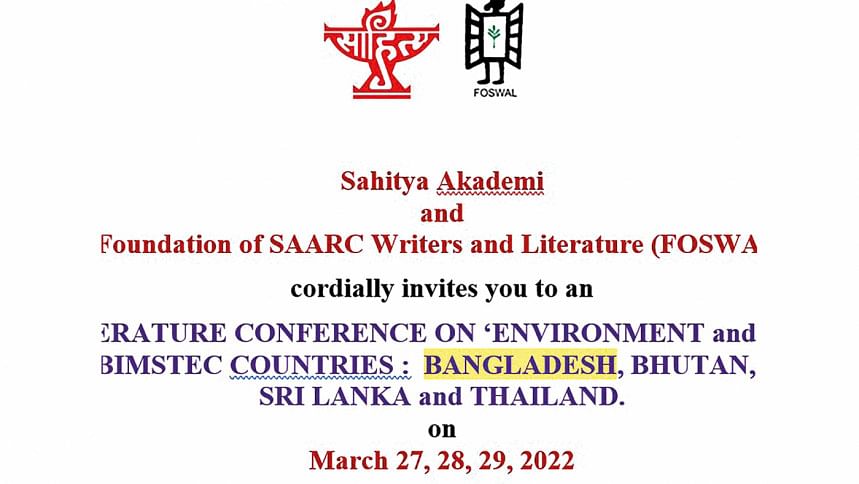 Since the umbrella topic of the conference was environment, the discussants and readers mainly focused on that aspect in their writing and reading. Prof. Fakrul Alam in his interview by Shakhaowat Hossain went on to speak of Melville and how early in his career he wrote on Melville and the effects of industrialization on cities. In 2012, he also had read a paper at FOSWAL conference on Rabindranath Tagore and eco-criticism. Renowned author and critic Prof. Syed Manzoorul Islam drew attention to an interesting aspect of the oral tradition of story-telling. He pointed out how environment is entwined with oral tradition. Writer, translator and academic Prof. Niaz Zaman read from her novel The Baromashi Tapes that tells the story of migrants who communicated through recordings before the days of cell-phones and the Internet.
Among other sessions of interest and significance for Bangladeshi audience was the sixteenth session that took place on the last day—a panel in which the renowned poet and academic Kaiser Haq was in conversation with Sanjeeda Hussain and Ashraf Jewel was interviewed by Faruq Sumon. Kaiser Haq also chaired a poetry session and read out from his own work.
Alongside the literary readings and interviews, the three-day program also incorporated academic papers from scholars who spoke on various issues regarding climate change and environmental problems. It is indeed a credit to the organizers that even during the pandemic they were able to make three consecutive conferences in two years. Ajeet Cour ardently hopes that the next conference in November 2022 will be held offline in India.