'Cow': Sehri Tales selections, Day 17
The top selections in poetry, flash fiction and artwork for Day 17 of the Sehri Tales challenge; prompt: Cow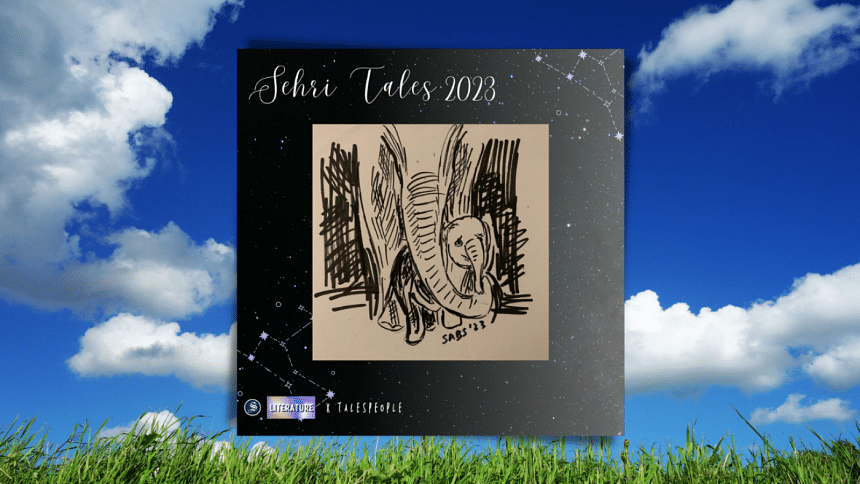 I.
I was just about to tuck into my bed when I heard the mournful moo of the cow in the shed. There was something eerie about the way she sounded, almost chilling. 
As I got out to investigate and approached it, I noticed something strange. Eyes glowing like the embers of a dying fire, and what was once hooves were elongated talons. It turned towards me, and a  cold voice that seemed to come from the cow itself said, "Run". 
And so I ran, I ran out into the dark night, as I heard an unearthly laughter, that seemed to emit from the ground itself. 
by Redwan Islam Orittro 
II.
It all started as a harmless joke. We were the only two Bengali girls in our class and our biology teacher found it very entertaining to refer to us both as 'mishti meye - thik mishti kumro, tai na?' as the bored biology students melted into laughter. Predictably, the phrase caught on.
M & I took it sportingly, we retorted by calling them all - especially the boys - Cows, or in Bangla a loud 'GORU'. They too took it sportingly. For we would often return to the classroom after break to find stickers of cows on our bags, or a photo cut out from a cheese packet inside a textbook etc etc. These pictures of cows started ending up in random bags and books or we would refer to any boy out in the classroom as 'Hei Goru! Do you have an extra pen?' High school was seemingly full of laughter and delight.
Some nineteen years later M & I met up in London after not having seen each other for nearly 10 years. We posted a selfie right from the station. Within minutes an old mate from our class messaged us asking if we were at Liverpool Street Station, he had just seen the post and it just so happened he was at the station too. We located him standing in front of Costa Coffee. M & I exchanged one look between us, roared out 'GORUUUUUUUUUUUU!!!'and ran to him with our outstretched arms.
It was the best Goru meetup ever!
by Muneera Mun
III.
The cow is a domestic animal. So is the Advanced Learners' Communicative English. 
by Muntasir Mamun