Making rural infrastructure resilient
Bangladesh should make its rural infrastructures such as roads, bridges, schools, hospitals as well as houses resilient to make them durable and safe so that they can help sustain economic growth.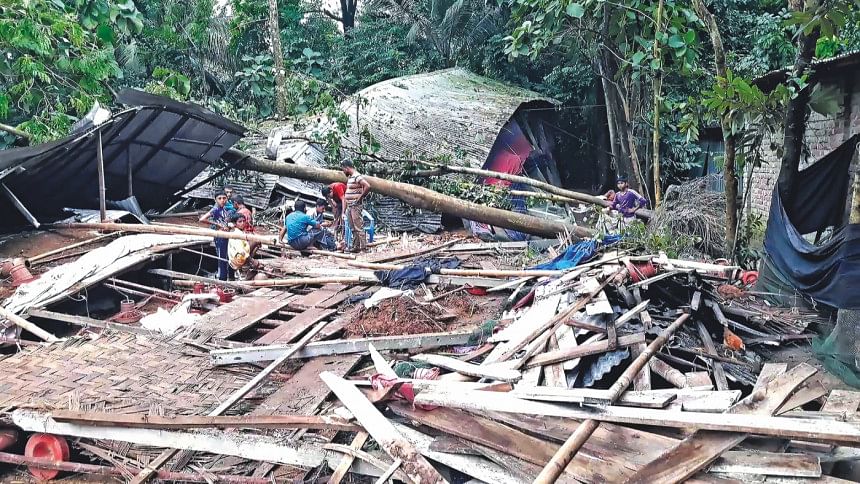 Bangladesh should make its rural infrastructures such as roads, bridges, schools, hospitals as well as houses resilient to make them durable and safe so that they can help sustain economic growth.
"It's a must for an infrastructure to be resilient and sustainable. It is even more important in the context of climate change," Hossain Zillur Rahman, a noted economist, said.
"Given the country's population density, infrastructures are heavily relied upon. So infrastructures should be resilient in the context of intense utilisation. As the country has limited resources, we need to be resilient in that context as well."
Khan Mahmud Amanat, a professor of the civil engineering department at the Bangladesh University of Engineering and Technology, said currently Bangladesh does not face dearth of quality raw materials as local companies can produce high-quality key construction ingredients.
There are steel and cement manufacturers who maintain global standards and follow all the processes to maintain quality. But infrastructure projects are not up to par because of bad construction practices by contractors and masons. Their lack of skills is responsible for it.
"No matter how good the construction materials are, if the contractors and masons don't apply the appropriate skills, you will not be able to get a structure of the desired quality."
"As a result, the infrastructure will have less durability. We should be careful about it," said Prof Mahmud.
He said when it comes to the high-rise buildings and structures that are being built in major cities, the developers and contractors are maintaining some sort of quality. But a lot of construction projects are taking place beyond the major cities and in rural areas and the quality of work in those projects is bad.
Prof Mahmud thinks raising awareness among the general public holds the key to ensuring construction of better infrastructures.
"Major campaigns are needed to this end. The media has a role to play to spread awareness."
"Besides, rules have to be stricter. Skilled workforce has to be employed at the local municipalities and other agencies that oversee the construction of these projects so that they have better control."
According to Prof Mahmud, if the country can't ensure quality infrastructures, there will be huge economic impact.
"If we use quality construction materials and follow proper standards, the lifespan of a project will be 50 years to 100 years. But if they are not built properly, they may face damages after just a decade. This is already happening.
"This means we will be compelled to spend the money to build an infrastructure after just 10 years instead of after 50 years."
Md Tarek Uddin, professor of the civil and environmental engineering department at the Islamic University of Technology, said resilient means it would be sustainable and it will withstand the impact of natural disasters such as floods, earthquakes and cyclones as well as salinity.
"We have to put in place infrastructures that are not damaged easily."
Resilient infrastructures have a role to play in the achievement of a number of Sustainable Development Goals (SDGs).
Prof Tarek said Bangladesh should build infrastructures in a manner such that energy consumption is reduced significantly through good design. Residential buildings and infrastructures consume 40 percent of all energy in the world.  
Prof Tarek suggested passive design, an approach to building design that uses the building architecture to minimise energy consumption.
He said a major part of the country's gross domestic product (GDP) comes from the rural areas. So, if the country could make the infrastructures in rural areas more resilient, it would go a long way.
According to Prof Tarek, earthquakes are becoming frequent. So, if structures are built using brick walls instead of reinforced concrete columns, then they would be highly susceptible to the impacts of earthquakes. There has to be a minimum number of columns so that the structures can move in case of earthquakes, instead of caving in.
He said there is a lot of salinity in coastal zones such as Chattogram, Cox's Bazar, and Khulna, so any structure in these areas has to be built using proper design and quality materials so that it is able to withstand the salinity. 
He recalled that thousands of cyclone shelter centres were built in the 1990s but many of them were damaged within 10 to 15 years.  
Prof Tarek said there is a complete lack of awareness about making an infrastructure or structure durable on the part of the users. There is, however, some awareness within the government.
The government should take up some programmes in rural areas to raise awareness among all stakeholders, including planners, designers, contractors, sub-contractors, and masons, about the importance of a resilient infrastructure, he said.
He said there is a need for long-term planning when building an infrastructure.
"There might be some initial investment, but the risk factors will go down tremendously and there will be an overall benefit. When they see the long-term benefit, they would be interested in building a durable infrastructure."
Prof Tarek said existing infrastructures such as schools, hospitals, government office buildings, and even houses are not resilient. This is a major problem.    
Tapan Sengupta, deputy managing director of BSRM Group, said there is no alternative to using quality construction materials to build sustainable infrastructures.
"You will have to use quality products for longevity. It is not for one-time use."
He said most steel-makers look at the storage facilities of dealers before awarding dealership to them to ensure that the quality of the product remains intact. So, there is no problem with the availability of quality steel products.
Many infrastructures such as schools, roads and bridges across the country are in a dilapidated condition. But Tapan Sengupta said this can be avoided if the people who are in charge of supervision of projects put in additional effort.
If quality materials are not used and quality work is not delivered, the life-cycle cost goes up tremendously at the end of the day, he said.
Amirul Haque, managing director of Premier Cement, also emphasised on quality construction materials and quality work.
He said Bangladesh is producing high-quality construction materials. What the country needs is good workmanship. "We have to emphasise on producing qualified and skilled people."
Prof Zillur said an infrastructure's lifespan erodes mainly because of two reasons.
"If there is corruption in the implementation phase of a project, it will eat away the structure's longevity. Another reason is this: in our entire infrastructure-building approach, we don't prioritise the issue of maintenance."
Prof Zillur, also the executive chairman of the Power and Participation Research Centre, an independent think-tank, said in Bangladesh, the whole bureaucratic and resource allocation culture is to set up new buildings, not maintain the existing ones.
His suggestion is this: where infrastructure-building is important, it is crucial to address the issue of corruption, incorporate resilience in the design, and promote maintenance culture.
In fact, it pays to make homes safer and schools more resilient.
Recent research studies suggest that investing in resilient infrastructure can provide a net benefit of USD 4.2 trillion in low- and middle-income countries, with USD 4 in benefit for each USD 1 invested. Such investments can then improve essential services such as transport, or water and electricity supply and contribute to more resilient and prosperous societies, according to an article published on the World Bank Blogs website recently.
Investing in safe and resilient infrastructures, including homes and schools, saves lives, protects livelihoods, and safeguards development, the article said.  
In a foreword of a World Bank report, entitled "Lifelines: The Resilient Infrastructure Opportunity", published earlier this year, Kristalina Georgieva, then chief executive officer of The World Bank, said resilient infrastructure is about people.
"It is about the households and communities for whom infrastructure is a lifeline to better health, better education, and a better livelihood. It affects people's well-being, their economic prospects, and their quality of life," she said.
Kristalina, currently the managing director of the International Monetary Fund, said in developing countries, infrastructure disruptions are an everyday concern. When an infrastructure fails, it undermines businesses, job creation, and economic development.
With rapidly growing populations and a changing climate increasing the frequency and intensity of natural hazards, the need to adapt and invest in resilience should be an urgent priority, she said.
But there is good news. Around the world, there are many examples of investments that make infrastructure more resilient and more economically robust.
Kristalina said rather than just spending more, the focus should be on spending better.
"The message for infrastructure investors, governments, development banks, and the private sector is this: Invest in regulations and planning, in the early stages of project design, and in maintenance. Doing so can significantly outweigh the costs of repairs or reconstruction after a disaster strikes."