How to overcome the infrastructure deficit in Bangladesh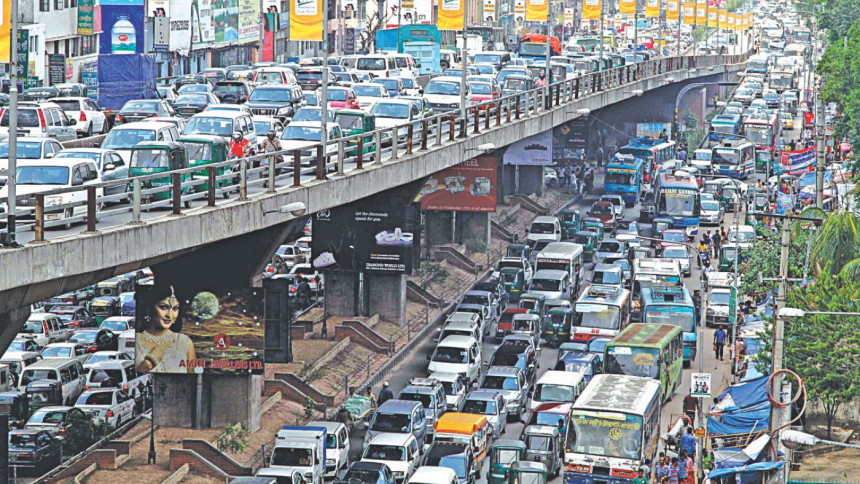 Bangladesh is making rapid progress in terms of building infrastructure. As we are on the way to becoming a middle-income country, I am hopeful that we will see a lot of development work in the next couple of years.
We can see great progress in infrastructural development for roads and highways. As a member of the expert committee of the Padma Bridge, I believe its completion will be a boon for the country. The government is also building the Karnaphuli River Tunnel. Such initiatives are significant for strengthening the infrastructural backbone of the country. Given the progress in the reduction of commuting time from Dhaka to other districts as well as agricultural development in many parts of the country, I am hopeful about more positive outcomes from the ongoing infrastructure projects. 
However, the country's real estate sector did not make much progress in the last few years. There is a lack of focus on making housing facilities affordable for all. For example, despite being such an old and prestigious institution, BUET still does not have proper accommodation facilities for both faculties and students. The intake of students is increasing but the residential halls in which they live are in a very poor condition.
Another big challenge is timely implementation of the ongoing infrastructure projects. The construction of Padma Bridge, for example, was expected to be completed by December 2018 but that did not happen. The Dhaka-Chittagong Highway is yet to be fully completed. We lack expertise in foreseeing the implementation barriers. There is lack of accountability in the implementation process which we must overcome.
The construction quality of some of the large infrastructure projects is also questionable. One of the major reasons behind poor quality of these construction works is that the Public Works Department (PWD) is not involved in these constructions; these projects are mostly handled by private organisations that lack adequate skilled workforce.
Public institutions, such as RAJUK, are still unable to undertake quality construction work; many of their own buildings are faulty. How can the private sector be expected to have quality construction if the public sector cannot ensure quality? The government should form a committee or an advisory board comprising of technically sound people to ensure standard of public construction work, particularly for the mega projects. 
Moreover, lack of sufficient knowledge about handling mega infrastructure projects is also affecting quality of our constructions work.
The major problem in Dhaka city is unbearable traffic congestion. I had proposed a plan for constructing underground railway lines which would have four tracks and eight lanes. The current design of the railway line is flawed. The line has to pass 70 feet over the Mohakhali Flyover to have proper implementation and usage. Such procedures are complicated, and therefore, underground railway is a better solution. 
Moreover, we have not been able to decentralise Dhaka. As a result, there is too much traffic inside the city, and the existing transportation infrastructure is inadequate to cater to the overwhelming population pressure.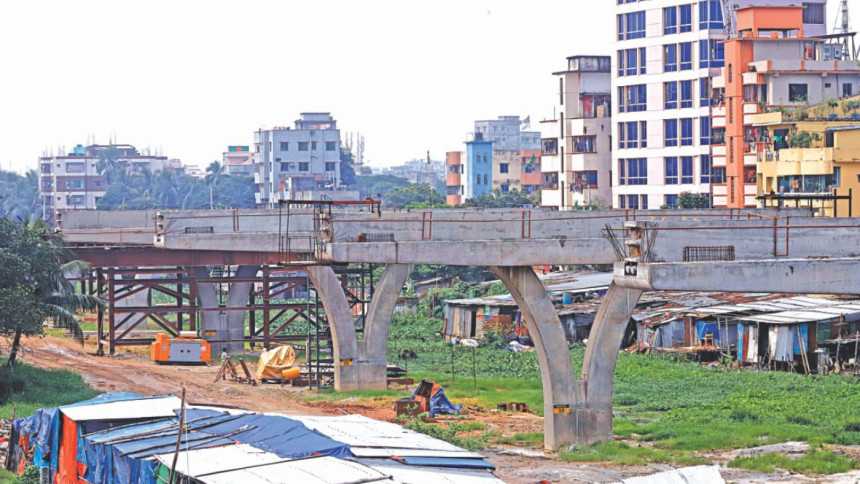 Most of our so-called flyovers do not meet the criteria of an effective, standard flyover. For instance, the Mohakhali flyover is more suited to be called an overpass. The flyover from Bijoy Sharani to the Rangs building can be considered a connecting overbridge. There is also a flyover for left-hand drive vehicles in Dhaka, which makes no sense in a city that caters solely to right-side drive vehicles. The flyover at Kuril, however, fulfills the criteria of a proper flyover.
There have also been projects to install bypasses in different parts of the country. For example, we have Bogura bypass, Comilla bypass, etc. However, these bypasses get damaged within two years. We need to address these issues seriously to reap full benefits of the huge spending of public money. We cannot solely blame engineers for such faulty constructions; people responsible for allocating money and projects should also be held accountable.
Moreover, the planning of Dhaka is very poor. Many offices and academic institutions have been built along a single road, which causes serious congestion. For example, there are two universities and one hospital on the same road in Mohakhali. The existence of such huge constructions in a limited space is unfeasible. The government needs to be more careful about giving permission for such constructions.
Regarding the solution to our infrastructure deficit, we first should develop a strong railway network around the country within the next five years. Neighbouring countries like India and Pakistan developed their railway system long ago. I believe if we could properly develop our railway system, we wouldn't need so many roads and transportations. A train has the capacity to accommodate the load of at least 100 trucks and 50 buses. Moreover, it is a cheaper and less time-consuming means of communication. I would suggest that double lanes be constructed along the railway route connecting Dhaka and Chittagong. 
We also need to pay proper attention to the improvement of our river routes. Due to lack of regular dredging, riverways are shrinking dramatically, and that seriously hinders transportation in the river routes. 
Third, all the inter-district connecting roads should be built as elevated roads. These elevated roads will be like railway lines. These will protect our agricultural lands while ensuring that there is less congestion on the roads during adverse situations like heavy rain.
The Dhaka Metro Rail, which is currently under construction, cannot be the only solution to our traffic problem. We need to focus on how we can better utilise the existing facilities, such as flyovers and footbridges, inside the city.
The overall transportation system should be given greater priority as people's mobility is increasing day by day. Their purchasing power is also increasing, so the government needs to strategise as to which mode of transportation should be prioritised. Last but not the least, we must ensure strong engineering control over the design and construction of any infrastructure.
Professor Dr M Shamim Z Bosunia is the Chairman and Managing Director, Abode of Consultants (Pvt) Ltd.