A memorable journey to Nafakhum 
What about a few days out of network, away from the hectic city life, amidst nature and lovely people? Do you want to experience such solitude and peace?
 I recommend you to visit Nafakhum, the site of one of the country's largest and most beautiful waterfalls. And if you think you will be spending your time and energy only to see a waterfall, you are wrong. The journey to this khum (natural water reservoir) will pay you more than you expect, guaranteed. 
 In July this year, I visited this remote place in the hilly Bandarban with five of my friends.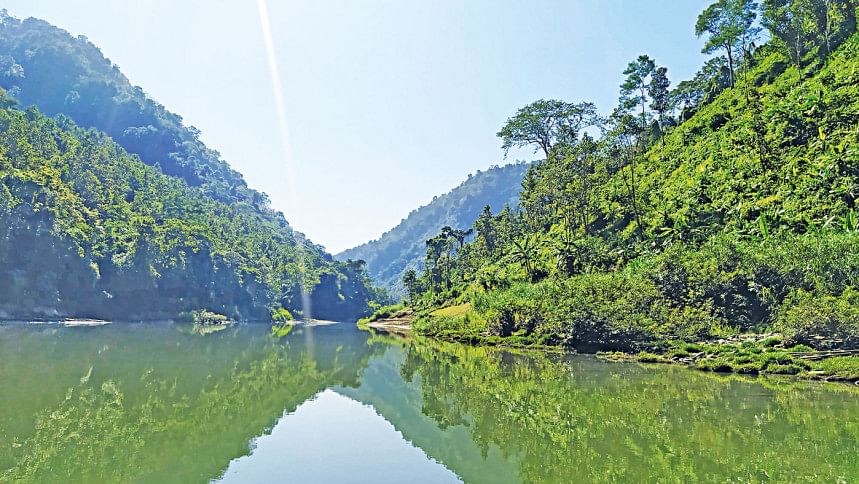 Since 2020, we decided to visit places that require trekking at least once a year. Last year, we went to Marayong Thong in Alikadam, Bandarban. And this year, it was Nafakhum.
 After a whole night's journey, we reached Bandarban from Dhaka around 4:00 am. From there, we took a 4-hour bus ride to Thanchi. 
As we reached Thanchi late and there was not enough time for making the trip to Remakri, we stayed the night at a resort. The sunset views from Thanchi Bridge were stunning.
In the morning, we hired a boat to Remarki. The boat journey through the Sangu River was thrilling as well as rewarding. Everything we saw on both sides of the river seemed rightly tuned by nature.  And it got better as we progressed. The high hills on both sides of the river became greener, the air got crispier. The opportunity to see the lifestyle of indigenous people in close quarters was a humbling experience.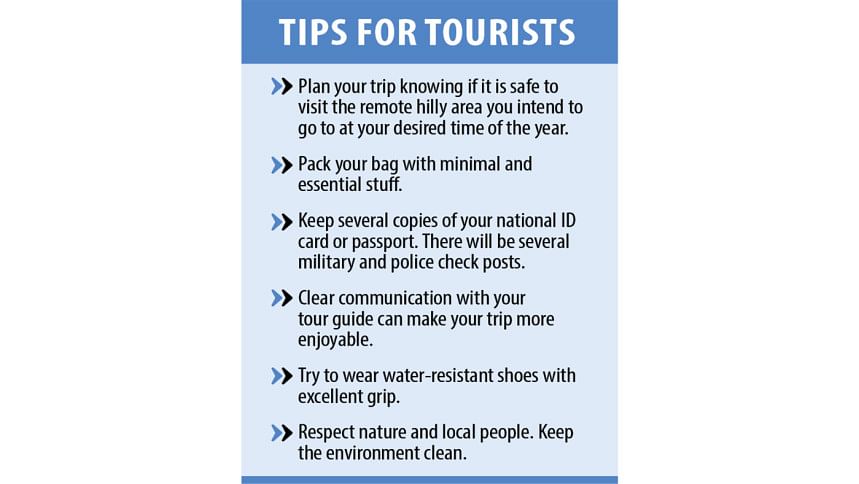 On our way to Remakri, our guide showed us two significant sites: Boropathor and Remakri Falls. Though the river looked harmless near Thanchi, the boat ride after Tindu became challenging.
 Our boatman had to turn off the engine for half an hour to have a better hold of the boat while crossing that part of the bumpy, fast-flowing, boulder-strewn river. It was almost like rafting!
 It also took away the mechanical sound, the only annoying part of the ride, and allowed us to emerge in the solitude of nature.
 Though the name Boropathor refers to a giant rock, the river at that point had several large boulders.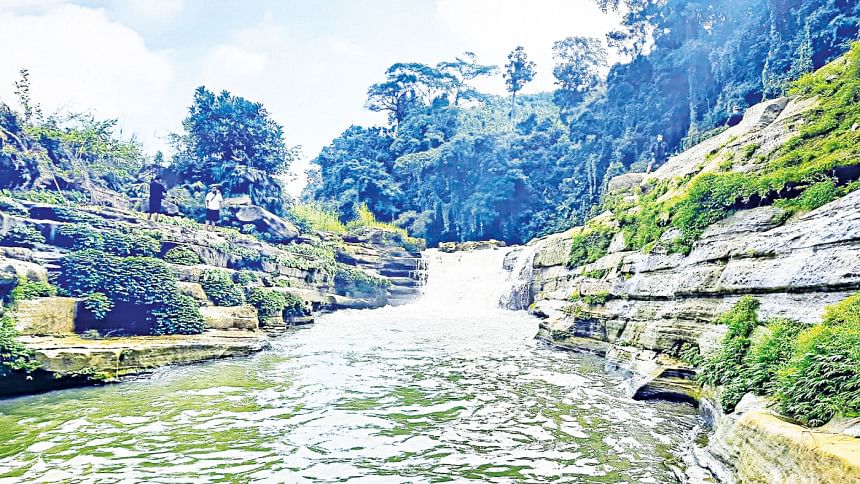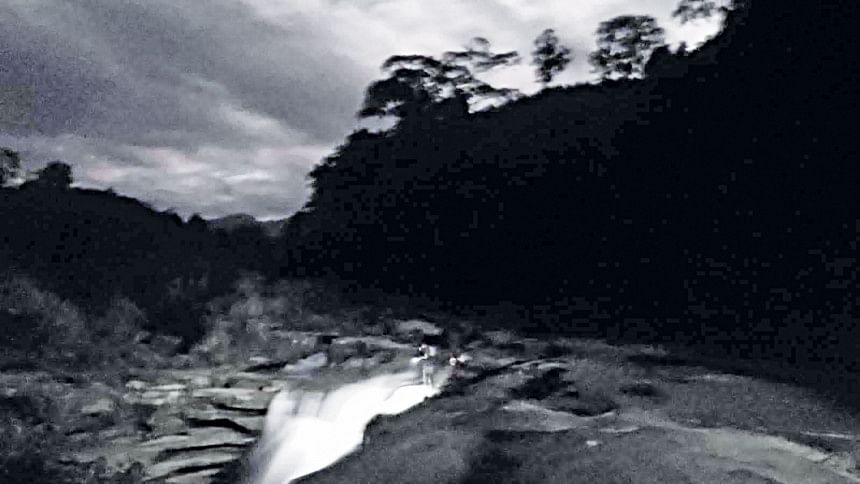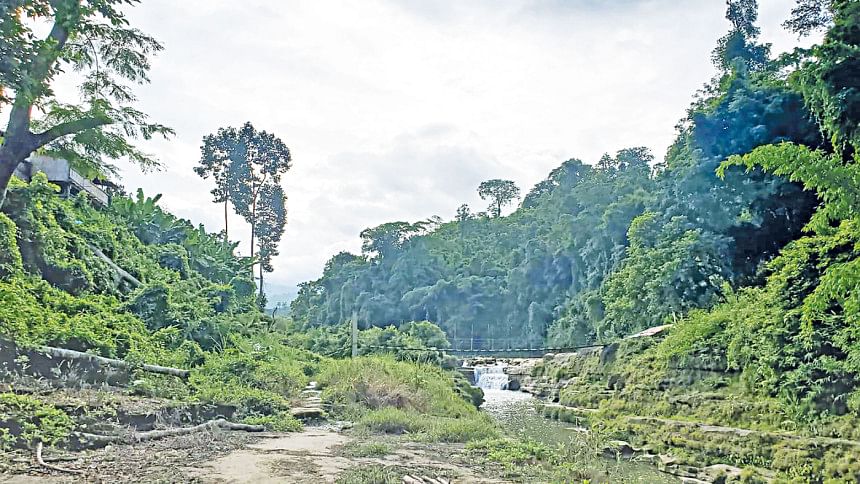 Remakri falls were not the regular falls one can imagine. It is one of those distinctive falls where water streams through steps of rocks made by flowing waters over thousands of years.
 An interesting fact was that whenever we encountered any local villagers on our way to Remakri, every single one of them waved at us with a big smile. It was so heartwarming! 
 We reached Remarki, a union of Thanchi Upazila, after around two and a half hours.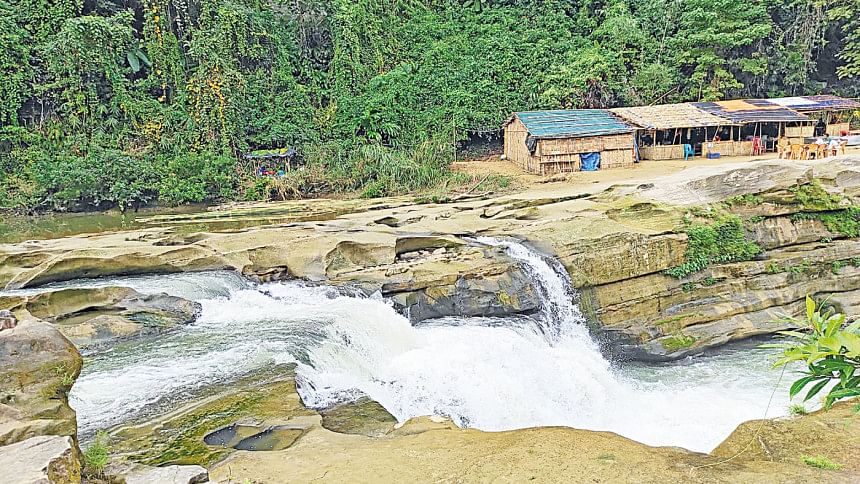 The three-hour-long trek to Nafakhum started from there. However, it might take less than three hours for seasoned trekkers.
Honestly, the trek was quite challenging. But the pleasant gestures from the indigenous people and the stunning landscape gave us the fuel to complete it. Whenever we came across a local shop, the shop owners offered us water and fresh fruits! 
 We reached Nafakhum a few minutes before sunset. As it was mid-July, the roaring waterfall above the khum was stunning.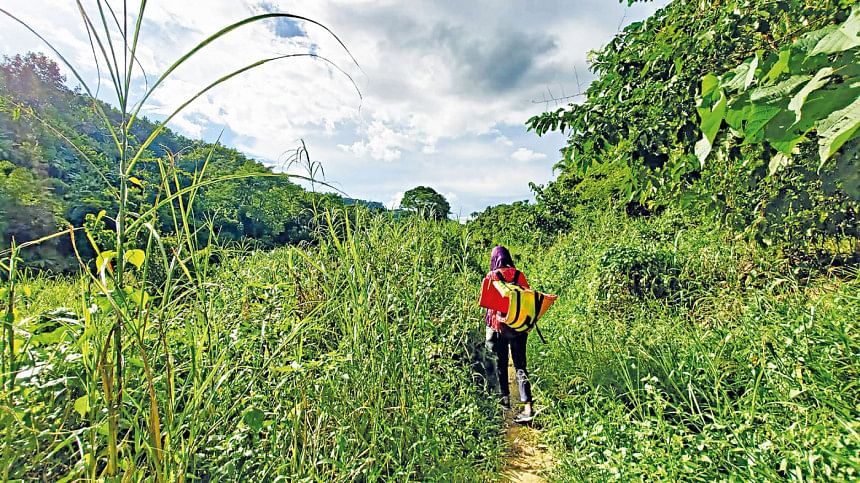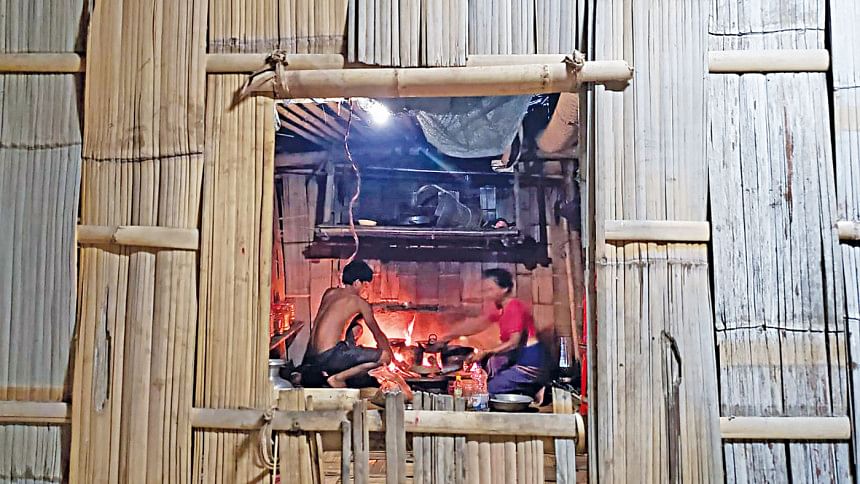 The fall is on the Remakri canal, a tributary of the Sangu River. Here the wild canal suddenly falls down about 25–30 feet.
In the rainy season, Nafakhum can be accessed by boat from Remakri. 
 Tourists must hire a local guide from Remakri. We hired Larma, a 19-year-old charming man, who arranged for us a cottage in Jinapara, the village of indigenous Marma people, right by the waterfall. We stayed there for the night.
 The people living in the para were humble and cooperative. Even though tourists like us were kind of infiltrating their regular lives, they did not complain or show us any sign of irritation, not even once. We, who visit there, should not be the cause of any inconvenience to them.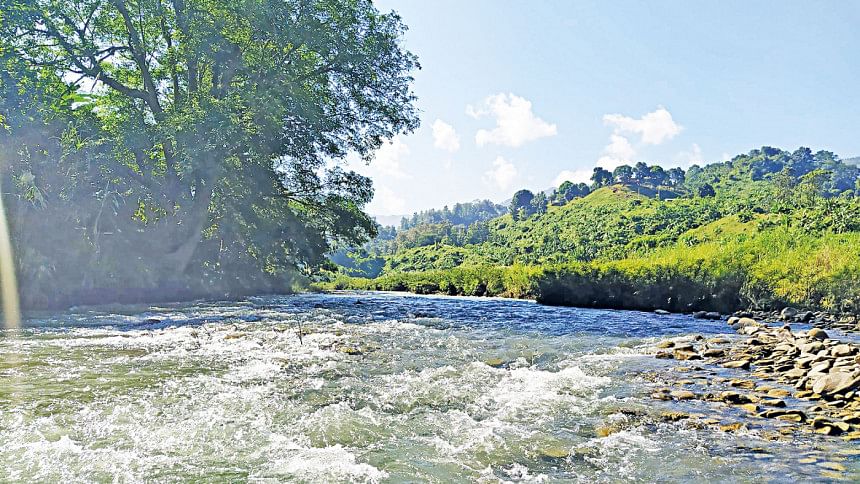 There was no TV, no mobile phones, and no network there. But there was a big moon hanging in the sky full of stars. Without any notifications popping up on our mobile screens, it felt like we were living somewhere outside of our known world.
That night, amidst friends and nature, will always be dear to my heart.
 We started our trek back to Remakri early in the morning and got back to Thanchi around 1.30 pm by the same boat we hired.