'Won't go down without a fight'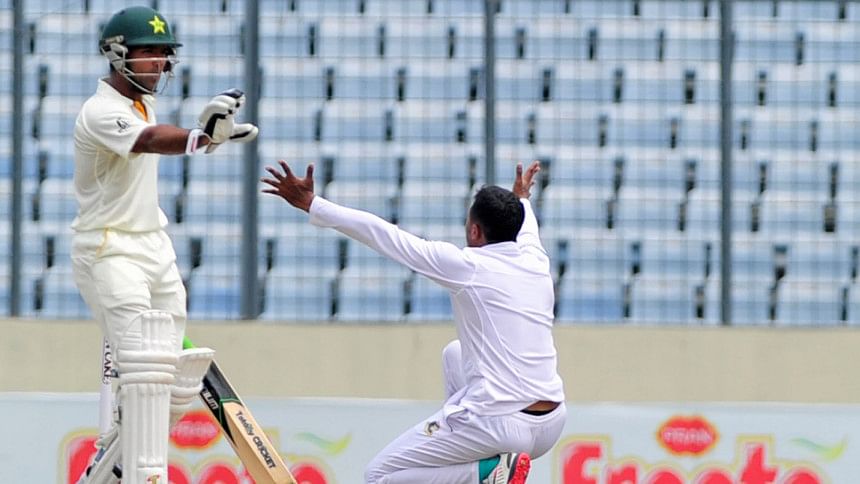 To say that the Tigers have an uphill task ahead of them would be an understatement. They can either go for those 487 remaining runs or aim to merely survive at least 180 overs, either way the hosts are likely to give this one away.
The stats are heavily against them. Bangladesh have batted more than 180 overs just once -- at Galle in 2013 when they batted out 196 overs -- and the highest ever total chased down in the fourth innings of a Test is 418.
Even the generally optimistic Shakib Al Hasan yesterday admitted that there was a very slim chance of surviving the last two days.
"It's difficult to be a soothsayer, but as per the current setting we are expected to lose this Test. The wicket isn't like the one in Khulna. There is uneven bounce here and the pitch is changing.
"All together, it's very difficult. But then again we can get inspiration from the last Test and if the top order can score centuries and have good stands then maybe it can have a good effect in the dressing room," said Shakib.
"Tamim [Iqbal] is set and Mominul [Haque] began well. If we can survive the first hour without losing wickets then we can hope for something good… what I personally believe is that we won't leave this match without giving a fight," he added.
Pakistan decided against enforcing the follow-on despite taking a hefty lead but the decision surprised Shakib. "I don't know why they did that because they were in a good flow and it was their best time to attack. If we can put up a good stand tomorrow they will be thinking about the decision and it might get them a bit tensed," said the left-hander.
While skipper Mushfiqur Rahim's decision to bowl first invited criticism from various quarters, Shakib felt that the hosts were 'lucky' to have won the toss.
"Had we chosen to bat and lost four or five wickets, the game would have been over by today [Friday]," he said.
He further revealed that apart from the injury of Shahadat Hossain, Jubair Hossain also injured himself right before the start of the Test.
"These kinds of things don't happen in a Test match. Then there were the no-ball wickets as well… maybe they would have been four or five down by lunch on the first day. Anyhow it was an unfortunate series of events," reckoned the left-hander.