India have everything to lose: Rohit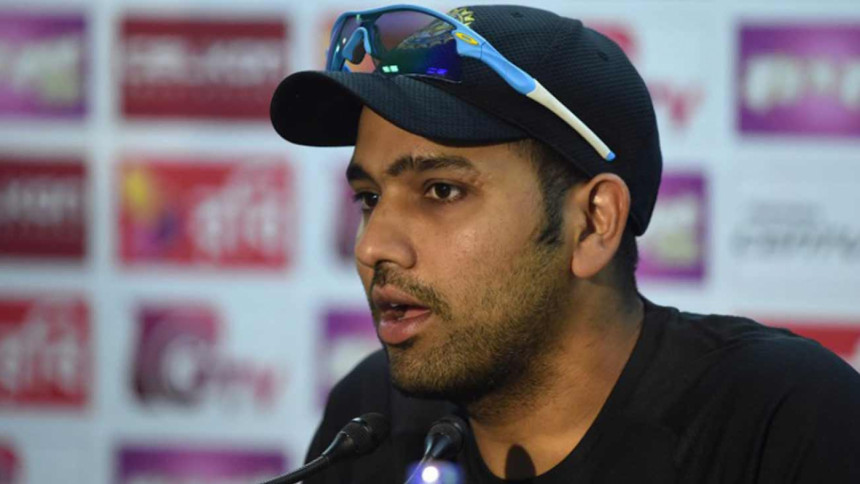 They posted 300-plus, and were resourceful enough to cure a middle-order wobble. Their bowling was combative. Their celebrations were electric, and at times, caustic too. Bangladesh's 79-run win on Thursday indicated they were not overawed by India's pedigree as a one-day team. Their victory left the three-match series on a knife edge, and the onus on the visitors to keep it alive.
Rohit Sharma, amid dead-batting queries over if India were under cooked or caught off-guard, said the stakes both teams had on the line could be a contributing factor to the way things progress.
"They have got nothing to lose. India have everything to lose," Rohit said. "We have to be extra careful in what we do. We understand that coming to their territory we expected them to play this way. But that is no excuse. As professionals we should be aware of the opposition's strengths and weaknesses. I am sure we will be more prepared in the next game."
One concern that always rears up for India is the fast bowling. Mohit Sharma went for 53 in 4.3 overs. Umesh Yadav's two wickets came off a rank short ball and a full toss of equal vintage but besides that, he conceded 7.25 runs an over, according to ESPNcricinfo. Bhuvneshwar Kumar could not provide India with breakthroughs at the top of the innings; his two wickets were of tailenders. Things had been so bad in the first ODI that MS Dhoni had to resort to using Virat Kohli in the final 10 overs to try and suppress the Bangladesh middle-order's momentum.
"The wicket looks quite similar to the first game," Rohit said. "Generally it tends to play very similarly throughout, and tactically we need to understand where we lack in the first game. It's always important to take wickets up front. That is something we will be focusing on: to get early wickets. It always builds pressure when you take early wickets. That was missing in the first game.
"They (Bangladesh) got the momentum early. They got a hundred-run opening partnership and from there they played fearless cricket. They kept going after our bowlers. But our aim should be very simple. Try and take early wickets, if we bat first or bat second doesn't matter.
"We have to take wickets at regular intervals which holds the run-rate and the momentum back a little bit. We need to try and do that. And we've got quality bowlers, quality spinners who can do that. So, hopefully tomorrow is the perfect game for them to come out and deliver again."
Rohit believes the means to do that was for the bowlers to be unpredictable. In the first ODI, the quicks had resorted to hitting a back of a length - a trend that has become quite popular in modern-day cricket to try and keep the batsman in check - rather than pitching the ball up.
"We have to mix and match," he said. "You can't just keep bowling the same length again and again. We have to be aggressive; aggressive means we do not mind bowling bouncers at them whenever it's required. We need to understand their batters' weaknesses. We have played quite a bit against them, the bowlers have a clear picture in their mind as to what their weaknesses are. We just need to exploit that."
Leaving the burden of making changes to the management, Rohit highlighted on the importance of adjusting to the Mirpur pitch which has two versions: slow and slower. He also indicated there were lessons to be learnt from 19-year old Mustafizur Rahman's bowling, especially his extravagant use of offcutters, both for the batsman to counter, and for the bowlers to replicate, says ESPNcricinfo.
"As the ball gets older and as the game progresses, the wicket is going to play slower and slower and I think that's where they (Bangladesh made the most out of it. Initially with the new ball Mustafizur was not getting that grip. So I think we need to understand that once the wicket gets slower, how we need to play and what shots we need to play. And also we need to be aggressive."
Although Rohit conceded there were some "stupid shots" played during the first ODI, the general idea had been to take the game and their opposition on. It appears that part of India's plans would not quite change.
"As a batting group, it's our responsibility to bat as long as possible and get the team into a good position," he said. "At the same time, we have spoken about playing aggressive cricket. While doing that you will have to play a few shots and you may get out, that's the nature of the game right now.
If you look at the way cricket is being played today, its gone to the next level surely. So I feel its always important for the guy who is batting in the middle, to take the responsibility of batting for a long period of time. Every batsman who goes in wants to do that but there are times when the batsman is trying to take the game away from the opposition, while doing so there are chance of losing a wicket."