The Taskin Ahmed story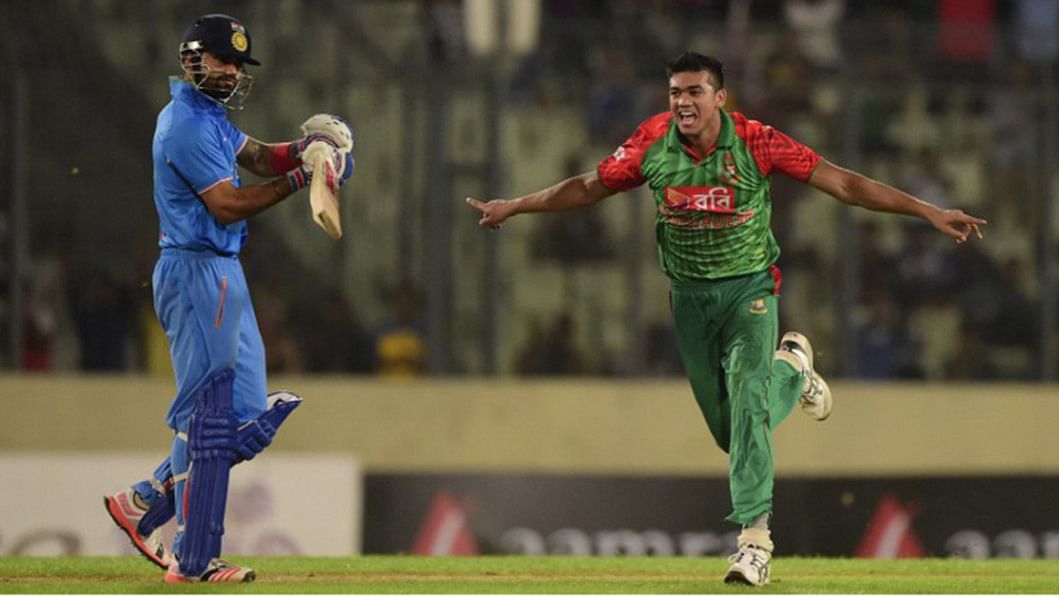 -When I was 12, my father broke a bat on my back.
-In my debut first-class season (2011), I injured 17 batsmen.
-My mother's wish is to watch me play in IPL.
In an exclusive, candid chat, Bangladesh fast bowling sensation Taskin Ahmed opens up on his journey thus far.
With an uncertain career span and an overtly-taxing workload in times of break-neck batting feats, the decision to pick up the red cherry and vow to be a fast bowler is not easy.
As cricket frequently changes attire, adhering to the demands of the changing times, the rigours of being a fast bowler have been on the ascendancy.
So, what prompts a youngster to walk down this rocky road and dabble with negligible margin of error?
A pacer from the East of the Brahmaputra, who steered clear of the preferred art in those parts - slow left-arm bowling - recalled his initiation with leather ball cricket.
January 10, 2007, he says, was the first time he set foot on the famed Abohani ground of Dhaka, irking his disciplinarian father (Mr. Abdul Rashid) who preferred academic excellence to exploits on the field, for his ward.
Bangladesh's Taskin Ahmed was all of 12 when he broke a 'strict curfew' at home and paid the price for it.
Interestingly, Taskin chuckles as he lays out the day's events that culminated in a back-breaking exercise.
"Normally in the afternoon I was not allowed to go out of the house. I used to go to school by 6 AM and return by 12 noon. My father told me I was allowed to go out of the house only by 5 PM and had to be back by 7 PM.
One day I went to the ground at 2 PM. So he was angry and broke the bat on my back. He'd bought me that bat only three days earlier," he says, clearly impressed by his own strength.
Three days later, a close-friend Kayyum tried to convince Taskin to break the curfew again.
Kayyum: Let's go to Abahani ground and start playing cricket with cricket ball and not tennis ball.
Taskin: No, no, not possible to go there now. My father broke my bat on me just three days ago.
Kayyum: Why? Let's go. You have a good action also. You can get selected.
Taskin: No, in some days my exams will start. I won't be able to come.
Taskin was mindful of the repercussions but approached his father for permission anyway, with a devious plan.
"Normally when my father is in a good mood, when he is smiling, I ask any questions or wishes. On that day, my father was watching TV and smiling, so I went to him and asked. 'Baba, Kayum was telling me about an Under-12 tournament. I want to go there'.
He was quite for a bit but then said 'Ok you can go, but not always. Just for a couple of days'. At that time my school was off for a few days." And thus, began Taskin's journey.
The impish smile resurfaces as the conversation veers towards his tall frame. While height is an obvious advantage to a budding fast bowler, it nearly cost Taskin his first big break.
"When the coaches watched my bowling, they said I can't play Under-12. My friends defended me but the coaches couldn't believe that I was under-12 because of my height. I was tall even back then. They did a medical test and I was selected in the Dhaka Metropolis Under-12 side."
His father has been the constant in Taskin's young, fledgling career. On the evening of 16th September, hours after Taskin limped off from the 'A' tour of India after bowling just five overs, his concerned father was on the phone, counseling him and inquiring about his travel plans.
It had taken Rashid some time to come to terms with his 'unusually naughty' son's career choice - he would schedule surprise trips to the ground to check if his son was really out playing.
The turning point came during an interaction with the under-12 coach on one such trip, who foresaw a bright cricketing future for his son.
Thereon, it wasn't a one-man show.
At 15, Taskin was thrown into the ring with 599 other aspiring fast bowlers from all over Bangladesh for the trials to a pace bowling foundation camp.
Only 20 graduated to the next level, with Taskin emerging as the youngest and the quickest of the lot after two months of strenuous training. trained and did everything with the big fellas, Taskin recalls with a sense of pride.
The primal instinct of a fast bowler is often to bowl faster than he already does. Two years after his exploits at the bowling camp, Taskin found himself satiating his need for speed.
The physical flexibility of a teenage body and the free-spirited nature of a pace bowler's mind formed a heady concoction, allowing Taskin to progress through the ranks of Bangaldesh cricket.
The psyche of a fast bowler makes for an interesting case study. There is a hint of irrationality in their preference for speed over accuracy and that is what endears them to the viewing public. Taskin is cut of a very similar cloth.
 "I always think that I'm a fast bowler. So I will never compromise with my pace. I love bowling fast. Over time, line and length will come," he says with conviction. There are also traces of eccentricity that have shaped many-a-great fast bowler of the past.
"In my debut first class season (2011), I played six matches in a row for Dhaka Metro and injured 17 batsmen. Some of them had broken shoulder, head, chest and fingers," Taskin says, with an eerie sense of accomplishment.
As the conversation helped us delve deeper into the young man's fascinating mind, there came an abrupt end as Taskin received a summon from the dressing room.
But, all good stories deserve to be told completely and the Taskin tales resumed after a day's intermission, in the backdrop of a five-star hotel room.
A side strain has cut into his A tour of India and he is scheduled to head home early next morning, but he squeezes in five minutes of time to complete his narration.
Seated amidst strewn kit bags in what Taskin describes as a 'messy boys room', our conversation resumes.
Injuries are occupational hazards to his discipline of the sport and he displays remarkable poise in opening up about the several 'roadblocks' he has faced in his brief career so far.
"In the first class season in 2011, I used to bowl 25-30 overs in an innings and that was a lot of pressure on me at that time. I picked up my first major injury (knee tendonitis) before the Under-19 World Cup in 2012. I missed the Under-19 Asia Cup and had to go through three months of rehabilitation."
Three months of rehab was followed by a trip to Brisbane for the Under-19 World Cup where he finished as Bangladesh's leading wicket-taker with 11 scalps in six outings. Success was always around the corner but with every high came an excruciating low.
Taskin found himself in elite company including international stars like Shaun Tait and Jacob Oram in the second season of the Bangladesh Premier League.
Taskin was like the uncut diamond in an otherwise star-studded side and had to endure a long spell on the sidelines.
Sitting out for ten matches in a row can be extremely frustrating for someone looking to make an impact, but as luck would have it, along came the watershed moment of his career.
Taskin recollects sitting out for a long period of time before getting an opportunity in an inconsequential fixture. His keen mind remembers his bowling figures - one for 31 in four overs - in that obscure game against the Dhaka Gladiators.
He then reveals his surprise at being named in the semifinal clash and prides himself on making the most of the opportunity by bagging four wickets and the man-of-the-match award. "After that match, the selectors, the cricket board and the people came to know about me," Taskin says, with a twinkle in his eyes.
Another notable performance followed in the final, albeit in a losing cause, but injury struck. The physical toll had piled up on Taskin and he was soon on a plane to Australia again, only to be surrounded by anxious BCB officials and medical personnel this time.
To his relief, a surgery was avoided but a lengthy rehab process followed. "I think I can never say that I can be completely cured but I have to maintain myself very well. I did one-and-half-years of rehab when I completely went out of cricket. It was very frustrating to get such an injury at such a young age," Taskin reflects.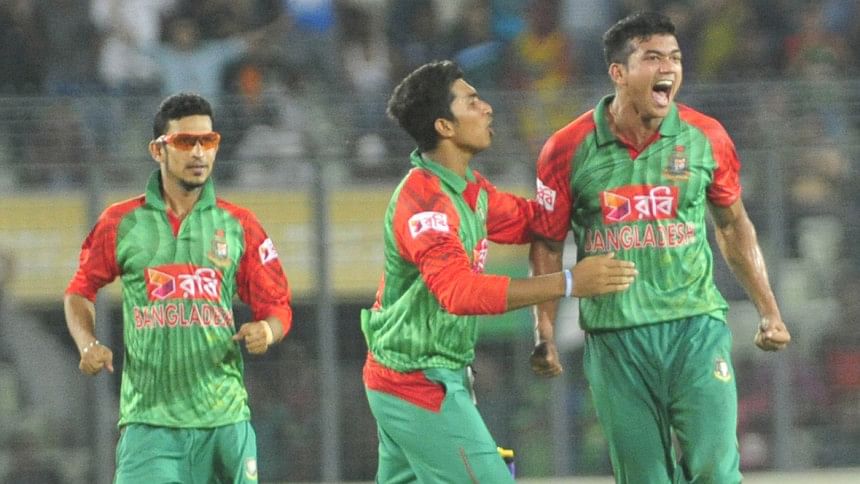 Yet, there was light at the end of the dark tunnel.
Taskin's recovery from his knee injury coincided with his 'idol' Mashrafe Mortaza suffering one of his own and against all-odds an 18-year old Taskin was making his senior-team debut against Australia in the T20 World Cup.
"I picked up one for 24 in my four overs, which included the wicket of Glenn Maxwell, who is a limited overs specialist," Taskin remembers fondly.
Even in a solitary game that Bangladesh lost by seven wickets, Taskin's ability was for all to see and he was promptly fast-tracked into the ODI side.
His debut was the stuff of dreams - a fifer against India - and it landed him a call-up for the 50-over World Cup in the familiar locales Down Under.
Taskin made the selection count, becoming the catalyst for Bangladesh's inspired progression to the quarterfinal.
His eidetic memory is on full display as he unleashes a few animated hand gestures while describing a very exciting moment of his career - his wicket of England batsman Jos Buttler.
"Every wicket I have taken in international cricket has been very memorable for me. But the one against England in the World Cup 2015 to seal qualification for the quarters of the World Cup was special.
That was a very tight match. Jos Buttler had gotten set. He had made 65 off 52 balls. Then he got out to my ball and we went on to win. That was a very exciting moment."
Success at the international level can be intoxicating and often blurs the line between humility and pride. Taskin however, hasn't forgotten his roots as he narrates a painful tale of the friend who introduced him to the world of leather ball cricket, eight years ago.
"Unfortunately, my friend Kayum, who told me to go to Abahani ground that day (for Under-12 tournament), is now a CNG (Auto) driver.
He was also a very good player. Due to the lack of facilities, he had to give up on cricket. I'm always trying to help him even now," he says.
There are happy stories too, when he mentions his best friend Sourabh. "My best friend Sourabh was someone I always played tennis ball cricket with. On the field, at home, everywhere.
We did everything together. Even now I try to spend time with him. But in Bangladesh, it's not possible to go anywhere now," he says, with a rather delightful smile, aware of his increasing popularity at home.
The stardom amuses Taskin and he exudes a boyish keenness to learn from two stalwarts - his coach Heath Streak and skipper Mashrafe Mortaza - while keeping a close watch on South African pacer Morne Morkel's game.
The 20-year-old dreams of becoming a world-class bowler one who can successfully ply his trade across all three formats. He also reveals his mother's wish - of him playing in the IPL and Big Bash - so that the entire world can watch her son perform.
Taskin is full of stories but our rendezvous ends here. He joins his teammates for some shopping on a busy Thursday evening in Bangalore before heading back home on the next morning.
Having been fast-tracked into top level cricket, Taskin has already seen a variety of ups and downs.
 It has been a promising journey so far and his career like many previously, has been curtailed by injury. How quickly he bounces back is something that will fill the next chapter of his career. For now, however, there's no shortage of enthusiasm.