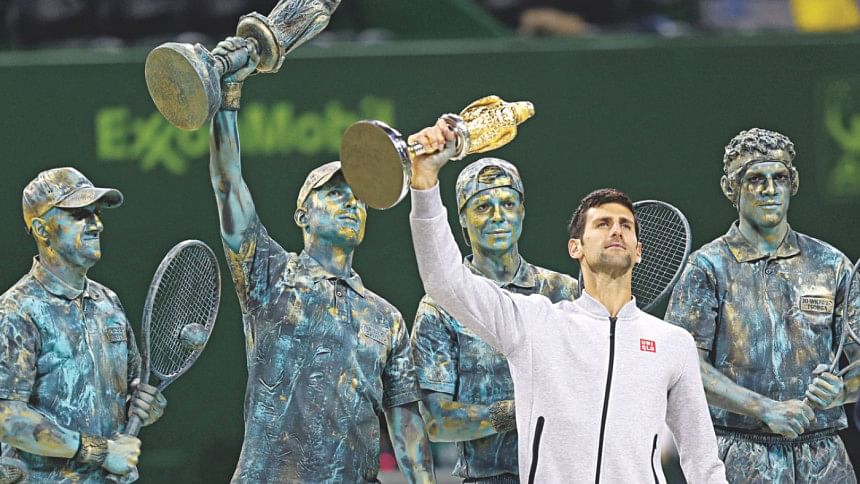 Novak Djokovic brought world number one Andy Murray's 28-match winning streak to an end in Doha on Saturday to retain the Qatar Open title in a three-set thriller.
Serb star Djokovic won 6-3, 5-7, 6-4 in a high-quality, action-packed match between the two best players in the world lasting almost three hours.
It is Djokovic's 25th career victory over Murray and puts down an early-season marker against his great British rival, before the Australian Open later this month.
Describing Murray as his "biggest rival", he said both players had "dragged each other" to their limits.
"Every match we play is a huge challenge, you have to accept and expect a great battle," Djokovic told reporters.
"You saw tonight how much we both wanted to win."
He added that he wanted to finish the match off earlier.
"I had three or four match points in the second set, he turned it around and I thought: Wow! I hope this isn't payback time!
"He was close ... all the way to the last shot you never know with Andy," added Djokovic who was penalised a point in the second set after destroying his racquet as the tension mounted.
Despite going into the third set showing signs of frustration and weariness, Djokovic was able to claw away any momentum Murray had to secure his second successive title in Qatar and the $209,665 first prize.
A break of Murray's serve in the seventh game of the final set -- when the Scot looked most likely to win -- proved decisive.
Serving for the match, Djokovic secured the title on his fourth match point, having squandered three in the second set when Murray astonishingly recovered from 5-4 down and 40-15 to win three games in a row and force, at that point, an unlikely deciding set.
It was Murray's first competitive defeat since losing to Juan Martin del Potro in the Davis Cup back in September.
In a typically cagey start between the pair, Djokovic landed the first blow with his only break point of the first set.
In the eighth game of the opener, he came back from 40-15 down to win four consecutive points and break Murray's serve.
Then, in the seventh game of the second set Djokovic broke Murray again despite falling over and banging his head during one rally.
It seemed to be the decisive blow, but Murray would not be easily brushed aside, rallying to take the game into the decider.
Murray said he was "obviously disappointed" to lose but was not downbeat.
"I think physically it was a good test to start the year," he said.
He added that he lost having failed to capitalise on his chances.
"I had a break point at 3-2. In the last game I had love-30 on Novak's serve and played a couple of loose shots. I think I had the first break point in the first set as well, didn't get it. He had one and took it, that was the difference this evening."