Murray marks rise to the top with Tour Finals romp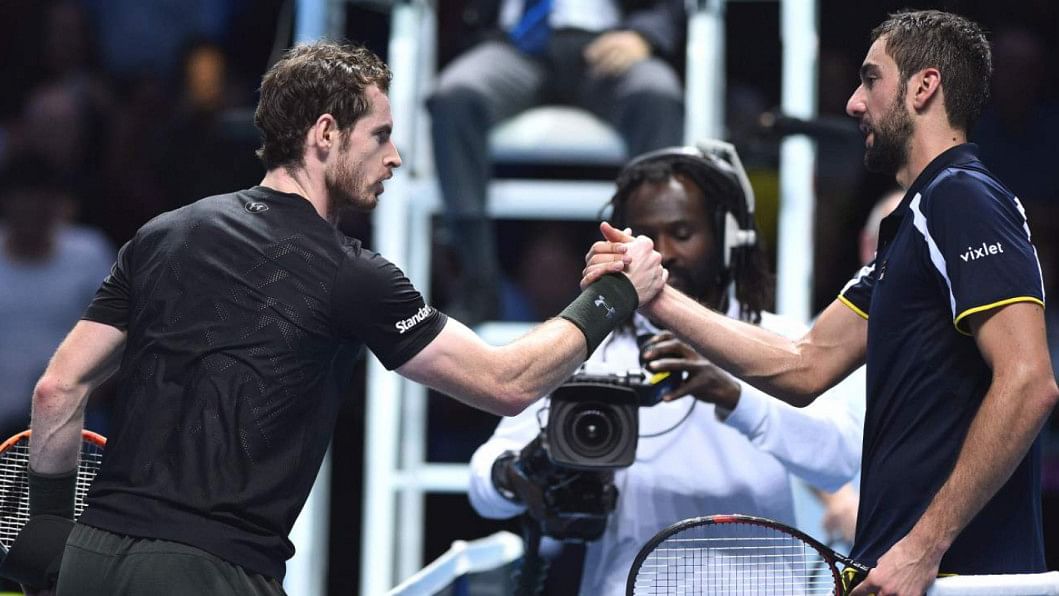 Andy Murray celebrated his rise to the top of the world rankings with a 6-3, 6-2 victory over Marin Cilic on Monday as the Scot made a strong start to his bid to win the ATP Tour Finals.
Murray was officially confirmed as the first Briton to reach number one last Monday and he marked his first match since that historic moment by dispatching Cilic at the prestigious season-ending event at London's O2 Arena.
The 29-year-old took only 90 minutes to extend his remarkable winning streak to 20 matches as he looks to add to the four consecutive titles he won in Beijing, Shanghai, Vienna and Paris.
It was exactly the start Murray needed because to guarantee ending 2016 in pole position, he must win the Tour Finals title for the first time, with anything less than that giving Novak Djokovic the chance to overhaul him depending on the deposed number one's own results.
"It's a great atmosphere and I think I played one of my best matches here. I'm going to keep working hard to give people moments like this," Murray said.
"I have confidence from winning matches and I was a little bit more solid when I had opportunities."
Murray has enjoyed an incredible 11 months in which he has won Wimbledon for the second time, claimed a second Olympic singles gold medal and become a father for the first time.
So it was fitting that Murray's first appearance as the world's best player came within an hour's drive of his family home in Surrey.
While Murray has amassed a combined seven titles across London at Wimbledon and Queen's, he has failed to reach the final of the Tour Finals in six attempts and this was one of his better displays at the O2.
Murray emerged to huge cheers from the sell-out 17,000 crowd but, clearly in businesslike mood, he responded only with a shy wave.
Turned the tables
Life at the top carries the added burden of motivated opponents keen to take down the main man, but Murray has always relished a challenge and he quickly stamped out the threat of an uprising from Cilic.
He staved off two break points to hold serve in the first game and then turned the tables to break for a 2-0 lead when Cilic blasted a backhand into the net.
Murray was having a few problems locating his serve and Cilic break back in the next game, but the Wimbledon champion responded with another break of his own to remain in charge.
Cilic was sporting an extraordinarily lurid pair of shorts that looked more suited to the beach and his error-strewn play suggested he was already thinking of his holiday plans as Murray closed out the set with ease.
Murray pressed home his advantage with a pair of sublime winners to break in the fifth game of the second set and another break in the seventh meant it wasn't long before he was soaking up the applause of his fans.
In the other match in Murray's group, Kei Nishikori avenged his painful US Open loss to Stan Wawrinka as the Japanese star routed the world number three 6-2, 6-3.
Nishikori was denied a second Grand Slam final appearance in September when Wawrinka defeated him in the US Open semi-finals and the world number five got his own back with a dominant display.
"I was very solid from the first game and very confident. I played a good game today," Nishikori said.
Florida-based Nishikori harbours hopes of overhauling Wawrinka in the race to finish the year in third place in the ATP rankings and this victory keeps him on course.
"That is my goal for this week, to win matches and reach number three. I see the opportunity to go up the rankings and I've been playing well so I hope to keep it up," Nishikori said.