Murray aces Djokovic test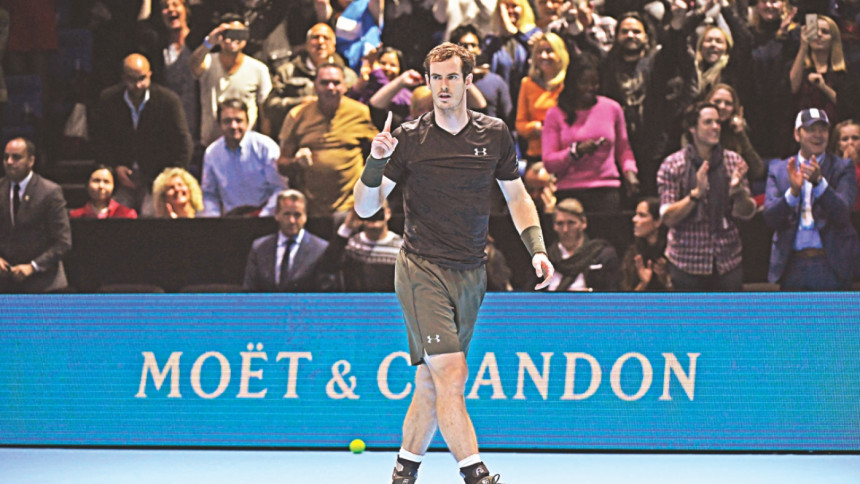 His season had already provided several unforgettable chapters but Andy Murray saved the best for last as he eclipsed Novak Djokovic 6-3 6-4 to claim his first ATP World Tour Finals title and rubberstamp the year-end top ranking on Sunday.
Against a man who has so often been his nemesis, Britain's golden boy Murray produced a relentless display to claim a ninth title of a year which included a second Wimbledon crown and Olympic gold in Rio.
Murray's play in the winner-takes-all season climax was all the more remarkable as a day earlier he looked on the point of mental and physical exhaustion after taking almost four hours to subdue Milos Raonic in the semifinal.
It would have been a blow to Murray's solar plexus if, two weeks after dislodging Djokovic from the top ranking, the Serb had ripped it back with a fifth consecutive Tour Finals title.
But his powers of recovery appear limitless as he handed an error-prone Djokovic a bitter defeat that will leave a sour taste in the 12-times major champion's mouth as a new season swings into action in a few weeks.
On this evidence the Scot may enjoy his new status for some time.
Murray double-faulted twice in the first game and there was a wobble near the end as Djokovic mounted some late resistance, but with the majority of the 17,000 fans in the O2 Arena willing him on, Murray completed the job.
Djokovic had won 22 of his past 23 matches at the Thames-side venue, but the cracks that have appeared in his game since completing a career slam by beating Murray in the French Open final returned after a trouble-free route to the final.
He made 30 unforced errors and some of his mistakes would have embellished a video nasty.
Despite his year tailing off, however, and losing a 9,000-point ranking lead over Murray, Djokovic still won seven titles and finally ruled at Roland Garros.
He was gracious in defeat.
Sunday's clash hardly needed hyping.
The world's two dominant forces colliding on a spectacular indoor court to contest the last match of the ATP season with the number one ranking to be decided. It had never happened before in the tournament's history.
The fear was that the 10 hours Murray had spent on court this week, compared to Djokovic's six and a half, would catch up with him and snap a career-best winning run of 23 matches.
Despite some early nerves Murray quickly put those fears to bed, dictating the rallies with unerring length and precision.
Djokovic looked inhibited and hesitant. It took him 10 minutes to hold serve at 2-3 -- a game in which he blazed one smash wildly wide from virtually over the net.
Murray was at Djokovic's throat again at 3-4 and Djokovic buckled, feebly dropping serve before Murray sealed the set with another rock-solid service game.
The final threatened to become a humiliation for Djokovic as Murray steamed into a 4-1 lead in the second set.
He gave himself a flicker of hope with a break and a hold though, and the crowd quietened a little as Djokovic began swinging dangerously, winning one hypnotic 33-stroke rally before Murray dug his heels in to lead 5-3.
Two match point came and went at 5-4 but Murray's coronation as the world's best player could begin when Djokovic floated a return wide on the third.