Liberated Rafa shows off footy skills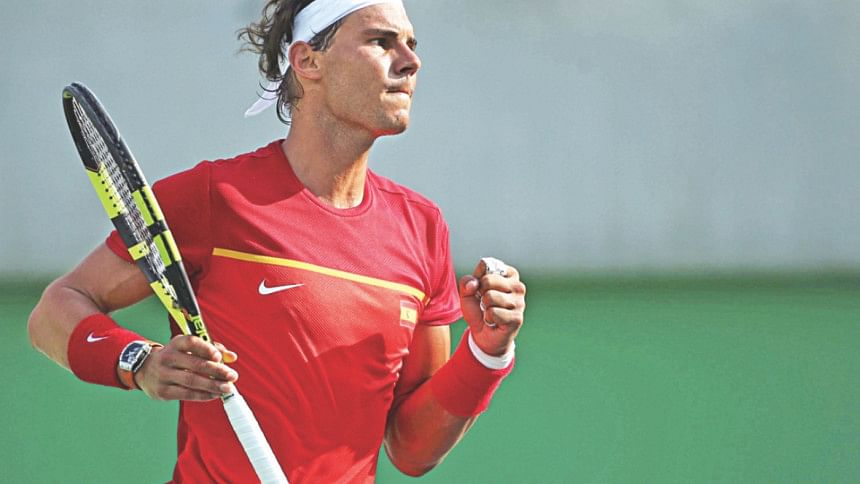 Rafael Nadal has always been a man who likes to show his emotions. At tense moments, his jaws tighten; upon relief, such as winning a difficult point, his right fist punches the air with an exaggerated follow through.
At the best of times, the Spaniard has a cheeky smile on his face; at the worst of times he is found seething at the chair umpire or a phantom opponent. Emotions are always on show whenever Nadal is on court, and there was no shortage of it at the centre court of the Olympic Shooting Centre in Rio de Janeiro on Tuesday, as he breezed through to the third round after a 6-3, 6-3 victory over Italian Andreas Seppi.
The 14-time Grand Slam winner has been going through a lean patch over the last two years; with his last major title coming at the French Open in 2014. He has had a number of lengthy injury lay-offs and his age seemed to have caught up with his form. But on Tuesday there were shades of the old Nadal. He was motivated, he was mean and he was fun.
The left-handed Spaniard broke Seppi in his first service game, and then exhausted the Italian with an array of powerful ground strokes. Seppi got a break back, but Nadal breezed through to a 6-3 win in the first set in 48 minutes.
The second set started in almost similar fashion with Nadal breaking Seppi early, but the 31-year-old Italian soon got his act together and made Nadal sweat for his points. This passage of play brought out the real Nadal. Every difficult rally that he won was followed by a clench of the fist and every unforced error followed by a look of disgust. There was a specific point during a game when Seppi had just taken the advantage, and let out a loud shriek. But Nadal was never going to hold back. He won the following two points and won the game before letting out an even louder shriek and a stare at his opponent.
Soon Nadal was out of his opponents' reach and the set was wrapped up 6-3. The 2008 Olympic champion, relieved at this rather comfortable win, indulged himself in an elaborate show of football skills. This being the spiritual home of football, and Nadal being Nadal, that was always on the cards though.
Later, the 30-year-old confessed that despite the emotions involved, he was enjoying it out there since he is no longer considered a sure bet for the title.
"This is an event that we only play once in every four years. So that makes emotions even higher," Nadal told reporters at the mixed zone. "I'm enjoying on the court, but at the same time not too much pressure for me. I don't expect much, I just want to enjoy the Olympic experience again and that's what I'm doing."