Kyrgios in tanking row, Nadal bows out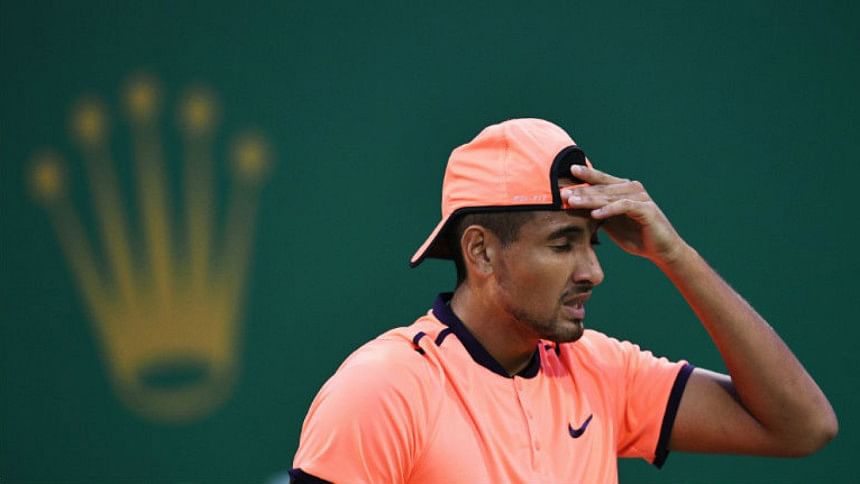 Australia's Nick Kyrgios was booed off court in a tanking row at the Shanghai Masters on Wednesday as Rafael Nadal crashed out and Andy Murray motored into round three.
The combustible Kyrgios argued with a fan and the chair umpire as he gave up on a string of points during his 6-3, 6-1 defeat to German qualifier Mischa Zverev, the world number 110.
Afterwards Kyrgios, known for his volatile behaviour, admitted "taking the easy way out" and "tapping out a little bit", saying he was tired after last week's Japan Open win.
Low points included a child-like lobbed serve which Zverev said reminded him of playing his girlfriend, and walking away from one of the German's serves as it landed.
But 14th-ranked Kyrgios, who was also hit with a code violation for an audible obscenity, insisted he couldn't understand why the jeering fans were upset.
"I feel like if they knew what they were talking about they'd be on the tennis court and being successful, as well," said the 21-year-old.
"No, I can't really understand it at all. They don't know what I'm going through."
Kyrgios has regularly courted controversy in his short career and last year he received a suspended one-month ban for making a lewd comment about Stan Wawrinka's girlfriend.
In his opening match in Shanghai, a 6-4, 6-4 victory over Sam Querrey, he said he was "bored" and tired after his exertions in Tokyo.
'We're not perfect'
Murray, who moved fluently past Steve Johnson 6-3, 6-2, was quick to defend the troubled Kyrgios, who despite his problems remains one of the sport's most talented players.
"You need to go out there and give your best effort of what you have on that day. If he didn't do that, then he will be disappointed with himself tonight," said the world number two.
"But we're not perfect. Everyone makes mistakes. You just want to make sure that you learn from them and make sure it doesn't happen over and over again."
Nadal raised emotions of a different sort when he departed grim-faced and with his ardent fans in tears after a shock 6-3, 7-6 (7/3) defeat to Viktor Troicki.
Chinese fans brandished pictures of Nadal -- including one of him in his underwear -- but they looked on in dismay as the 14-time Grand Slam champion was well beaten.
Afterwards Nadal, now 30 and with a catalogue of injuries to his name, vowed to return to top form by next season, mainly by putting the zip back in his forehand and movement.
"I know what I have to do and I'm going to do it," scowled the Spaniard, who has had little to smile about at the big tournaments this year.
"I've got two-and-a-half months until next season starts so I have got two-and-a-half months to put myself at the level I want to be.
"And I'm confident I'm going to do it."
Wawrinka, by contrast, moved through with minimal fuss as the US Open champion mastered Britain's Kyle Edmund 6-3, 6-3 to reach the third round.
Canada's Milos Raonic beat Paolo Lorenzi 6-2, 6-4, but Czech seventh seed Tomas Berdych tumbled 7-6 (7/4), 7-6 (7/1) to Marcel Granollers.
Canadian qualifier Vasek Pospisil upset Grigor Dimitrov 7-5, 7-6 (7/2), David Goffin beat Benoit Paire 6-1, 7-6 (7/0) and Gilles Simon ousted Chinese wildcard Wu Di 6-2, 6-2.