Kyrgios quits US Open in tears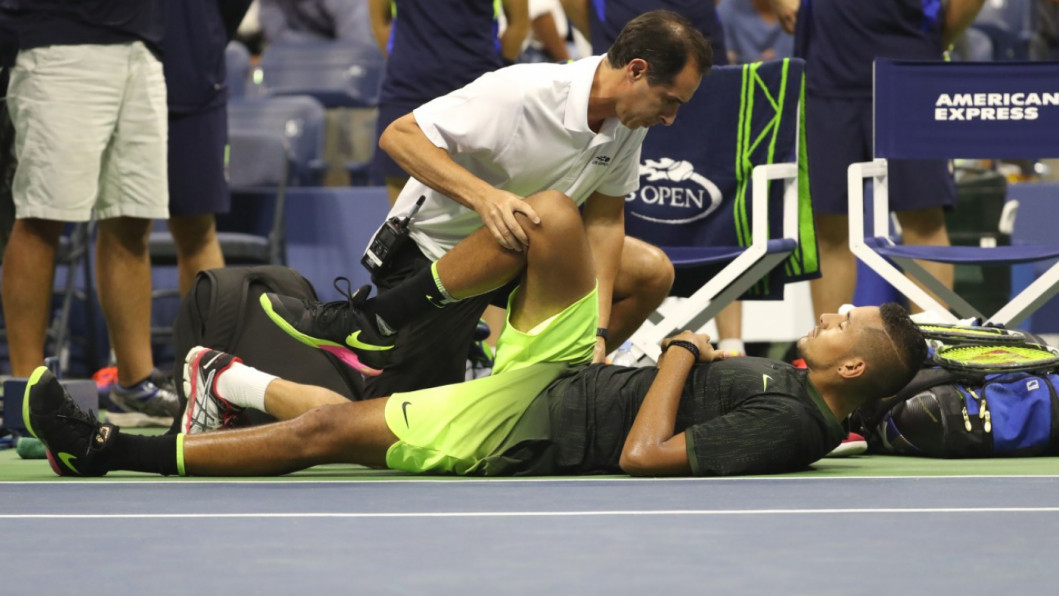 A tearful Nick Kyrgios, a dark horse to win the US Open, retired from his third-round match against Ukraine's Illya Marchenko with a hip injury on Saturday, ending the Australian's bid for a maiden grand slam.
A limping Kyrgios was trailing 4-6 6-4 6-1 when he decided he was unable to carry on playing. The 14th seed was seeking to reach the last 16 at Flushing Meadows for the first time.
"It's tough, I don't like to retire, that is probably the second or third time I've done it," offered a dejected Kyrgios.
"I've got a lot of belief in my game to still win matches when I'm not feeling great but his (Marchenko's) strength is to make balls and move me around, it's not great.
"To be fair my hip was bothering me my first two matches and I got through, so I guess it was just a matter of time."
Kyrgios had looked ready to cruise into the fourth round behind a blazing serve and some brilliant shot-making but nothing is ever straight-forward with the big Australian, who began to rub his right hip after taking the opening set.
By the end of the second set won by Marchenko, Kyrgios was ready to quit. He left the court and took a medical time out before deciding to continue.
He opened the third holding serve but Marchenko moved in for the kill upping the pressure on the lame 21-year-old and sweeping the next six games.
After Marchenko took a 4-1 lead, Kyrgios went to his chair and was in tears as he discussed with a trainer whether to carry on. With his mother watching from the stand, he decided to continue the third set.
It soon became clear, however, there was no way back for Kyrgios as Marchenko took the set for a 2-1 lead.
At the changeover Kyrgios again consulted with a trainer and this time decided not to risk further injury, conceding the match and walking over to shake Marchenko's hand.
"It is a dream come true, a win is a win." said the 63rd ranked Marchenko. "I cannot explain how happy I am.
"I had to fight every point, I got a small chance in second set and I took it. He started to feel his injury in the third set and you have to keep focused.
"Sometimes the guys will wait a few games then start to play, I lost a couple of matches like this."