Federer, Murray through to quarters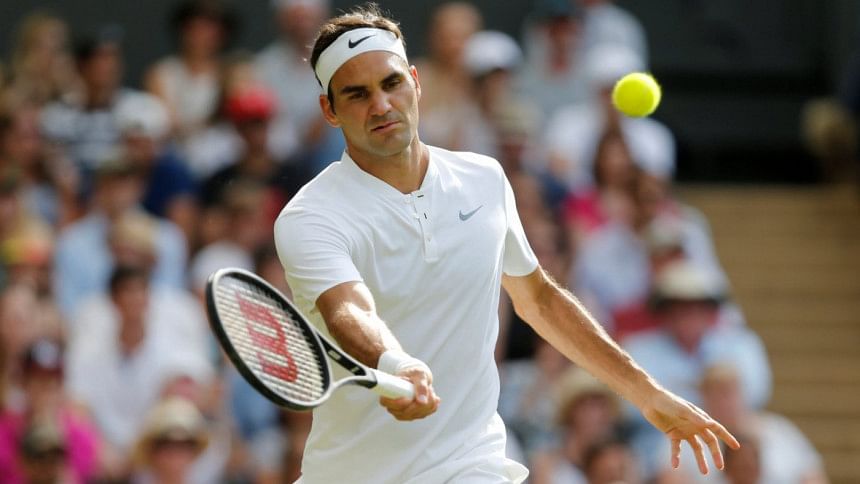 Evergreen Roger Federer kept his quest for a record eighth Wimbledon crown on track on Monday, dispatching Grigor Dimitrov 6-4 6-2 6-4 in a match-up of classic styles that had the purists purring.
The Bulgarian 13th seed, nicknamed "Baby Fed" when he was a junior on the basis of a single-handed backhand as silkily smooth as the Swiss master's, looked sharp in the early exchanges.
It was close to mirror-image tennis as the two men exchanged searing groundstrokes, gliding to the Centre Court net when they saw an opening to dispatch clinical volleys.
But the difference between the greatest ever player on grass and the man who has struggled for years to emerge from his shadow told on the big points.
Third seed Federer, who missed the clay court season to better prepare for his favourite tournament, took a decisive lead in the ninth game, converting his third break point. The Swiss then served out the first set to love.
"(Dimitrov) did give me some opportunities ... but most important was for me to really focus on my game," Federer told the BBC after the match.
"I thought it was a terrific match and I didn't expect it to go that easy for me."
Now 26 and seeking his first win against Federer in six matches, Dimitrov sought to up the pace in the second set.
But as he did so the Bulgarian's error count also rose, and he conceded the second set on a break of serve, punctuating a double fault with two forehands that flew long.
That pattern continued in the third set as another forehand error from Dimitrov handed Federer victory on his second match point in just over an hour and a half.
The Swiss faces either Alexander Zverev or Milos Raonic in Wednesday's quarter-final.
Murray reaches Wimbledon quarters for 10th straight year
Andy Murray continued his Wimbledon tour of awkward and unpredictable opponents and booked his spot in the quarter-finals with a 7-6(1) 6-4 6-4 victory over showman Benoit Paire on Monday.
The Frenchman provided Murray with the latest test of his title credentials as well as of his injured hip, but the champion reached the last eight for the 10th straight year with some comfort.
Like Murray's previous opponents -- Alexander Bublik, Dustin Brown and Fabio Fognini -- Paire was not out of a conventional tennis mould.
His backhand was stronger than his forehand and capable of inflicting damage and there were moments in the match when Murray's chances of a third title looked questionable, especially when his serve was broken twice in the first set.
Yet while Paire was able to dish out occasional blows, hitting 50 winners and 44 unforced errors, it was Murray's weapons that were more frequently on target and carried the greater destructive power.
Perhaps the most pleasing aspect of the victory for Murray, however, would have been his movement, which seems to have improved significantly, even if he continues to hobble awkwardly between points.
Paire had begun the encounter by trying to test Murray's willingness to chase down numerous dropshots, but seeing the Scot rise time and again to the challenge, he had his own view about Murray's hip problems.
"Between the points, he can do what he wants, but during the point he can run like a rabbit," Paire told reporters.
Murray was certainly slicker around the court than he had been against Fognini, when the Italian snatched a set and almost pushed the match into a decider.
"I'm moving well, I didn't feel like I moved that well against Fabio. But the first two matches and today, I felt like I moved really good. I certainly feel like I've been tested in that department a lot because the guys I've played against have done a lot of forward movements," Murray said.
All in all, Murray had too much guile for Paire and wrapped up his 26th successive win against French opposition in two hours and 21 minutes, even if there were moments when he did not have everything his own way.
Paire broke Murray twice in successive games in the first set which ended up going to a tiebreak that the top seed won comfortably.
The next two sets were hardly routine for Murray, but there was little doubt that he would prevail to set up a tie with 24th seed Sam Querrey, who beat Kevin Anderson.
"I've done a good job so far here," Murray said. "I mean, today was by far the best I hit the ball, the cleanest I hit the ball. I was happy about that."