Djokovic hopes to imitate take-a-break Federer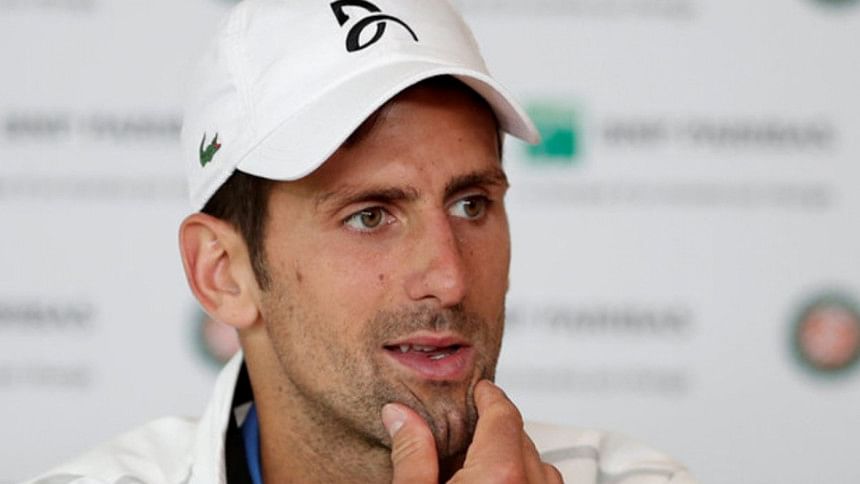 On July 26, 2016, Roger Federer announces he is shutting down his season to rest a knee injury and will return in January 2017.
And now on July 26 this year, Novak Djokovic announces he is shutting down his season to rest an elbow injury and will return in January 2018.
Same day of the year, similar injury-connected storyline -- but identical outcome?
Djokovic, struggling on and off for 18 months with a right elbow injury, and without adding to his 12 majors since completing the career Grand Slam at the 2016 French Open, announced Wednesday that he won't play again in 2017.
It will rule him out of the US Open where he has twice been champion and made six of the last seven finals as well as Serbia's Davis Cup semi-final against France.
His absence from New York will be the first time he has missed a Slam since 2004, ending a run of 51 successive majors. When Federer skipped the 2016 French Open, it ended his majors streak at 65.
Djokovic, 30, will eventually see his world ranking slip to around the 15 mark -- his first trip outside the top 10 since March 2007.
Federer, five years his senior, was 17 in the world when he won the Australian Open this year and is now back at three.
So there is plenty of encouragement there for Djokovic who will be a dangerous last-16 opponent for one of his top rivals at the 2018 Australian Open where he has won six titles.
"My body has its limits, and I have to respect that and be grateful for all that I have achieved so far," said Djokovic, admitting that his on-court troubles are a brutal legacy of over-playing.
When Federer called time on his 2016 campaign, he had played just 28 matches.
While he rested up, Andy Murray and Djokovic battled over three continents for the world number one spot.
British star Murray ended the year having fought through 87 matches while Djokovic played 74 times.
In 2017, Federer has featured in just seven tournaments, winning the Australian Open, Indian Wells and Miami Masters, the Halle grass-court title and his record eighth Wimbledon.
Lesson for Djokovic
His win loss-record for the year is currently 31-2.
Federer also skipped the 10-week clay-court season which culminated in Rafael Nadal strolling to a 10th Roland Garros title.
Murray, whose Wimbledon title defence ended in a quarter-final loss to Sam Querrey, has taken part in 11 events this year with a win-loss ratio of 25-10.
The world number one is also carrying a hip injury which could yet see him also sit out the US Open.
Djokovic has slugged through 12 tournaments, including two trips to the Davis Cup. He has 32 wins on the season and eight losses.
Federer, who may play just one warm-up event before the US Open which he has won five times, believes his 2016 sabbatical has helped extend his career despite his 36th birthday fast approaching on August 8.
But he doesn't advocate lengthy breaks for all players.
"Some players just need to play. They need to play every other day, otherwise they feel like they completely lose touch with the racquet and the ball, the body goes all funny on them," said Federer.
When Djokovic retired from his Wimbledon quarter-final against Tomas Berdych with the right elbow injury which has now ended his season, it completed a miserable year at the majors for the Serb.
He was a second-round loser at the Australian Open and a quarter-finalist at Roland Garros.
Former coach Boris Becker told Djokovic at Wimbledon that he needed to step back from the sport.
"Federer is playing the best tennis ever at the age of 35 because he has got everything right in the rest of his life too," said Becker.
"Maybe that is a lesson for Andy and Novak to really take care of their bodies -- take their time and get healthy, and don't play when they can't."
Djokovic has now heeded the German's advice although he will still have his hands full with wife Jelena soon to give birth to the couple's second child.
"It is important for me to recover, to be able to play injury free for as long as possible, to compete in the sport that has given me so much, the sport I love," said Djokovic.