Djokovic admits 'unacceptable' to hit ball into crowd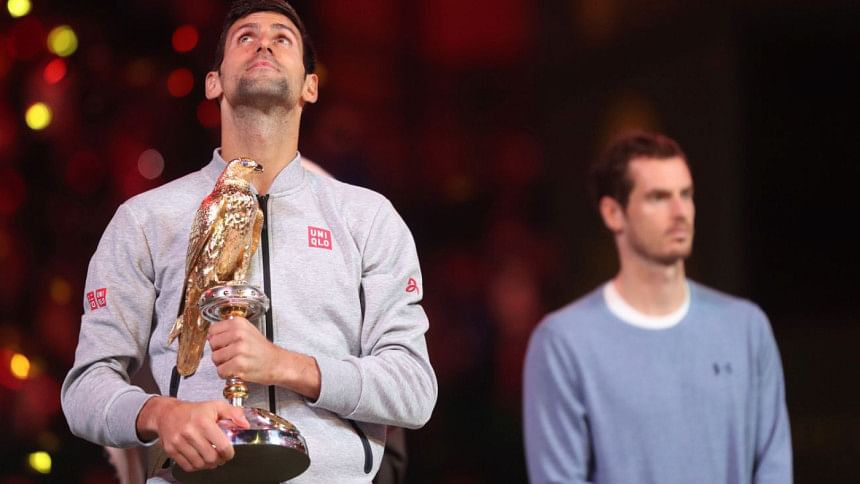 Novak Djokovic said he did not intentionally hit a ball into the crowd during his Qatar Open final against Andy Murray, an incident which threatened to take the gloss off his victory.
The incident happened in the sixth game of the first set when Djokovic, upset at losing a point, fired a ball into the stands which then flew into the crowd, apparently striking a female spectator.
The Serb received a warning for the incident and a further warning for smashing his racket in the second set saw him deducted a point.
Djokovic, who won the absorbing contest 6-3, 5-7, 6-4, told reporters he was unaware that the ball had hit someone and said it was an accident.
"It was not intentional at all," he said. "Of course people get hit, especially in the first rows, from big serves and so forth."
Pressed on whether it was acceptable behaviour, the world number two said no and added: "I definitely didn't want to hit the ball at anybody."
"I have to be more careful, I guess, in the future."
But he admitted that the consequences could have been far worse, in terms of the on-court penalty he received.
It is not the first time he has been involved in such an incident.
Last year at the French Open, the Serb admitted he was lucky not to be disqualified in his quarter-final against Tomas Berdych.
During that match, frustrated at missing a break point, Djokovic went to smash his racquet into the ground but it slipped out of his grasp, flying into a backwall.
Had it hit a nearby line judge, who was forced to take evasive action, Djokovic would have been automatically disqualified.