'Being part of the Fed/Rafa era a career booster'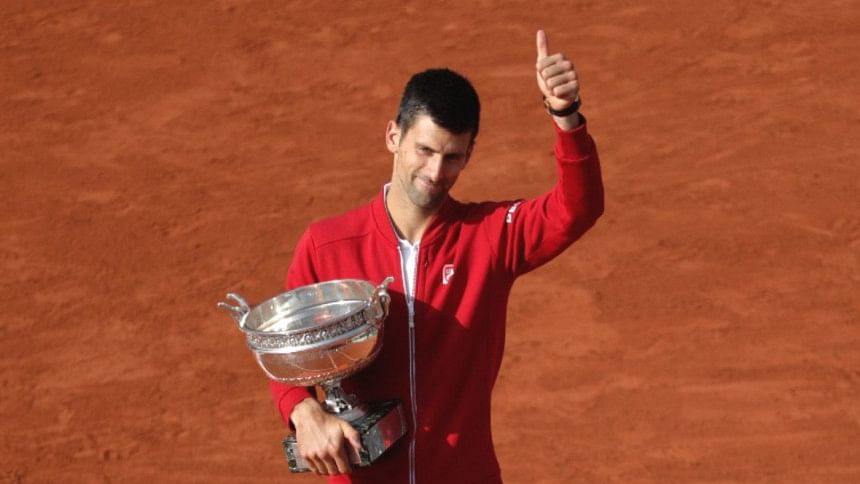 The moment Novak Djokovic accepted that being part of the Roger Federer/Rafael Nadal era was a chance, not a curse, everything improved for him.
On Sunday, after winning his first French Open title, he was still behind the Swiss and the Spaniard in terms of major titles but he had achieved something the two have not yet managed -- holding all four grand slams at the same time.
When the Serbian won the first of his 12 majors, at the 2008 Australian Open, a 22-year-old Nadal had already won three Roland Garros titles and Federer, then 26, had claimed 12 of his record 17 grand slams.
"At the beginning I was not glad to be part of their era," Djokovic said with a smile after beating British second seed Andy Murray in Sunday's Roland Garros final.
"Later on I realised that in life everything happens for a reason. You're put in this position with a purpose, a purpose to learn and to grow and to evolve.
"Fortunately for me I realised that I needed to get stronger and that I need to accept the fact that I'm competing with these two tremendous champions and then everything was uphill from that moment on."
While he could feel frustrated that Federer, Nadal, with 14, and to a lesser extent Murray, who has won two, deprived him of more grand slam titles, Djokovic believes the rivalries within the 'Big Four' have made him a better player, and tennis a better sport.
"These two guys -- and Andy as well -- the rivalries with all three of the guys have definitely, in a big part... helped me to become a better player and helped me achieve all these things," he said.
"The rivalries that we have are important for the sport, and in one way or another you try to compare yourself to them and what they have achieved before.
"Nadal and Federer were so dominant in the sport when Andy and myself came in the mix."
Djokovic can now turn his sights towards a calendar Grand Slam that was last achieved in 1969 by Laver.
Having won the Australian Open and the French Open, he needs to win at Wimbledon and the US Open.
"I don't want to sound arrogant, but I think everything is achievable in life," he said.
"Whether or not I can reach a calendar slam, that's still a possibility. But I don't think about it right now. Right now I just try to enjoy this experience of winning the trophy that I had never won before."