Another short work day sees Djokovic into semis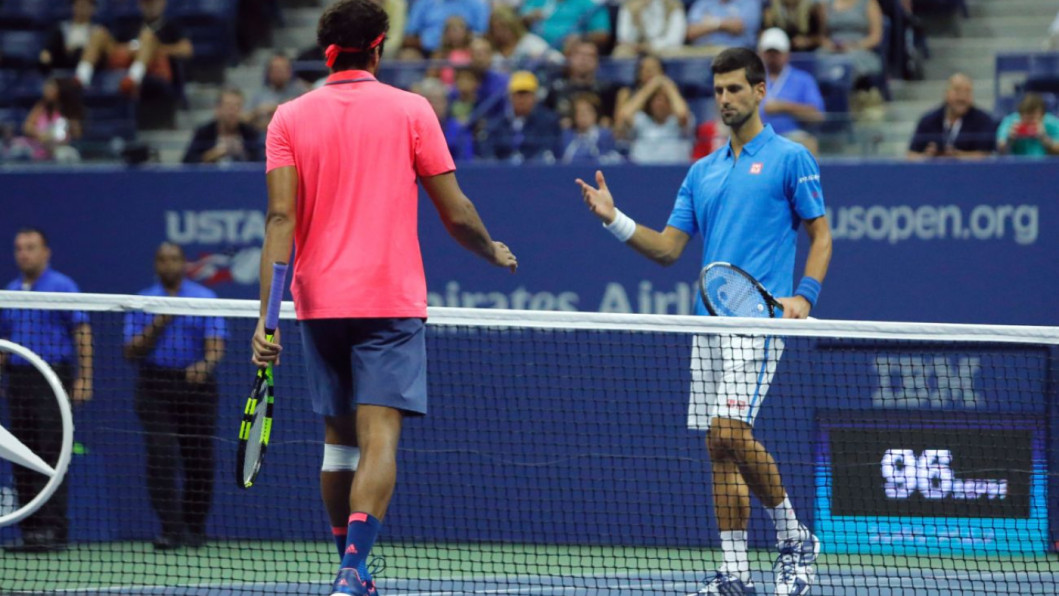 Novak Djokovic's path to a 10th successive US Open semi-final has been a strange one, but the world number one isn't complaining.
"I'm in the semifinals, so that's what matters for me the most," Djokovic said after quarter-final foe Jo-Wilfried Tsonga retired with a left knee injury while trailing 6-3, 6-2.
Djokovic had already received a walkover into the third round when Czech Jiri Vesely withdrew from the tournament with an injury, and he spent just 32 minutes on court before Mikhail Youzhny called it quits in their last-32 clash.
"I can only wish all of my opponents a speedy recovery," Djokovic said. "That's all I can do on my end.
"I obviously try to focus on things that I need to do, stick to the game plan."
He said he noticed midway through the second set that something was going on with Tsonga.
"I'm sure it's not an easy situation for him to handle, playing quarter-finals and having to retire night session. But, again, it's sport," Djokovic said.
Tsonga sought treatment after he was broken for a second time in the second set, wincing as the trainer manipulated his knee before wrapping tape below the joint.
After Djokovic held to take the set, Tsonga double-faulted to open the third and called it quits.
"I have a pain in my left knee. It's something I had already in the past, so I know exactly what's happening," he said.
"I knew it was over for me straightaway, because when I have my knee of course it's already tough to play against one of the best tennis players.
"But when I don't have my knee, I have no chance to come back from two sets to love. So for me, it's important to save what I can save. And that's it."
Djokovic, who will face France's Gael Monfils for a place in the title match, knows what it's like to be banged-up late in a long season.
His build-up to the final Grand Slam of the year was hampered by a wrist injury, and he received treatment on his arm during both his first and fourth-round matches.
He said he was more grateful for the extra rest than he was concerned about any lack of match play.
"In this stage of the season, considering some physical issues I have had in the last month, month and a half, this was the scenario that I needed," he said.
"I got a lot of days off and recovered my body. Right now I'm feeling very close to the peak. That's the position where I want to be."