Strong alone, stronger together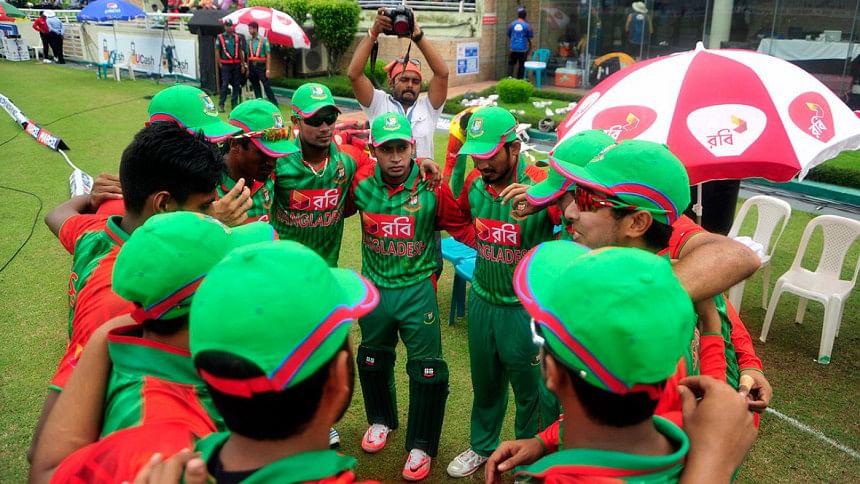 With Mustafizur not fully fit, Taskin and Sunny under the scanner for their bowling action, Shakib and Mushfiq woefully out of form, Soumya not firing on all cylinders and unreasonably poor ground fielding, Bangladesh face an uphill task in their must-win qualifying match against Ireland today at Dharamsala's HPCA stadium under the lights.
Bangladesh led by Mashrafe Mortaza had to acclimatize to the conditions as quickly as possible high up at Dharamsala, and managed to get the all-important win under their belt on March 9 against Netherlands, but were made to sweat for the result.
Going into today's match against the Irish team desperate for a comeback after their two-wicket debacle against Oman on Wednesday, Tigers need to fight as a group, and fight tooth and nail for each other if they want to emerge triumphant in the end. Since the players, particularly the bowlers under the scanner are strong enough to handle pressure, Bangladesh coach Chandika Hathurusingha expects them to execute their plans more proficiently during the second qualifying match on March 11, Friday when he spoke to the media.
Bangladesh still wait on Mustafizur Rahman's fitness, and the left-arm pacer needs more time to fully recover from his side strain which he suffered during the match against Sri Lanka at Asia Cup 2016. Tigers coach Hathurusingha wasn't optimistic about Mustafizur playing against Ireland on Friday.
Left-arm spinner Arafat Sunny and fast bowler Taskin Ahmed were reported for suspect bowling actions during their side's opening match in the ICC World Twenty20 India 2016 against the Netherlands in Dharamsala on Wednesday. The ICC regulations state "every reasonable effort shall be made for the Independent Assessment to be carried out and the Independent Assessment Report furnished within a period of 7 days from the date of receipt of the Match Officials' Report."
Both Arafat Sunny and Taskin Ahmed are due to report to Chennai on March 14, 2016 for the bio-mechanical test on their bowling action. Hathurusingha insisted in one word, "yes", that he believed their actions were clean, reported ESPNcricinfo.
Shakib Al Hasan's poor run with the bat in his last ten games produced only 136 runs at an average of 13.6 while 27 not out against Zimbabwe is his best score in this period. The Bangladesh allrounder's fielding is also not up to the mark in recent times, and looks overweight and slow in the field. With his quick reflexes deteriorating and patience running low, Shakib looked terrible as he got out playing cheeky shots or missed his big heave'ho slogs to mid wicket time and time again…he needs to go back to the basics and keep batting as simple as possible.
Mushfiqur Rahim is also going through a lean patch with the bat and averages only ten runs in his last ten T20I matches. 26 is his best effort in this period, that too came against a depleted Zimbabwe at home. Mushfiqur Rahim is not giving himself enough time to settle down, and playing audacious shots too early in his innings. If he can bat higher up the order, maybe he can change his game-plan…but Bangladesh need runs from Mushy, Shakib and Soumya who fails to convert his starts in recent matches.
Given the format of the qualifying round of ICC WT20, and the nature of T20 cricket itself, Bangladesh cricketers need to be on their toes, and must treat each and every match from now on as a final for the better. One over can turn the tables in a blink in T20 cricket: a catch taken or dropped, a flurry of boundaries or wickets falling in a heap will alter the course of the match, while the action takes place in fast-forward mode.
Bangladesh were lucky that they didn't pay dearly for their mistakes on March 9: Netherlands dropped Soumya in the first over, missed Tamim's stumping when he was on 46 in the 13th over and their ground fielding gave Tigers some extra-runs.
Tigers must remember that it's hard to beat a person who never gives up…together they must become a team that never gives in, never gives up!
Go Tigers Go!