'Seeing a yellow card for team's sake is a positive'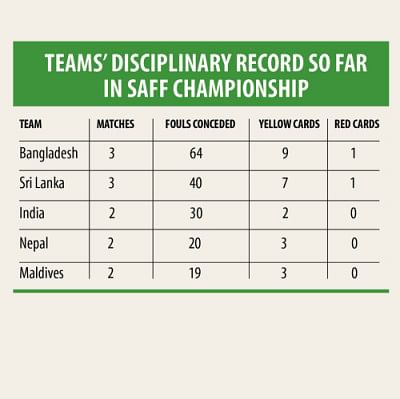 On the back of only a week-long preparation under interim coach Oscar Bruzon, Bangladesh national team surprised all in their first two matches against Sri Lanka and India in the ongoing SAFF Championship before suffering a defeat against hosts Maldives in their third match, in which Bangladesh also drew the attention for being booked five times.
Bangladesh, so far, in three matches of the SAFF Championship, have conceded 64 fouls – 20 against Sri Lanka, 14 against India and 30 against Maldives – that projected a slightly negative impression for the men in red and green, even though committing fouls from aggressive intent remains a part and parcel of the game.
The apparent recklessness from the players on the pitch also left Bangladesh in a spot of bother, where they had to miss the services of defender Bishwanath Ghosh and winger Rakib Hossain in the match against Maldives, due to their one-match suspension from having been cautioned previously. 
Does the lack of players' techniques lead to the mistimed tackles on the pitch or is it the consequence of the players just following coach's instructions?
AFC A license coach Saiful Bari Titu talked to The Daily Star, where he shed some light on this matter.
"Fouls occur on the pitch for many reasons and I don't know what the Bangladesh coach briefed to the players before the match. But I think, fouls happen when there is emotional instability," Titu opined.
"I mean, if a player can't control his emotion after being beaten, he may commit a foul. And if a player isn't technically sound, he may commit a foul to make up for his weakness. Then again, a foul can be professional, in which the player must know when, why and how to commit such an act.
"If you play counter-attacking football, you've got to be patient to deal with the transition but it's true that you can't stop a quality player with tackles. And sometimes the fatigue of the players also leads to mistimed challenges," Titu said, adding that instructions from the coach also have an impact on the game.
Bangladesh team manager Satyajit Das Rupu defended the aggressive playing style, especially against Maldives.
"There were moments of aggression in the game to stop the opponents. It [foul] happens only because of timing mistakes," Rupu said.
"Foul is a part of the game and it seemed to us that they [Maldives] also committed some but the referee didn't blow the whistle in our favour. I think the players' mindset changed after conceding the goals, that's why they were booked more," opined the former national player.
According to Defender Tapu Barman, his team is more focused on earning points from the matches rather than thinking much about fouls or bookings.
"While playing pressing football, if your opponents react fast but you're a bit late, then fouls will occur. From our game-plan, we try to steal the ball as soon as possible. So from that perspective, fouls may happen often," Tapu told The Daily Star yesterday.
"According to the coach, the best players of Bangladesh are in the national team and each player also has a couple of replacements. So a player seeing a yellow card for team's sake is a positive.  "A player playing with that mindset, doesn't care of being booked and our main target will be to collect points from the game [against Nepal]," concluded Tapu.