'Not like everyone played aggressively'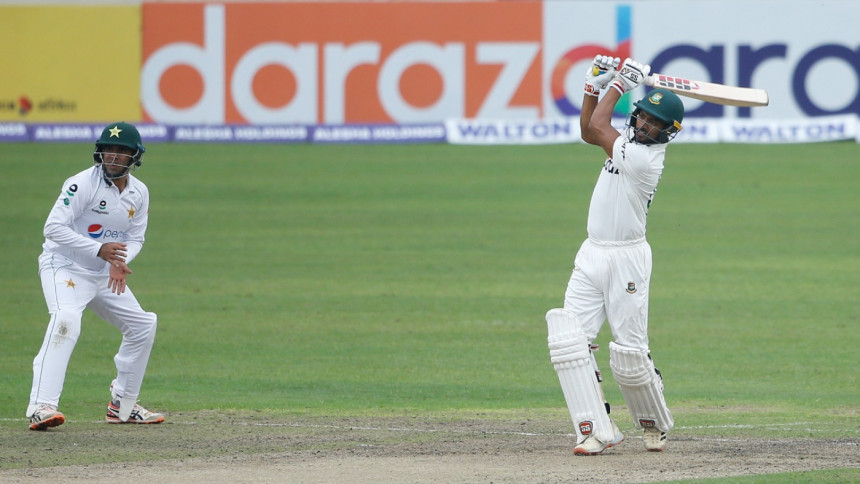 Bangladesh batter Nazmul Hossain Shanto insisted that not every player played as aggressively as it seemed on the fourth day of their second Test against Pakistan in Mirpur today.
Pakistan declared their first innings after scoring 300 for four in 98.3 overs. In reply, Bangladesh's batting collapsed, unable to tackle Pakistan's spin threat as the Tigers were left reeling at 76 for seven before stumps on day four.
Bangladesh's batters threw their wickets away as they seemed to be in a rush to collect runs. However, Shanto believed that not all the batters displayed such aggression.
"It's not like everyone played aggressively. Each of the batters tried to play the shots they're good at, but probably couldn't execute," Shanto said in the press conference after the day's play today.
"Execution doesn't happen everyday, it didn't happen today but may happen in the next innings. It's not that we can't execute or have never done it before," he added.
Even though Bangladesh need 25 runs to avoid follow-on with only three wickets left in hand, the left-handed batter believes the Tigers are still in the game.
"I think tomorrow is very important. If Shakib [Al Hasan] bhai and Taijul [Islam] bhai can build a partnership and we can score some more runs then we can have a good chance.
"We have the opportunity to bat again tomorrow, and we need to bat really well in order to save the match," Shanto said.
The visitors had an easier time playing on Mirpur's wicket than the hosts. However, Shanto stated that the wicket was quite challenging to play defensively.
"The wicket really wasn't that easy. It's difficult to play defensive shots and spend the entire day.
"I don't think this is a wicket to score 300 runs. The spinners and pacers should've conceded fewer runs, the condition was in favour of the seamers. There's no use of thinking about these anymore, we need to ensure not to repeat the same mistakes in the next innings," Shanto concluded.