'Accuracy on flat tracks' worked to Taijul's advantage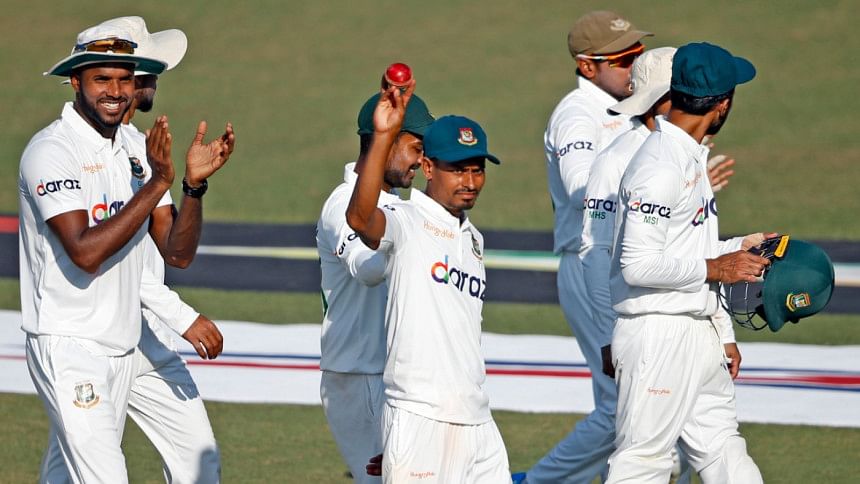 Bangladesh spinner Taijul Islam was relentless against Pakistan today, bowling the visitors out inside two sessions with a seven-wicket haul and get Bangladesh back into the first Test at Chattogram. Bangladesh spin coach Shohel Islam said that the work put into bowling accurately on flat surfaces had paid dividends.
Pakistan were 145 without loss coming into Day three but Taijul immediately had his say in the very first over of the day, striking twice off back-to-back deliveries to remove Abdullah Shafique and Azhar Ali. He never relented his hold on the Pakistan batters and bowled 44.4 overs, picking up seven wickets in a pitch not genuinely a spinners' paradise.
Taijul had been working on a new action but it was the old and tested action that brought him success today. Shohel dictated that it was Taijul's mindset that had to be credited.
"I like brave boys, those who takes risk to go from one level to another. I like this kind of character. He gave evidence of his bravery but doing something like that at this stage of his career," he dictated about Taijul's effort to try a different action previously.
"He has returned to his old action and gotten his rhythm back. His tendency to take risks is a sign of a big player. He knew his old action from muscle memory but it wouldn't have been a bad thing to add another action," Shohel added.
Asked how much of Taijul's success was down to the pitch, Shohel dictated that Taijul's accuracy was what got Bangladesh back into the game. The pitch did have good bounce but the turns on offer were regular.
"We had a plan since we were playing Sri Lanka. Basically, when we play in Mirpur, there is a lot of help for spinners and the mindset is aggressive. But when we play outside, we see that the spinners don't get that much help. In the last few months, we worked with the spinners on how to bowl accurately on flat tracks over after over. This mindset of getting more accurate is what I believe was a big change. We won't get wickets like Mirpur everywhere," Shohidul said.
"It's true that I got my success due to my old action," Taijul coming in after Shohel to the press conference, told the media. "I tried to see if changes were possible but it's not like I wouldn't be able to change or that it would be a big problem if I did change action. I got big help from Shohel bhai and when I wanted to return to my old action, I could do it quickly because Shohel bhai is very aware of my action," Taijul added.
Bangladesh lost the Test at Chattogram to Windies last year from a good position on the same ground. Taijul said that he did not try different things from the last Test at Chattogram. "I think bowling wise, everything was ok in that game. A few misses saw us lose that game," he concluded.
Bangladesh however lost four wickets early in their second innings today. "It's not disappointing so we're not being disappointed by it. We had lost four wickets in the first innings too but we were able to comeback. We're hoping we can do the same in the second innings," Taijul remarked.