Maradona's son: My dad would be proud of this national team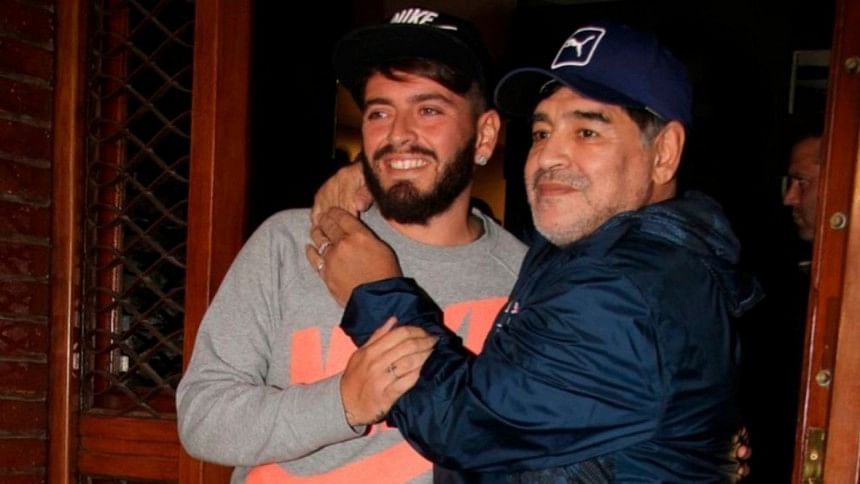 Diego Armando Maradona Sinagra was born in September 1986, just months after his father conquered the world at the World Cup in Mexico.
He had no contact with his father for years, but in the last stage of the Argentine star's life, they had an exceptional relationship. He is the eldest of Diego's five legitimate sons and, of course, the one who talked the most about football with El Pelusa.
Diego Junior is currently coaching a team in Italy's lower categories, Napoli United.
He is experiencing the World Cup like any other Argentinian, even though he still lives in his native Naples and rarely goes to Argentina during the year.
"I'm living it like a 'loco', I'm watching all the matches, I'm watching all the news, I want to put the third star on my chest because these kids really deserve it. They are leaving everything for the shirt and I hope it happens," he said.
When it comes to assessing how his father would feel about this World Cup, Diego Junior has no doubts. He loved his national team and will continue to enjoy it from heaven.
"I'm totally convinced that my dad is proud of the way they are defending the shirt, and the desire they put into it. When you have to play, you play; and when you can't play well, these kids play? For me, my dad is proud of them up there," Diego Jr said.
Many compare the 1986 World Cup with the current one. A comparison that serves to establish a comparison between the Argentinean star of the 80s and 90s, Maradona, and the current star of Rosario, Lionel Messi.
They are the two greatest exponents of the national team at world level, and this World Cup can secure that.
"The time has come to enjoy Messi, like we enjoyed my old man. Well, we should enjoy Messi in the same way. I don't like to compare them because I don't think there's any reason to do so."
"It doesn't do any good. If we win on Sunday, the stories between them will be similar, but I want to enjoy Lionel and I really like this photo that is going around the internet, where my dad and him are hugging and together. I hope it can happen and, if it does, I will be incredibly happy for Leo. I am his number one fan and I always love him," he said.