Leo Messi, 'Dios' Maradona says hello
A look back at the World Cup final between Argentina and France (seen from an Argentinian point of view)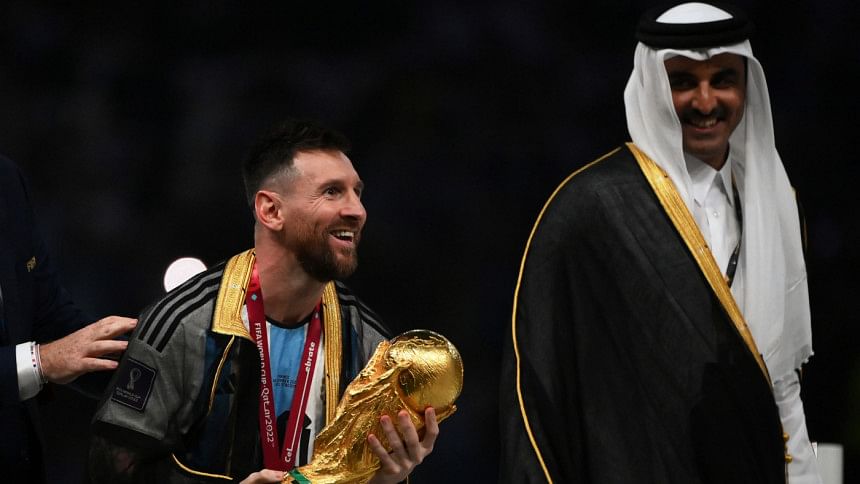 Finally, Leo Messi, and how you deserved it. From all the way back in 2006, when you made your World Cup debut, until now.
Now you have your hands on the greatest prize in the world of soccer and nobody can question you any longer, not that they should have before this Sunday.
Yet more records for Leo
Messi didn't stop, not even in the final. We have recounted all his records during the tournament. And even on Sunday, as it had to be, we add three more.
Messi is now the player with the most games in the history of the World Cup (26); the player with the most minutes (2284); and, as of today, he becomes the first player to score goals in every round from the round of 16 to the final. And in the final, he scored two more.
The invoices
There was a lot of criticism of Argentina, and some people even said the cycle had come to an end years ago. Argentina, though, answered everybody and have now won the Copa America and the World Cup with Messi leading them.
Scaloni, at the table with Bilardo and Menotti
Yes, at the same table as those two giants who watched from Buenos Aires. Menotti (78), Bilardo (86) and, the other Lionel, Scaloni. Without attracting attention, without a deep-rooted school of his own and from a modest position, Lionel Scaloni enjoys a just reward. He formed a team, and that is worth everything in a World Cup.
Angel (Di Maria) of life
Another one who has vindicated himself today. He was one of the doubts in the XI and Di Maria ate Kounde and Dembele in the first half. He won the penalty for the opener, and scored the second (2-0).
He thus extended his streak in finals: he scored in the final of the 2008 Olympic Games; in the final of the Copa America 2021 in the only goal against Brazil (1-0); in the Finalissima against Italy. A big-game player.