Goalkeepers stealing everyone's thunder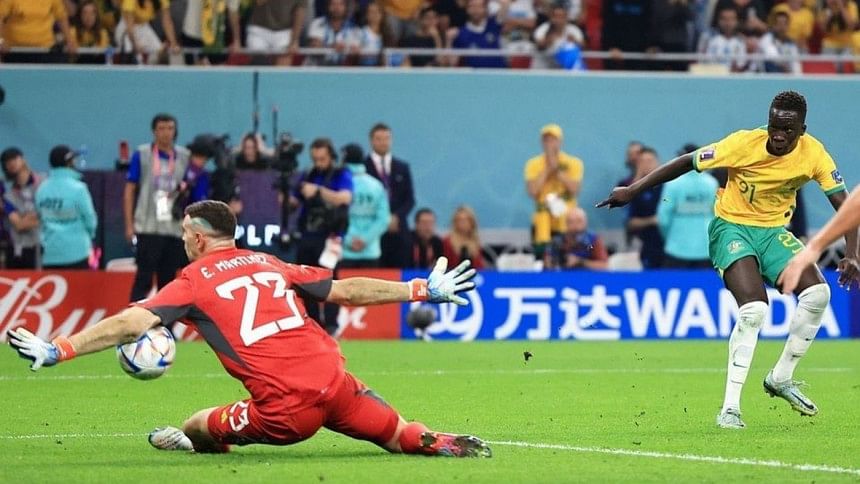 Argentina fans around the globe were expressing gratitude after Lionel Messi's last dance in the FIFA World Cup was extended by at least one more week following a 2-1 win over Australia in the Round of 16 on Saturday.
However, although Messi's left-footed magic has again stolen the headlines, those fans must be thankful to another man.
Had it not been for a big split block in the 97th minute by Argentine shot-stopper Emiliano Martinez, who has earned the adoring nickname 'Bajpakhi (falcon)' from many of Bangladesh's Argentina loyals, the scenario would probably have been very different for the Albiceleste.
But that was only a glimpse of the numerous goalkeeping manifestos issued throughout the World Cup.
Argentina themselves were deprived by goalkeeping brilliance on a couple of occasions in the group stage. After Saudi Arabia had taken the lead against Argentina, goalkeeper Mohammed Al Owais rose to the occasion. He parried shots from point-blank range, rebuffed one-v-ones and lunged between bodies to intercept crosses.
A week later, when Messi placed the ball on the penalty spot with a chance to give his country the lead in their group-stage match against Poland, veteran Polish keeper Wojciech Szczesny winked at his defenders knowingly. Diving to his left, Szczesny's strong right forearm then denied Messi's shot, keeping Argentina waiting.
It was a triumphant moment for the Pole, who became the first goalkeeper since Brad Friedel of the United States in 2002 to save two penalties in the same World Cup.
Before stopping Messi's spot-kick, the Polish shot-stopper had saved Saudi's Salem Al-Dawsari's penalty. His glittering performances saw him finish with the joint-most saves (16) alongside Serbia's Vanja Milinkovic-Savic in the group stage.
But many goalkeepers have stolen eternal memories away from strikers. In total, five of 11 penalties have been rebuffed in Qatar, a scarcely believable return.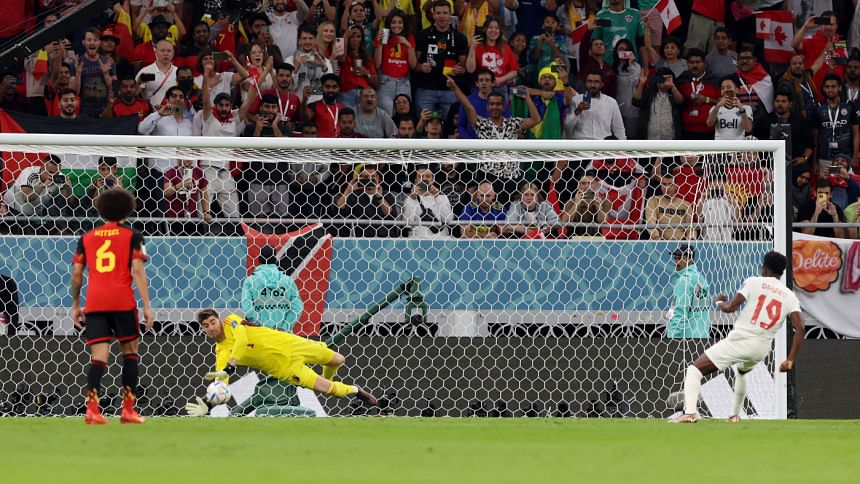 The other three denials were provided by Belgium's Thibaut Courtois against Canada's Alphonso Davies, Mexico's Guillermo Ochoa against Poland's Robert Lewandowski and Uruguay's Sergio Rochet against Andre Ayew.
In a strange twist of fate, all those goalkeepers bar Szczesny have since bid farewell to Qatar, their respective nations failing to qualify to the Round of 16.
But goalkeeping is no longer limited to just shot-stopping. Unlike days gone by when a goalkeeper was considered exclusively the last line of defence, today a keeper is the first line of attack. As teams build from the back and keepers get more touches on the ball, commentators repeat the names of keepers more than ever during matches.
Spain's Unai Simon has distributed the ball most successfully, completing all 30 of his short passes and 73 of 75 medium-ranger passes in the group stage. Switzerland's Yann Sommer not only made 9 saves across three games, he also completed 21 of 21 short passes and 45 of 46 short passes.
With the knockout rounds already underway, keepers may be afforded the opportunity to become heroes in their nations during those eagerly anticipated tiebreakers. The only question is: which goalkeeper can 'save' their nation, not just in the penalty shootout, and lead them to eternal glory?