Deschamps clears the air over Benzema situation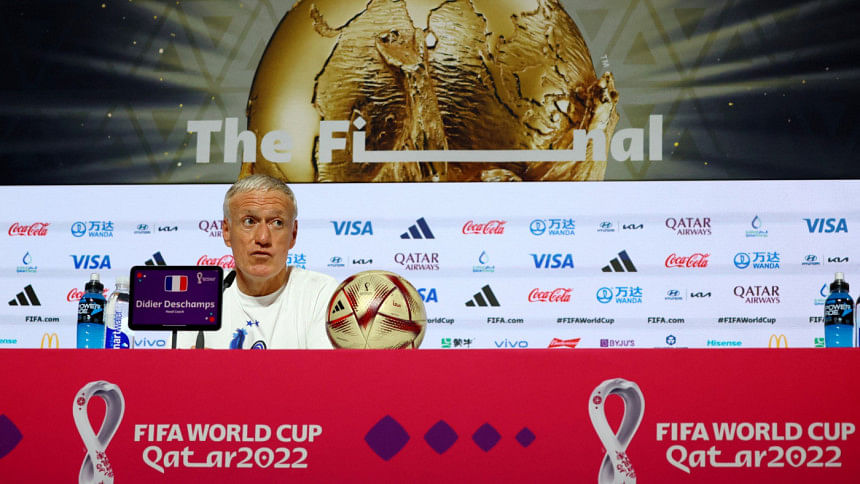 Despite rumours swirling around that Karim Benzema might make a late return to join the France squad following his recovery from injury, coach Didier Deschamps, speaking in his last pre-match press conference at this World Cup, made it clear he wasn't focusing on anyone he has at his disposal at the moment.
The world champions were hamstrung with injuries even before the World Cup began, losing Paul Pogba among Ngolo Kante some big names. Things got worse as Benzema, the Ballon d'Or winner this year, injured himself in a training session in Qatar. Forward Christopher Nkunku and left-back Lucal Hernandez later was added to the injury list as Deschamps decided to stick with 24 out of the 26 players at his disposal.
Now that Benzema is reportedly fully fit and with rumours swirling of him returning to the squad, it was up to Deschamps to clear the air. And he did so at the press conference.
"Some players have been injured and Karim Benzema is one of them and Lucas Hernandez got injured in the first game. From that point on, I have 24 players in my squad and they are the ones at my disposal, so I don't think it is fair to those players to ask about players who aren't here," the World Cup winning coach said.
The 34-year-old striker trained at Real Madrid's facilities and played in a behind closed doors 60-minute friendly against Leganes on Thursday.
It had fuelled speculation that Benzema could still play a role in the final back in Qatar. Deschamps had opted not to take the opportunity to replace him in the squad and therefore Benzema never officially withdrew and technically still remains eligible.
When pressed on the matter immediately after the semi-final, Deschamps refused to address it but also didn't firmly rule it out as a possibility. But after the player himself made an allusion a few hours earlier with a cryptic message saying, he wasn't interested, Deschamps came up with a definitive answer:
"It is not up to me to decide who comes to watch the game, former players or injured players, I focus on my squad and the players at my disposal. We have lost three Christopher Nkunku, Karim Benzema and Lucas Hernandez and I lost them even though they were in the squad to begin with. So now I am focusing on my 24-man squad and they are the ones I will have at my disposal tomorrow."
Benzema missed out on France's World Cup triumph in 2018, which fell during six years of being overlooked by Deschamps. Having also missed Euro 2016 on home soil, he was recalled last year shortly before the start of Euro 2020.