Unfazed by the past, Shanto emerges as Tigers' new hero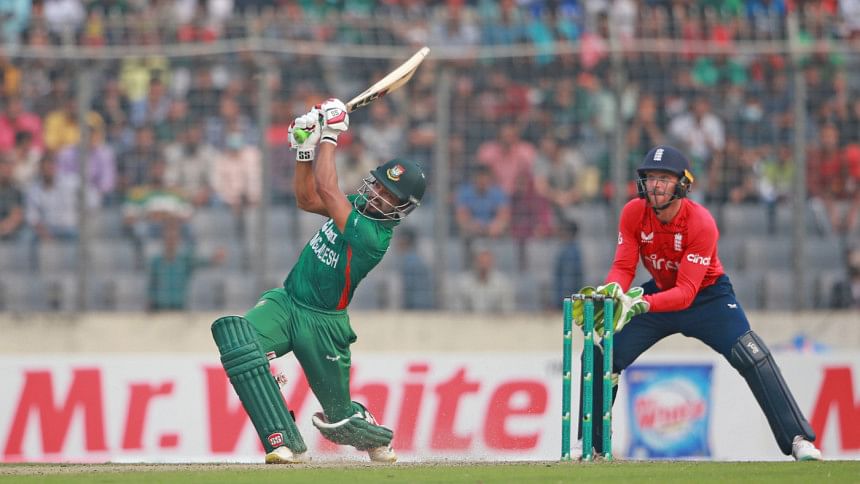 From being a constant subject of ridicule on social media to becoming the toast of the town, Najmul Hossain Shanto has seen it all. 
As the Bangladesh team management often mentioned, the 24-year-old batter has always had the 'potential and talent' but could never really come through and prove his worth, until recently in the past few months.  
Shanto has always been the one the Tigers' team management looked up to, someone in whom the Bangladesh Cricket Board (BCB) had invested, and at times, labeled him to be the 'future leader' of the team. And Shanto finally started paying dividends by making statements in a way that is unique considering the Bangladesh context.
More often than not, Bangladesh batters come up with sporadic performances -- the bare minimum that bails them out of hot water. However, Shanto has emerged as a consistent performer for the national side and also in the domestic circuit for a while now. The left-hander ended as the highest run-getter for Bangladesh in their historic 3-0 T20I series triumph over England, amassing 144 in three matches with two not outs in the 40s and a third fifty in the format. 
For his efforts, Shanto was adjudged the player of the series against England, which was only a testament to his phenomenal consistency that also saw him become the top run-getter in the previous edition of the Bangladesh Premier League last month.       
"I think I have started to enjoy my game out in the middle and I am not thinking about the outcome," Shanto told The Daily Star what has changed for him in the last few months.  
"I am living in the present, not worrying about what has happened in the past or what might happen in the future. I never tried to prove myself to anyone which I think would have put me under more pressure. I am working on my game continuously and trying to improve as a cricketer," he added.   
The most impressive part of Shanto's resurgence is how maturely the cricketer has been pacing his knocks. The knocks of 51, 46*, and 47* against England were all paced the way the situation demanded. 
But according to the batter, it was his knock in the second T20I that helped the Tigers recover from two early wicket losses to register a win with seven balls to spare that has been the most crucial one.  
"I think the innings that I played in the second game was crucial considering the context of the match. We were in some sort of pressure and I wanted to finish the game for my team."