Rajitha makes the new ball talk again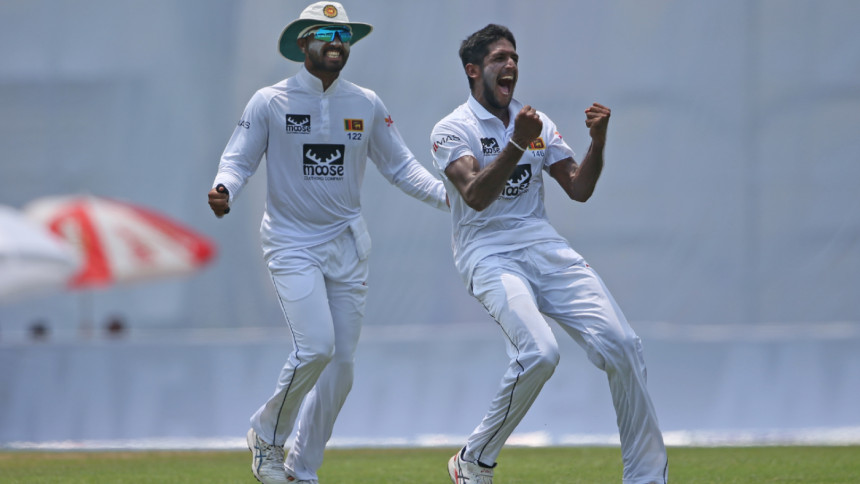 Sri Lanka pacer Kasun Rajitha's grip said it was going to be an outswinger. The seam position after release was of an outswinger too. But Rajitha's plan was to use the uncertainty of the scrambled seam and the delivery pitched right outside off stump and jagged back in sharply, cutting Liton Das in half.  
Ofcourse Rajitha had no way of knowing which way the scrambled seam delivery would go but he knew the demands of the surface. Liton got off strike but then Rajitha tried the outswing yorker, which he had bowled yesterday as well, again. It was so full, Mushfiqur Rahim played it on the full and it ended up bouncing right after hitting the bat and going through the slip cordon for four. The plan was to keep the batters guessing. 
It was only the third over of the morning but Kasun Rajitha had already started to make the ball sing to his tune. The new ball was seven overs old and Bangladesh had two set batters in Mushfiqur Rahim and Liton Das looking to continue their dominance on day two after picking up tons yesterday.
It was another brilliant early morning spell from Rajitha and he then brought Liton forward slightly in the 93rd over and Liton prodded at the out swinger enough to get an outside edge to the slip cordon as Ramesh Mendis took a excellent catch. Liton departed for 141 off 246 deliveries and Kasun picked up his fifer in the fourth delivery as Mosaddek Hossain nicked an outswinger, unable to get his feet anywhere close to the delivery. 
Kasun had been tormentor in chief yesterday, picking up Mahmudul Hasan, Najmul Hossain and Shakib Al Hasan in the first hour on day one. Today he once again took advantage of the new ball as Sri Lanka look to stage a fightback after Liton and Mushfiqur's surreal 272-run partnership over 384 minutes. Rajitha became only the second Sri Lankan pacer after Dilhara Fernando to scalp five wickets against Bangladesh. He once again dictated terms in the morning session. Yesterday, Bangladesh had found themselves at 31 for five at drinks. Two more wickets fell today, meaning all seven Bangladesh wicket has fallen in the first hour of the morning session.
Good news for Bangladesh is that Mushfiqur survived the first hour and crossed the 150-run mark with Taijul Islam as partner.