Louisville stages mass funeral for Ali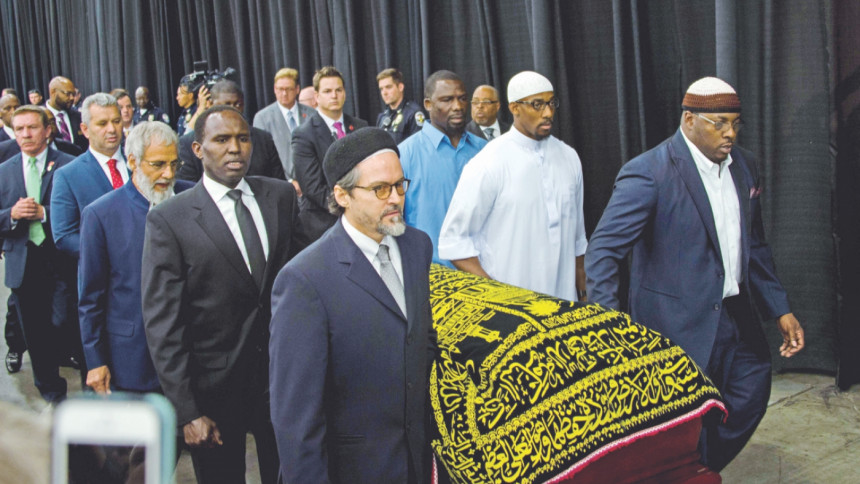 Thousands of people on Friday cheered and threw roses in the streets of Muhammad Ali's hometown Louisville as they bade farewell to the boxing legend and civil rights hero known as "The Greatest".
A mass funeral procession, a private burial and public memorial service will wrap up two days of tributes to the three-time heavyweight world champion, who died last week at 74 after a long battle with Parkinson's disease.
For more than two hours, the cortege passed by sites that were important to "The Champ": his childhood home, the Ali Center, the Center for African American Heritage -- which focuses on the lives of blacks in Kentucky -- and along Muhammad Ali Boulevard before arriving at the Cave Hill Cemetery for a hero's burial.
Police officers jogged alongside the hearse as it passed Ali's boyhood home, to keep the large crowd out of the street.
Born Cassius Clay in 1942, the boxer won Olympic gold and went on to a glorious professional career, with his epic fights now the stuff of sports legend. He shocked America by refusing to serve in Vietnam, a decision that cost him his title and his career for years. He earned scorn for his incendiary comments about his opponents, once calling Joe Frazier a "gorilla."
But Ali later earned global respect as a civil rights activist who preached religious tolerance, and for his public battle with a disease that ravaged his once powerful body.
Actor Will Smith -- who earned an Oscar nomination for his portrayal of Ali on the silver screen -- and former heavyweight champions Mike Tyson and Lennox Lewis will be among the pallbearers at the burial, which is closed to the public.
On Friday afternoon, Ali will be honoured at an interfaith memorial service at a large sports arena that will bring together VIPs and fans alike, with former US president Bill Clinton and comedian Billy Crystal to give eulogies.
Barack Obama will not be present at the funeral of the man he calls a "personal hero" since it coincides with his daughter Malia's graduation from high school. But the US president published a video message Thursday .
"This week we lost an icon," Obama said in the message. "A person who for African Americans, I think, liberated their minds in recognising that they could be proud of who they were."
"I grew up watching him. I grew up having my identity shaped by what he accomplished," he said. "The incredible gestures of love and support that he showed me was one of the great blessings of my life."
On Thursday, thousands came together for the Muslim service in remembrance of the champion, who converted to Islam in 1964, changing his name to Muhammad Ali.
"My hero was locked in his body," said Louisville taxi driver Fred Dillon, referring to Ali's fight with Parkinson's.
"Now he can float like a butterfly."