Simanta bears the weight of a nation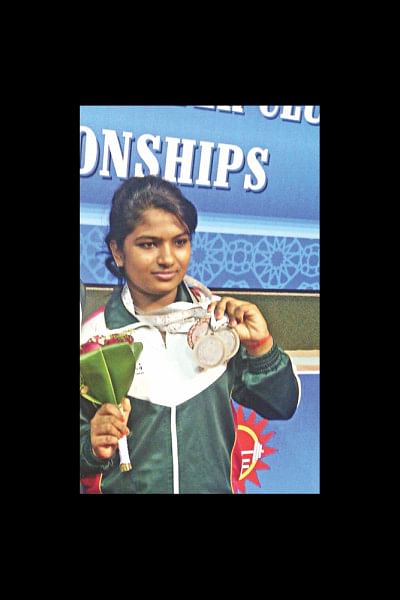 After enduring a long 26-year wait before winning their first gold medal in weightlifting at the South Asian (SA) Games six years ago on home soil, Bangladeshi weightlifters will hope to continue with their newfound success in the upcoming SA Games to be held in Guwahati and Shillong, India from February 5.
There is hope to be taken from the recent successes of the weightlifters who won gold, silver and bronze medals in some international tournaments such as Commonwealth Youth, Junior and Senior Championship, 2nd Qatar Cup and Asian Youth and Junior Championship, First Afro Asian Championship Islamic Solidarity Games, Asian Youth Championship and the first South Asian Weightlifting Championship since the completion of Dhaka SA Games in 2010.
Female weightlifters however were the ones who claimed the most medals for Bangladesh in those events and they will again carry the nation's hopes after women's events were included for the first time in the history of the games.
"We are expecting to win medals in all seven women's events as the girls have been doing well at the international level for the last few years," said weightlifter-turned-coach Biddut Kumar Roy. "We have more or less improved in the past six years and we are in a good position at the moment but can't ensure that we will win a gold medal because India and Pakistan are far ahead of us."
Mabia Akter Simanta is the one in the spotlight this time around, after winning a gold medal in the 63kg youth category of the Commonwealth Youth, Junior and Senior Championships in India last year. Simanta beat her Indian opponent after lifting a total of 176 kg while her opponent lifted a total of 172kg and had to settle for silver.
"There was a little difference between me and the Indian weightlifter, whom I beat in the Youth Commonwealth Championship but I am hopeful that I can do better in the SA Games if I can translate my performance to the competition," said Simanta, adding that she was lifting 83kg in snatch and 103kg in clean and jerk in practice.
The 18-year-old weightlifter, who won the silver medal in the 2013 Commonwealth Weightlifting Championship in Malaysia, also dreams of becoming the first female Bangladesh weightlifter to win a gold medal in the South Asian Games to etch her name into the history of Bangladesh weightlifting.
However, it is going to be tough for Hamidul Islam -- who presented the nation with its first weightlifting gold from the SA Games in 2010 after beating teammate Monoranjan Roy -- because, the weightlifters from India, Pakistan and Sri Lanka, who shared seven gold medals out of eight in Dhaka SA Games, are expected to participate alongside Hamidul in the 77kg event.
Hamidul lifted a total of 257kg in the 77kg category to win the gold medal but he has hardly improved his performance in the past six years, although he made a national record in 69kg category after lifting a total of 265kg in the Bangladesh Games in 2013.
"The preparation is good and I have no injury at the moment. As weightlifting is a physical competition, I will retain my previous position if I face no physical problems before the match," said Hamidul, who believes lifting weights depends on the fitness of a competitor.
Coach Biddut Kumar said that they were hoping for a gold medal from Simanta but that other weightlifters such as Moinul Islam, Mizanur Rahman, Mollah Sabira, Rokeya Sultana Sathi and Juhura Khatun have good chances to win silver medals.