Pak v Eng, 1st Test, Abu Dhabi
Root eyes win after Cook classic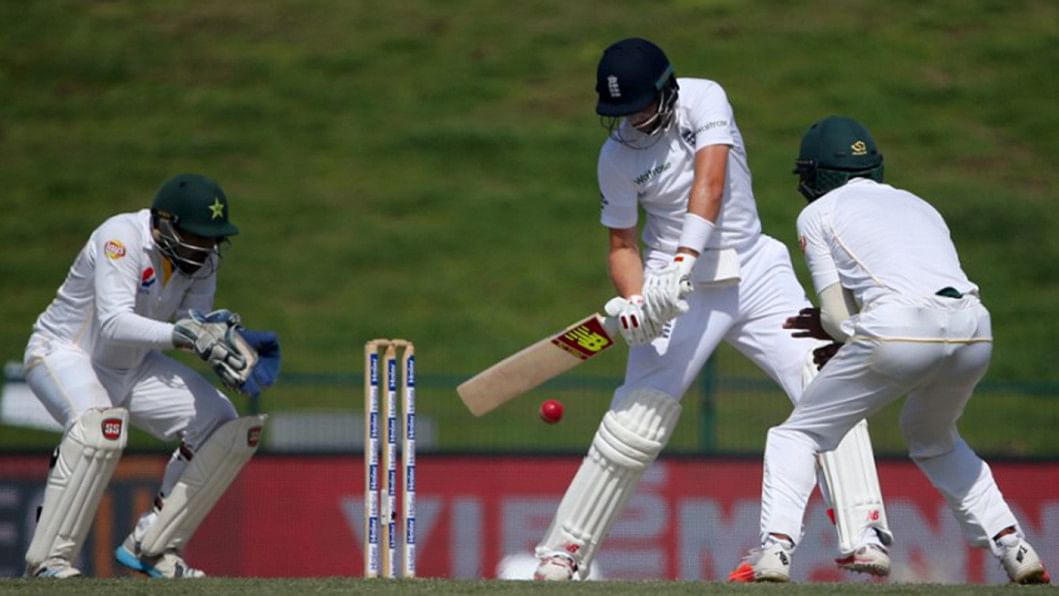 -Joe Root is adamant that England can still win on the final day against Pakistan
-Both team's bowlers have been tormented by Abu Dhabi's sweltering, flat, lifeless pitch
-Root made 85 in a 141-run partnership with captain Alastair Cook who scored 263
-The United Arab Emirates has proved a welcome adopted home for Pakistan
Batsman Joe Root is adamant England can still claim an unlikely victory on the final day of the first test against Pakistan after his side moved 46 runs ahead of Pakistan on Friday.
Adil Rashid (6) and Stuart Broad (0) will be at the crease as England resume on 569-8 on Saturday.
he tourists will aim to extend their lead before making Pakistan bat again on what could be a nervy climax, although both team's bowlers have been tormented by Abu Dhabi's sweltering, flat, lifeless pitch.
"We've got an opportunity to win this game," Root told reporters after making 85 in a 141-run partnership with captain Alastair Cook who scored 263.
"If we bat well for the first hour or so or however long it's going to be, we can then put Pakistan under pressure and hopefully force a result."
Root conceded it would be a surprise for England to get 10 wickets on a single day after it took four days for 16 to fall.
Yet he pointed to three late dismissals by Pakistan spin duo Shoaib Malik and Zulfiqar Babar and some long-awaited reverse swing near Friday's close as evidence the pitch was becoming tougher to play.
"When you've got scoreboard pressure in the final day you never know what can happen," said Root, 24. "This could be a really exciting finish."
The United Arab Emirates has proved a welcome adopted home for Pakistan, who are unbeaten in seven series there and whitewashed England 3-0 the last time the two teams met in 2012.
Cook is one of four survivors from that humbling and the skipper sought to make amends with a 836-minute innings that was his second-highest score and the third-longest in test history.
"In that heat (he) showed huge amounts of skill, concentration," said Root.
"We spoke a lot about batting for long periods of time here and how important that's going to be to give ourselves a chance of winning."
"Our captain has led from the front, set the example for the rest of the series."
Cook would have batted for longer had officials seen that Malik's fateful delivery was actually a no ball.
"Umpires can never win," added a philosophical Root.
"They make a good decision and they're expected to do it."
"If they make a bad one everyone wants their head, so I've got sympathy for the umpires, in this heat as well because they've got to concentrate for as long as we have."