Rio Olympics: Shot put 'Diva' puts on girly, golden show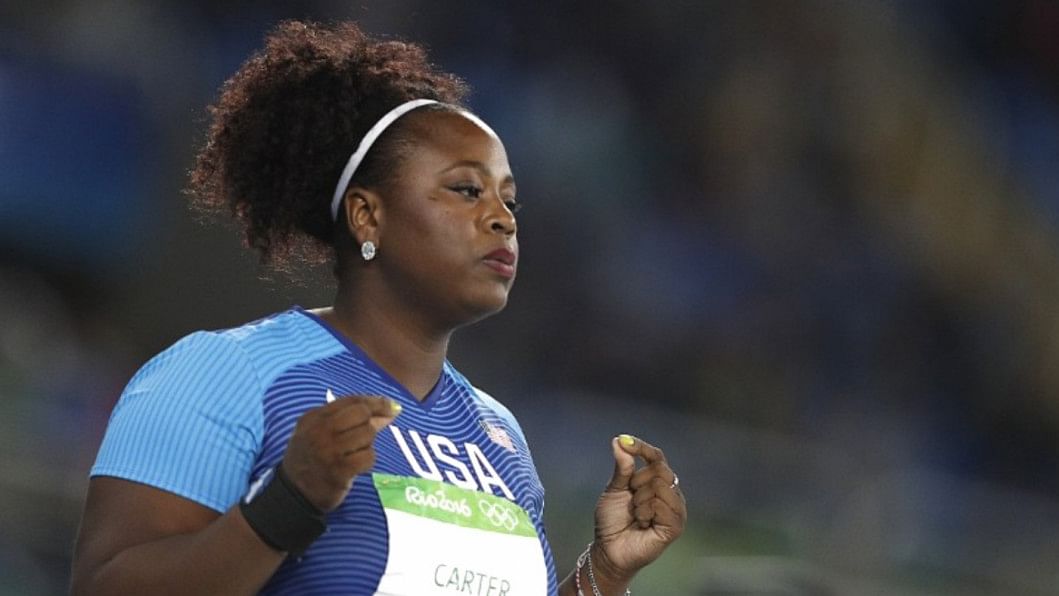 With crimson lipstick, eye-liner, mascara and a beaming smile, Michelle Carter on Friday won a stunning Olympic shot put gold to sprinkle a little glitz on an event often cruelly ridiculed for the shape of its women athletes.
Holding her nerve, the self-proclaimed "Diva" etched her name in the history books with a last-gasp throw at Rio. Now the bubbly, fashion-conscious American wants to change the perception of her event and the strong women who compete in it.
"I'm in a sport where people don't look at us like women, they don't look at us like being girls, or feminine," Carter said. "But I've been girly all my life and so I couldn't separate... between the sport and being a woman.
"I love hair, I love make up, I love fashion and I love throwing the shot put."
Female shot putters have struggled to shake off a brutish image from the sport's dark days in the 1970s and 1980s when some East German competitors were pumped with steroids, leaving them with masculine characteristics.
As the sport has become more technical in recent decades, the women slimmed in size but still remain larger than other track and field athletes and the snide remarks and stereotypes persist.
On social media and in person, 30-year-old Carter has often spoken out against body shaming and called for larger women to embrace their appearance, or as she puts it, "just have fun".
"One of my sayings is: look good, feel good, do good," she said. "If you are feeling good, you look good, you are confident about yourself, you are going to go out there and you will rock it."
A certified professional makeup artist, Carter also owns a small online business, "Shot Diva", selling make up packages.
"It combines two things that are part of me, the shot put and being a Diva. I love all these things: make up, hair, fashion, and just embracing my femininity, and I put it together," said Carter.
"Yo Daddy, I Got You"
When Carter hurled her last heave, she toppled New Zealand's two-time Olympics champion Valerie Adams and became the first American woman to win a shot put medal at the Games in 56 years.
On top of beating Adams, Carter also trumped her coach and father, Michael, who won a shot put silver in the 1984 Los Angeles Games. Now, she teased, the plan was to regularly remind him she went one better.
"I'm gonna be walking around the house saying 'yo daddy, I got you'," she told reporters afterwards, as Michael looked on and laughed in the audience.
Coach Michael built a successful American football career after his shot put silver medal, winning three Super Bowls with San Francisco 49ers. He remains the only athlete to have won the Super Bowl ring and an Olympic medal in the same year.
Though many athletes hail from sporting families, children of Olympic medal winners seldom soar to similar heights. For Michael, watching Carter compete in the final rounds was both nerve-wracking and exhilarating.
"As parents, we jump for joy, are happy, but as her coach, I'm responsible for what happens when she fails. But she finally succeeded," Michael told Reuters.
The path to success has not been smooth for Michelle Carter, who finished 15th at the Beijing Games, and then fifth at the London Olympics. Yet for Michael, both as her father and as her coach, the Rio victory was worth the wait.
"The coach has retired for this year and the dad is now just walking around happy, with his chest stuck out," he said.