Mo Farah retains title after fall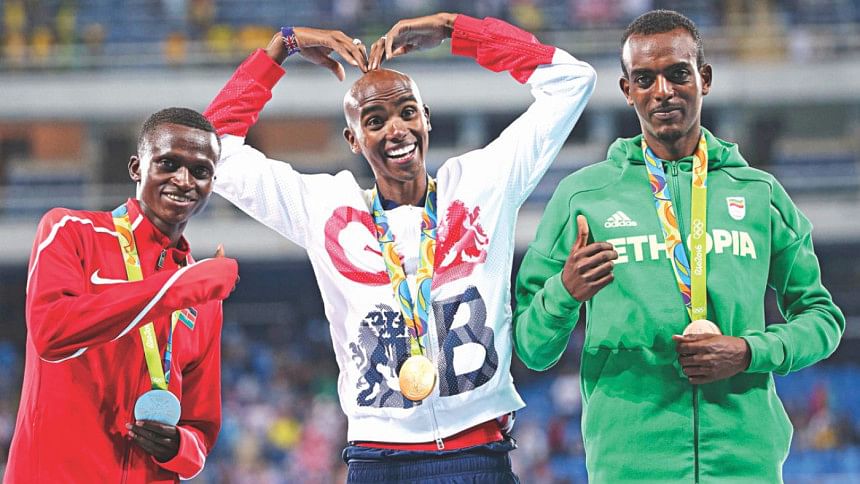 Imperious distance runner Mo Farah said he was thrilled to make history after becoming the first British athlete to win three Olympic track golds after defending his 10,000m title on Saturday.

Farah was clipped by American training partner Galen Rupp on lap 10 of the 25-lap race, tumbling to the track but quickly getting back to his feet.

"When I fell I thought the dream was over, I dug deep," said Farah, who has now racked up eight successive wins in the 5,000 or 10,000m at a world championships or Olympics since 2011.

"I promised my eldest daughter Rihanna a medal so I couldn't let her down.

"That's why I was so emotional at the end, it almost went."

Farah was guided back into his rhythm by Rupp, biding his time until there were two laps to go.

While Kenyan Paul Tanui bolted after the bell had rung for the last lap, Farah kept him in sight and a surge saw him race through for a historic defence of his title. Ethiopian Tamirat Tola claimed bronze.

Should Farah also defend his 5,000m title, he would become the first athlete since Finland's Lasse Viren in 1976 to retain two Olympic distance titles.

"Over the last four years, I'm sure people have been watching me win the worlds and come back. I've got a target on my back," said Farah, who was born in war-torm Somalia before moving to neighbouring Djibouti and then Britain at the age of eight. 

"It feels amazing, incredible to win medals for my country.

"This is what I've been training for. It's nice to able to make history and make my nation proud. For the 5,000m I just have to recover now, get through the heat and see what happens.

"I'm more of a guy who wins medals rather than runs fast times. One of the things that keeps me going is winning medals for my country and making my nation proud."

Turning to the race, Farah said he had felt comfortable after restoring himself in the lead pack following his fall.

"As the laps went down I was getting more and more confidence and at the bell I was just thinking to myself 'don't waste too much energy'," he said.

"I know Tanui but not really the Ethiopians and what they were capable of.

"I just tried to make sure I had something at the end."

Farah also had a kind word for Rupp, who was guilty of clipping his British training partner.