Pakistan in Tigers' crosshairs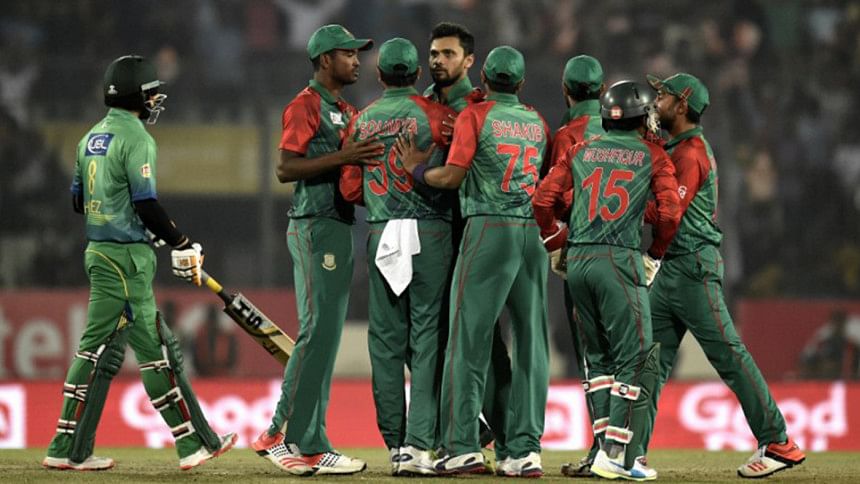 A team with a reputation of being poor starters, plagued with a plethora of on-and-off the field problems, led by a consistently under-performing captain almost fumbling towards his last shot at glory, coached not so successfully by a former fast bowler at the end of his second stint at the helm, traveling non-stop since the turn of the year…Pakistan the profoundly talented yet perennially mercurial side may just be the launching pad Tigers need for the momentous Super Ten round of ICC WT20 2016.
Bangladesh have beaten Pakistan in the last five international matches, although in conditions vastly different to the Eden Gardens, where Tigers last played on 31 December, 1990 against Sri Lanka during the 3rd match of Asia Cup. Before 2014, Pakistan prevailed in each of the first seven T20Is they had played against Tigers. However, this Bangladesh side is unlike anything Pakistan had seen before, and the shoe is almost on the other foot now.
Intikhab Alam, ex-Pakistan cricketer and the current team manager, emanated self-belief and positivity with his words going into the Super Ten round of ICC WT20 and reckoned the side was learning from their mistakes.
In their sole warm-up match, Pakistan came out in front by 15 runs against Sri Lanka at the Eden Gardens. "Different conditions from the ones we played in Bangladesh. Here in Kolkata, the pitches are different. I think we've learnt from our mistakes we made in Asia Cup and we've come here with an open mind and fresh body. We are really looking forward to doing our best." Pakistan manager explained to the press.
The most critical aspects of that match for Tigers would be Mohammad Hafeez coming back to form, slow left-armer Imad Wasim chipping in with wickets during middle overs and effective death over bowling by Mohammad Amir and Mohammad Irfan. However, there are several glaring chinks in Pakistan's armour, and if exploited effectively by our Tigers, the winning streak over our South Asian neighbours may still continue.
Pakistan's Khurram Manzoor experiment fell flat on its face as the opener went through a catastrophic Asia Cup, paving the way for Ahmed Shehzad to come back into the fold. Shehzad still pushes at the ball outside off early. Sharjeel Khan, another opener has had a lean patch after his hundred in PSL on 21 February, 2016. His lack of footwork is something Bangladesh bowlers can exploit.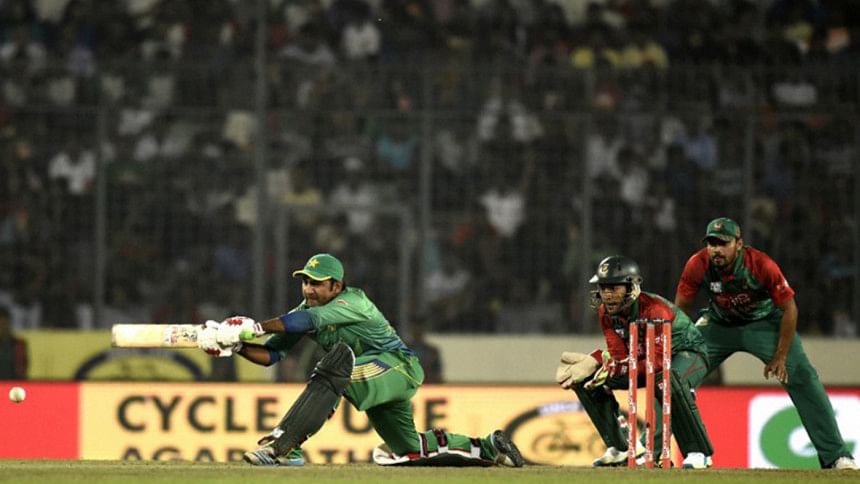 Sarfaraz Ahmed, the gutsy wicketkeeper does look in good nick with the bat, but fails to convert his cameos more often than not. He uses his feet and sweeps well, but has a tendency to be deceived in flight by the spinners when he is pressing on the pedal. Shoaib Malik is one Pakistan middle order batter who got some runs with Umar Akmal during the successful chase against UAE at Asia Cup 2016.
The way they managed the chase, keeping the scoreboard moving when boundaries were hard to come by, soaking up the pressure of early wickets, upping the ante just at the right time are qualities Tigers team management should be aware of.
Pakistan's unsettled top order and wobbly middle order are areas for Bangladesh bowlers to take advantage of.
On the other hand, Bangladesh's batting order should be alert about Pakistan's greatest strength: their four-pronged pace battery, Mohammad Sami, Wahab Riaz, Mohammad Irfan and the red-hot Mohammad Amir. As Wahab and Sami tend to be erratic, the scoring opportunities will arrive for Bangladesh batters willing to weather the storm.
Pakistan spin department is led by their skipper Shahid Afridi. Boom Boom's form has waned lately - in the Asia Cup, he scored two runs and took two wickets. Over the last 12 months, he has scored 173 runs in 15 innings at an average of 12.35 and has taken 12 wickets at 35.41. Tackling Afridi, Shoaib Malik and probably Imad Wasim on a slow turner at Kolkata should not be too much of an ordeal for Bangladeshi batsmen. Tamim and co are comfortable using their feet and can hit over the field when necessary.
The pitch at Kolkata offered turn to the spinners in the warm-up match between Sri Lanka and Pakistan on Monday as well as reasonable bounce. Bangladesh cricketers should take heart from their recent performances, believe in themselves and execute their plans professionally…and hope we win the toss today!
Go Tigers Go!