Pacquiao defeats Bradley Jr by unanimous decision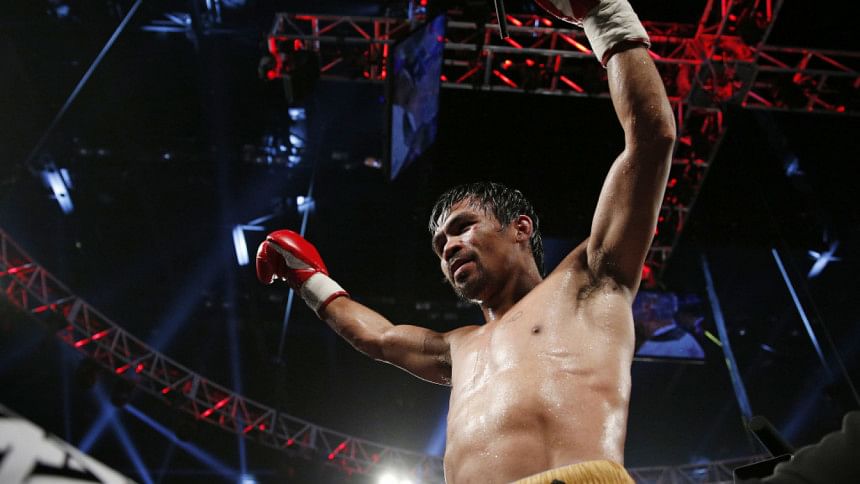 If this was truly Manny Pacquiao's final fight, as he has said it would be, he went out with a near-vintage performance.
He knocked rival Timothy Bradley Jr down twice, in the seventh and ninth rounds, and cruised to a unanimous decision in their welterweight fight Saturday night before 14,665 at the MGM Grand Garden Arena.
In the best fight of their trilogy, Pacquiao, perhaps bringing down the curtain on his legendary 21-year career, won going away, 116-110 on all three judges' scorecards. ESPN.com also scored it for Pacquiao, 117-109.
Pacquiao (58-6-2, 38 KOs), 37, rebounded nicely from last May's unanimous decision loss to Floyd Mayweather in their megafight, which was followed by surgery to repair a torn right rotator cuff.
"I was looking for a knockout in every round," Pacquiao said. "He's a very tough fighter and a very good counterpuncher. Bradley is a good boxer, a great fighter and a good man. It was not easy tonight [but] my right shoulder was fine. It gave me no problems."
Pacquiao officially won the trilogy 2-1. Bradley was awarded a hugely controversial split decision when they met for the first time in 2012. Pacquiao appeared to dominate that fight and then got a unanimous decision in their 2014 rematch, which he also dominated. And then he dominated Bradley (33-2-1, 13 KOs), 32, of Palm Springs, California, again in fight No. 3.
"Manny was very strong in there. Very heavy punches. He was also very patient," said Bradley, who has won five world titles in two weight classes. "I wasn't professional enough to stay patient myself and I walked into shots."
Although Pacquiao, who likes Bradley and invited him to his Sunday prayer breakfast after the fight, looked sharp, he declared that he was indeed retiring.
"Yes, as of now I am retired," Pacquiao said. "I am going to go home and think about it, but I want to be with my family. I want to serve the people [of the Philippines]."
He intends to retire to a life of charitable work and politics in the Philippines, where he is a two-term congressman running for a senate seat. The election is next month, and he is favored to win one of the 12 seats up for election.
Trainer Freddie Roach said leading up to the fight that he would be supportive of whatever decision Pacquiao made about his career, but after seeing how well he fought, Roach said he would be happy to see him continue.
"I loved the way Manny threw his combos. He may be a little rusty, but if he wants to continue fighting, I think he can still go," Roach said.
According to CompuBox punch statistics, Pacquiao landed 122 of 439 (28 percent) and Bradley connected on 99 of 302 blows (33 percent).
There was not much action in the early going but it eventually picked up and became quite an entertaining scrap.
"This was the best of the three fights I had with Timothy Bradley," Pacquiao said. "Great action and it was very competitive. Teddy obviously made a difference because this was the best Timothy Bradley I have faced in the three fights."
Bradley counter punched well early and showed a lot of movement but Pacquiao landed some sharp straight left hands. The action picked up considerably in the fifth round as both fighters began to look for big shots. Bradley swung and missed wildly with some of his but he also landed as did Pacquiao. There were multiple exciting exchanges that had the crowd cheering. Pacquiao fired fast combinations - he still has his speed - through the middle of the fight while Bradley struggled to find the target.
Pacquiao scored a flash knockdown just before the bell ended the seventh round, landing a left hand and a right that forced Bradley to double over and touch his gloves to the canvas.
"I don't think the first knockdown was a real knockdown but Pacquiao did a great job in there," said Teddy Atlas, training Bradley for the second time. "Give Pacquiao credit. I didn't do enough of a job for Bradley."
Bradley, who got a tongue lashing Atlas after the seventh round, came on strong in the eighth round as he landed three hard left hooks, among other shots, that forced Pacquiao into the ropes. He appeared to be in trouble but the round came to an end and Bradley could not capitalize.
If Bradley was not badly hurt on the seventh-round knockdown, he sure was when Pacquiao dropped hard him with a little less than a minute left in the ninth round. Pacquiao had landed a couple of hard left hands a few seconds earlier and then landed another clean one that knocked him down.
"Manny's left trumps all," Roach said.
Said Bradley: "Yeah, he caught me good on that one. He's just very quick and very explosive. Great reflexes and it is hard to defend. Congrats to Manny."
Pacquiao, who made $20 million, and Bradley, who earned $4 million, not only touched gloves at the start of the 12th round - No. 36 of their trilogy - but they hugged as a show of respect for each other and fought what might have been the final three minutes of Pacquiao's glorious career as the crowd chanted "Manny! Manny!"
And what a career it has been. He became a worldwide star with a series of big knockouts in the ring and humble demeanor outside of it while racing up the scale to win titles in a record eight weight divisions - flyweight, junior featherweight, featherweight, junior lightweight, lightweight, junior welterweight, welterweight and junior middleweight.
He stood atop boxing as its best fighter along with Mayweather for years, until, at long last they met last May in what a fight that shattered every revenue record and generated a record of around $600 million. Mayweather fought once more in September, easily beating Andre Berto and retired. Now it was Pacquiao's turn. Although he waffled about retirement at times, he was definitive again at the final news conference on Wednesday when he was "this is my final fight" and then said he was done again after the fight.
If he is, he will close the book on his legendary career as one of the greatest fighters to ever put on gloves. He turned pro in 1995 at 106 pounds, won his first world title at flyweight (112 pounds) in 1998 and went on to win world titles in a record eight weight divisions, from flyweight to junior middleweight (154 pounds) and beat a who's who of his era, including Oscar De La Hoya, Miguel Cotto, Antonio Margarito, Ricky Hatton, Shane Mosley, Marco Antonio Barrera (twice), Erik Morales (2-1) and Juan Manuel Marquez (3-1).
But he lost the biggest of them all, last May, when Mayweather outboxed him in a unanimous decision in one of the most hyped fights ever and the richest in history. Coming back from that loss and off surgery, Pacquiao's supposed career finale was not the caliber of event he had been so used to. There was a public backlash over the disappointing fight with Mayweather, at a record $100 for the pay-per-view, and Pacquiao's anti-gay remarks earlier this year in which he said homosexuals were "worse than animals."
He was also fighting Bradley for the third time after two previous fights that were not particularly well-received. Most did not see a reason for the third meeting and it was clear by the lack of buzz. But in the end, the fans got a good fight and Pacquiao, if he elects to, will retire on his own terms.
"I have a commitment to my family that I am going to retire after this but I don't know," he said. "Maybe I will enjoy being a retired man and helping the people. Thank you to all the fans in boxing, especially Filipinos. I appreciate all of your help and support."