Time for a tactical shift?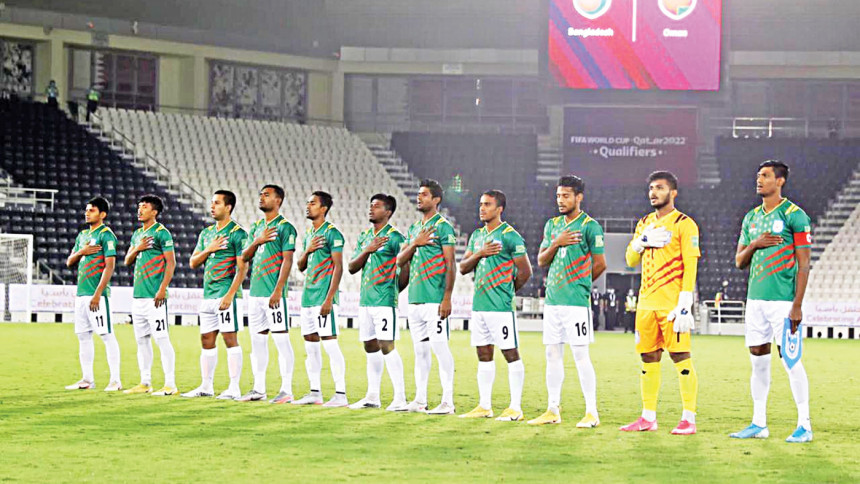 As Bangladesh woke up to the news that they were allowed qualification for the final round of the Asian Cup qualifiers, despite not meeting the previously-thought criteria following a fifth-place finish in Group E on the previous night, the pertinent question that surfaced was what they can do with this luck? Can they turn it into good fortune by stretching their ability to its limit or just accept it as a generous gift from football's Asian governing body (AFC) and be pleased with it?
The answer to this question could determine which direction the fortune of our national team will take over the next year or two.
When Bangladesh wrapped up the second round of World Cup/Asian Cup qualifiers with a 3-0 defeat against Oman on Tuesday night to finish bottom of Group E with only two points, there was a sense of resignation on everyone surrounding the team -- the players, officials and fans. With a probable tricky playoff round looming, the future had looked treacherous, reminding of what had happened following a defeat to Bhutan at that stage of previous qualifying campaign five years ago.
So it came as a surprise when AFC announced, through a media release yesterday morning, that 22 teams including Bangladesh were through to the final round of Asian Cup qualifiers.
As per the press release, a total of 24 teams will feature in the third round to compete for the final 11 slots in the Asian Cup. The 24 teams will be divided into six groups of four teams to play home-and-away round-robin matches, to be played from February to September, 2022. The group winners and the best five runner-ups across all groups, will qualify for the Asian Cup, where they will be joined by the 13 teams which qualified directly from the second round.
Coach Jamie Day, when informed about the revelation in the afternoon, said that he was as surprised as he was pleased.
"Surprised but very pleased for the players as their hard work paid off," the 41-year-old coach said to a query by The Daily Star.
Indeed the young players worked hard over the past fortnight in Qatar although there was not much to show for their effort except for one point against Afghanistan. Judging the overall scenario -- some decisions going against them in the first-leg matches against Afghanistan and India and then losing home advantage for the last three matches -- it would not be unfair to say that Bangladesh deserved a chance like this, however, the performances themselves did not invoke much sympathy. 
In all these three matches, Bangladesh adopted a very defensive strategy and their game plan was based around defending the opposition's attacks, and, if opportunities presented themselves, trying to go for attacking moves towards the latter parts of the games. Possession-wise, Bangladesh's best effort was hogging 28 percent of the ball against Afghanistan and worst was 21 percent against Oman. As far as shots were concerned, Bangladesh had a third of shots compared to Afghanistan, a fourth compared to India and a 10th compared to Oman. The perils of playing too defensively were all too evident as Bangladesh players had to often resort to very physical football, earning a number of cautions in every match. These statistics don't speak of a competitive team and will not stand Bangladesh in good stead if they indeed want to qualify for the Asian Cup.
What they will need going forward is perhaps a bigger pool of players to choose from even if that means including ageing players who have better technical ability on the ball. Day himself expressed his displeasure about the habit of losing possession after the defeat against India.
It is not as if our players don't have the technical ability to keep the ball and play a few passes; they can and they have showed it in the past too. What is needed is to train the build around that philosophy.
Recovery of Nabib Newaz Jibon, Saad Uddin, Mahbubur Rahman Sufil and Bishwanath Ghosh will definitely add to the strength of the team, and with proper support, players like Motin Mia would probably not look as forlorn in the attacking third as he looked in Doha.
Day was widely praised for instilling a fighting spirit in the players and improving the fitness levels in them after he took over in 2018 and the initial results in the qualifying campaign were encouraging. However, the recent performances have started to take the gloss of those achievements and questions have started to arise regarding the approach and performance of the team.
Now that Bangladesh have another shot at making it to the Asian Cup with seven months in hand, there is probably enough time to reconsider the team's strategies and build a more competitive unit.