'Losing some money is not the end of the world'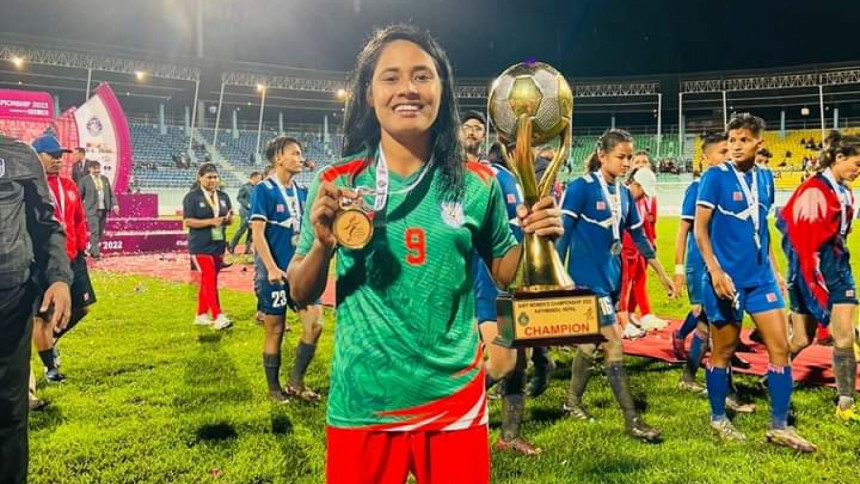 The members of the Bangladesh women's football team, who ensured a maiden SAFF Women's Championship title earlier this week, were unwilling to let anything get in the way of their celebrations.
Just a day after the champions were afforded a hero's welcome on Wednesday, news broke out that Krishna Rani Sarkar and Shamsunnahar Sr had money stolen from their luggage.
But Rani, who scored a brace in the final against Nepal, took the matter on the chin, unwilling to let anything dampen the festive vibe engulfing the nation since the historic achievement.
"Obviously, it made me a bit sad but then I got over it. What can be done after the money has been stolen, right?" Rani said when contacted by The Daily Star on Thursday.
Asked if celebrations were still in full-swing despite the unfortunate incident, the 21-year-old replied: "Yes. I don't think it makes sense to harbor any bitterness after such a great achievement. Maybe there is some resentment, but not much."
Rani, who hails from the Gopalpur upazila in Tangail, comes from a humble background. Asked if she had earmarked the money for a specific purpose, she added: "Actually yes, I set the money aside in case my family ever needed it."
But still, Rani refused to let it dampen the mood. In fact, the footballer even asked her parents to not obsess over it since it would only hamper the festivities.
"She called us and informed us of the stolen money. At first, she sounded sad. But later, she asked us not to obsess over it. She said, the way everyone is praising us after our achievement, this incident should not dampen the festive mood," Krishna's father, Basudev Sarkar, said.
"She added that we have always had hardships, especially financial issues, but money is not everything. Losing some money is not the end of the world."