Improved fitness helped Taskin all around
Pacer Taskin Ahmed's bowling was indeed a positive takeaway for Bangladesh from a rather frustrating Sri Lanka tour. The right-arm pacer was able to consistently trouble batsmen even on a flat pitch, scalping eight wickets in two Tests in difficult conditions. Bangladesh pace bowling coach Ottis Gibson talked to The Daily Star's Ekush Tapader about Taskin's improvement and the condition of the other fast bowlers in the squad.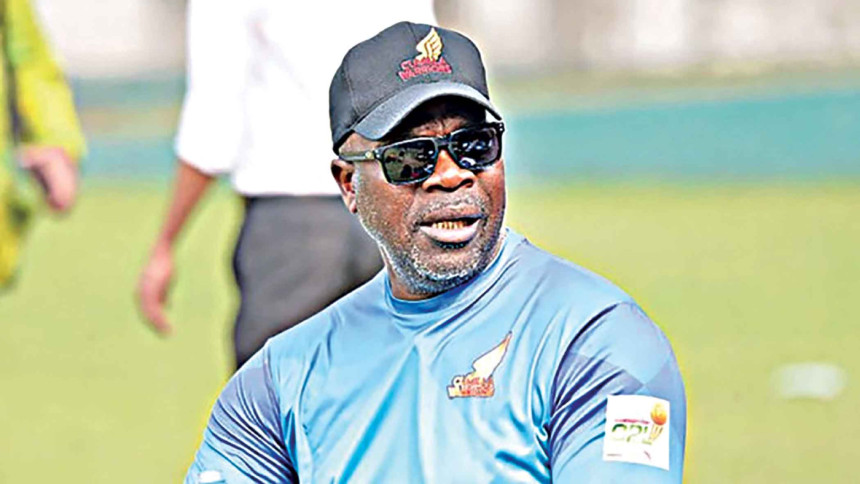 The Daily Star (DS): What has worked behind the remarkable improvement of Taskin Ahmed during the tour of Sri Lanka?
Ottis Gibson (OG): Definitely it [Taskin's improvement] was because of his new level of fitness. Improving fitness has increased his pace and helped him get into a good rhythm. Due to this, he has also been able to work on technical aspects.
DS: Can you please elaborate the technical aspects he has worked on?
OG: We worked on his run-up for a long time. Even before the New Zealand series, he had the tendency to bowl no balls. I tried to make his run-up a bit easier. In the 70 overs (68) he bowled in the two Tests against Sri Lanka, Taskin did not overstep once. If you can incorporate a comfortable run-up in your bowling then everything else becomes easier. For this reason, his line and length were very good. Besides, he is now able to swing the ball a bit. All in all, I am very impressed with his improvement.
DS: Will he be able to perform well in all three formats? And can he play all the formats?
OG: If he can hold onto this rhythm, he will be able to perform his best in all formats. However, it is difficult to say what will happen to the bowler if he plays in all three formats continuously. We need to manage this carefully.
DS: How do you assess the performance of other pacers?
OG: The Lankan condition was very difficult for pacers of both sides. We batted for a long time in the first Test and so did they. Especially, in such conditions in the subcontinent, it is hard to pin the blame on pacers. I think Taskin was the best among pacers of both sides. Only he was able to trouble the batsmen consistently.
DS: Ebadot Hossain was seen bowling at a high speed. He even clocked at 147 kmph, but what is the reason he did not have much success?
OG: Ebadot is perhaps the fastest bowler in the team. But unlike Taskin, he was unable to pitch the ball at good lengths. Alongside the pace, If he can control the ball better and swing the ball, then he can be a great bowler.
DS: Your assessment of Shoriful Islam?
OG: I am very optimistic about Shoriful and also inspired by his performance. He was called into the squad for the first time during the New Zealand tour and has already played a Test. He is a great talent and could be a star in the making. He will improve with time. He has pace, aggression and also has the natural benefit of being a left-hander.
DS: Mustafizur Rahman was not considered for the Sri Lanka Tests. What are his chances in Tests?
OG: Mustafizur played against West Indies [in Tests]. We worked on his ability to bring the ball into the right-handers. And we were successful too. However, in Tests, there are 90 overs a day. And we need to take that into consideration. We have Taskin, Mustafizur, [Abu Jayed] Rahi, Ebadot and Hasan Mahmud. So we have 4/5 bowlers for Tests. It will be great when Mustafizur will improve further and be fit to play Test in all respects because he already is an amazing pacer.