High-stakes and a battle of mind games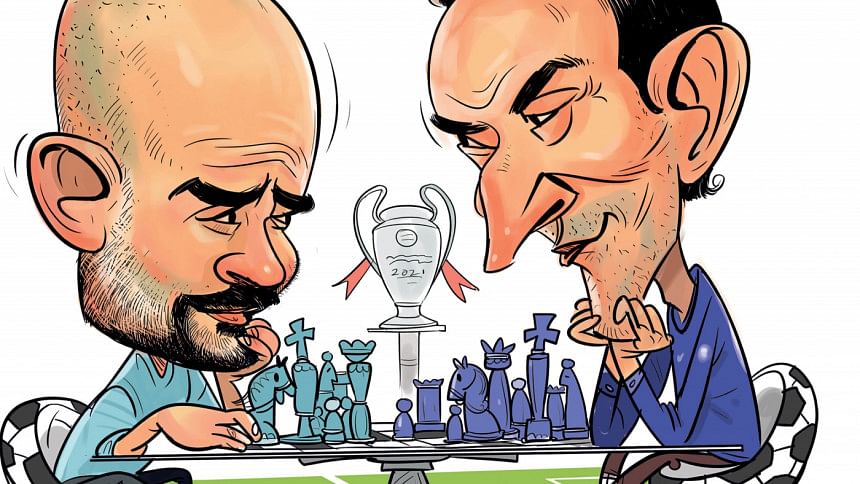 Apart from the playing style, the only predictable feature of Manchester City coach Pep Guardiola's game is the unpredictability of his starting eleven and consequently the formation, especially when it comes to huge occasions such as the Champions League final.
Like all great forms of sports, football too has the essence of chess in some of its strategic aspects. If observed through the lens of chess tactics, in every cohesive move during a match-- starting from the goal-kick, followed by many passes and moves that may lead to a goal -- a game of rapid chess can be perceived as being played.
In the biggest stages of football, such as the Champions League knockout rounds or the World Cup final, a master tactician can decide the final outcome based on minuscule observations and the resulting adjustments, which is consequence of constantly simulating myriad possibilities in his mind throughout the match.
Being a pioneer in tactical innovation, Guardiola will characteristically trust his own philosophy and instincts and may leave to tinker on his system dynamics till the last minute, as he previously showed during his time as Barcelona coach where he won two Champions League trophies in a quite convincing fashion, and both against Manchester United led by Sir Alex Ferguson -- one of the greatest managers and tacticians the game has ever seen.
Someone like Guardiola is analogous to a chess Grandmaster who keeps revisiting his moves even when the game is well within his grasp -- such is his perfectionist nature and obsession with the game. We have seen Pep play with a radical striker-less formation, as well as deploying false roles at important positions -- the false wingers and full-backs, the false 9s and 10s for instances -- which ended up bamboozling the opponent.
In the blue half of Manchester, he has the necessary arsenal to execute his vision, and most importantly he has acquired the faith of his players, in leaps and bounds over the years, to blindly trust him on the night of one of the biggest stages in any sport.
Even though this scintillating City side look to be theoretically favourites, however historically, the outcome in this great game is not always decided on paper beforehand.
After all, it all inevitably boils down to what legendary Dutchman Johan Cruyff once said: "Football is a game of mistakes. Whoever makes the fewest mistakes wins."
That is where Chelsea coach Thomas Tuchel, who is an experienced, master tactician in his own right, can seek inspiration. His side is flying high on confidence after having reached this far against the odds and moreover, winning the recent encounter against City in the Premier League by 2-1 at the last minute would have boosted their morale a great deal.
Tuchel knows what it is like to play and win in big matches as well as what it is like to play against Guardiola. He knows that to destabilise the order of possession football, he would have to execute the element of chaos with timing and perfection -- with a threatening brand of counter-attacking football with ruthless execution.
The German coach certainly has the players with suitable technical skills and heart -- the likes of Mason Mount, N'Golo Kante, Antonio Rudiger-- to take the game by the scruff of the neck against Guardiola's mean machine, composed of the likes of Kevin de Bryune, Bernardo Silva, Riyad Mahrez and Phil Foden.
The German would be inclined to instruct his men to play a reactive game with intelligence and caution, and focus on delaying, if not preventing, City from setting up their desired, sustainable tempo; and when the opportunity presents itself, as it usually does in every match, jump in to capitalise on the mistakes made by the Premier League champions.
Chelsea's superior experience in playing Champion's League final in modern era should allow them play with lesser pressure compared to City, who are bound to face the ominous music when and if the events of the match do not proceed in their favour. City indeed have more at stake, compared to the Blues from London, due to underachievement at UCL and therefore City could be more prone to committing errors at crucial stages on Saturday night at the Estadio do Dragao in Porto.
Even if Tuchel fails to come up with fitting moves in the chess mind-games, he could introduce and force Guardiola to play something else altogether -- like a game of poker perhaps, and thus hope to create distraction and confusion in Guardiola's mind with the art of bluffing and deception, in order to psychologically induce unforced errors from his counterpart.
To wrap things up, here is another famous statement by Cruyff:
"Every disadvantage has its own advantage!"