Diya tastes 1st gold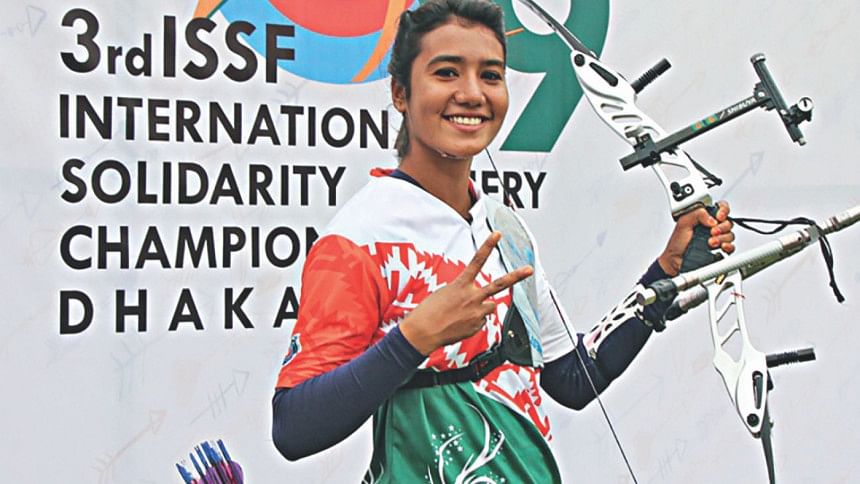 Two years ago, Diya Siddique picked up her bow and arrows for the first time during the National Sports Council's talent hunt programme in Nilphamari, where she was selected for a month-long training camp in Dhaka.
The eighth grade student grabbed that opportunity with both hands and then tried her luck in a BKSP trail before the country's lone sports institute selected her for the archery discipline in 2017.
Having spent nearly two years at BKSP, Diya got the opportunity to represent Bangladesh in the ISSF 3rd International Archery Championships and the unheralded archer did not disappoint in her first-ever international meet, grabbing the gold medal of the recurve women's individual event at the Shaheed Ahsan Ullah Master Stadium in Tongi, Gazipur yesterday.
To overcome Iran's Shojamehr Shiva was no easy task though as Diya lost the first two sets before coming back strong to win the next two sets and level the score at 4-4 set points. In the fifth and final set, Diya outplayed her opponent, scoring 28 out of 30 against Shiva's 23. Barely able to contain herself after winning her first-ever gold medal at any level of competition, the tenth grader leapt for joy as she pumped her fist in the air.
"I was anxious to the point of trembling before playing the final since it was my first international tournament and also because the opponent was strong as well. I believed in myself to do better, just as I have been bettering myself in practice sessions," said Diya, who once practiced archery as a game with bamboo-made equipment with her younger brothers.
"I was initially suffering from nervousness amid the windy condition but I got back my confidence after winning the third set and started to believe that I could win the gold especially since I came through similar situations in previous matches [the quarterfinal and semifinal]. I also believed that if I could get better scores, the opponent herself would be grabbed by pressure," explained Diya.
Diya's future is two pronged as she wishes to fulfil the dream of her journalist father -- Nur Alam Siddique, a Nilphamari correspondent of Bangla Vision Television -- to become a doctor in the future. However, she also hopes to flourish at international level archery competitions.
"Though my mother is not interested in allowing me to practice archery, my father inspired me to explore the world by playing sports. I don't want to spoil this opportunity. I will be trying to keep this performance intact in next month's Asia Cup in Thailand if I am given the opportunity to compete. Besides, I want to play in the Olympic Games in the future," said Diya, who took part in the NSC talent hunt programme after her school's PE teacher -- Khairul Islam -- asked her to try her luck.