Day looking for more new faces after debutants impress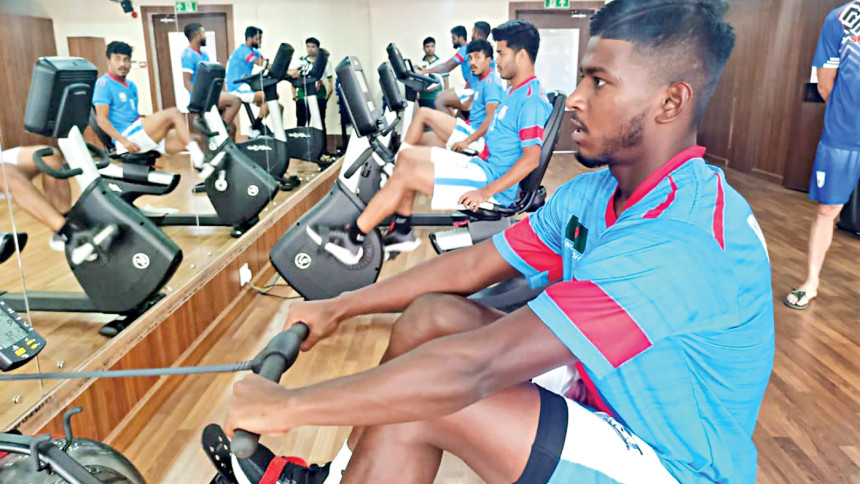 The men in red and green had a splendid day at the hotel premises in Kathmandu yesterday after making a winning start to the Three Nations Cup, with head coach Jamie Day also expressing satisfaction over the performance.
Jamal Bhuiyan and Co split into different groups and had different recovery sessions. Gym, swimming and stretching sessions were all on offer yesterday ahead of their return to training with the ball today before Saturday's final group match against hosts Nepal.
The players and coaching staff appeared tranquil in videos sent by the Bangladesh Football Federation, although there was bad news for right-back Bishwanath Ghosh, who is returning home today after being ruled out for at least two weeks due to a thigh injury sustained in the second half against Kyrgyzstan.
Day was pleased by the performance of the three debutants in the first game and was eager to see more fresh players against Nepal.
"It is a tournament where I can look at different players and give opportunities to new players. Obviously everyone will be happy when you win, but there is no reason to relax or get nervous ahead of the next game. It is enough that we look into more different, new players in the next game against Nepal," Day told reporters at the hotel premises.
"They have done very well. I am pleased with the three new players because they never played international football before. I think they need more matches before they can be judged because it has been just one game," the English coach said. "[Mehedi Hasan] Royal also did well but he looked a bit tired in the second half, which is something that can happen to new players. He needs to step it up for international matches, which are different and a bit quicker. Rimon [Hossain] was fantastic for the national team. [Habibur Rahman] Shohag has also done well and he defended well when we needed to."
Rimon was ecstatic at being given the full 90 minutes whereas Royal and Shohag were replaced in the second half.
"I felt great because the coach kept faith in me throughout the 90 minutes. I tried to give as much as I could give in the match. I hope I can perform better in the next match and return home with good results," said the Bashundhara Kings left-back, who also played at right-back position after Bishwanath's injury.
Matin, too, was pleased to have played an important role up front after returning to the national following a one-year gap.
"I tried my best after returning to the playing even [since being excluded from the squad following an injury sustained during the Bangabandhu Gold Cup]. We needed this victory and we all tried to get it. Hopefully we do better in the next matches."