OUTDOOR DUKAN IN INDORE
Chappan Dukan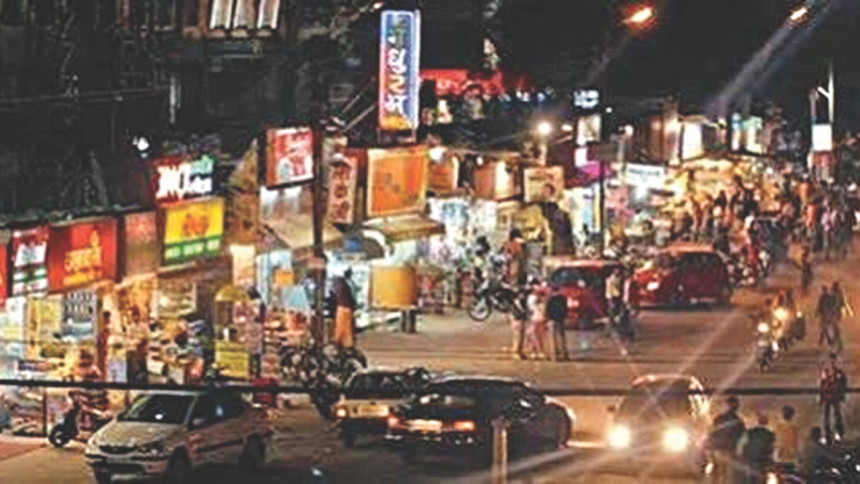 During the evenings in Indore, you better have an empty stomach. With a myriad of food outlets strewn across the city, sustenance is never a concern. However, even amongst this plethora of options to choose from, one place in particular called 'Chappan Dukan' stands head and shoulders above the rest.
It was not just the food but also the atmosphere which caught the attention of the visiting journalists, who travelled to Indore to cover the first Test between Bangladesh and India which began yesterday.
Chappan dukan, which translates to 56 shops, is an assortment of said number of outlets that run along both sides of 'Chappan Gali'. People flock to the locality in numbers during the evening to partake in the variety of delicacies to choose from with their friends and family. The whole area seemed to reverberate with an energy that one does not normally experience in the bustling Dhaka city streets. Naturally, we decided to explore the long stretch of street to find out just exactly what we got ourselves into.
On the well-lit street, our nostrils flared at the pleasant aroma of culinary delights such as Dosa, Pani Poori, Pav Bhaji and Bhejo wafting about. We first tried the Papri Chaat, which is Papdi (crisp puris) topped with lip-smacking chutneys, veggies and curd, to appease our rollicking stomachs. Then, after gorging on a Potato Twister and some Aloo Chaps, our small band decided to try something new, a mix of local and international cuisine in Dosa Pizza.
To even just watch the Dosa Pizza being prepared was a treat all on its own with the chef adding all the various toppings to the pan with a thin portion of cheese and a Dosa base. His helper arrived shortly and it turned out that the pair, having come from Siliguri, spoke Bengali.
Even at 10 in the morning, the streets were still flooded with people of all ages with parents seen placing their little children in little amusement rides beside the food carts. The atmosphere was like that of a part but Indore style at that. One of the vendors concurred that the place is indeed very famous as for years the shops which have been set up here have been regularly frequented by film industry stars such as Shahrukh Khan, Salman Khan and others. The troupe of reporters eventually concluded their small but vibrant tour after having bathed in the glow and liveliness that is Chappan Dukan, wholeheartedly satisfied as they trudged off to their hotels.