AFC can't bow down to Afghan pressure
Time the Asian football body reconsidered its plan on WC qualifying fixtures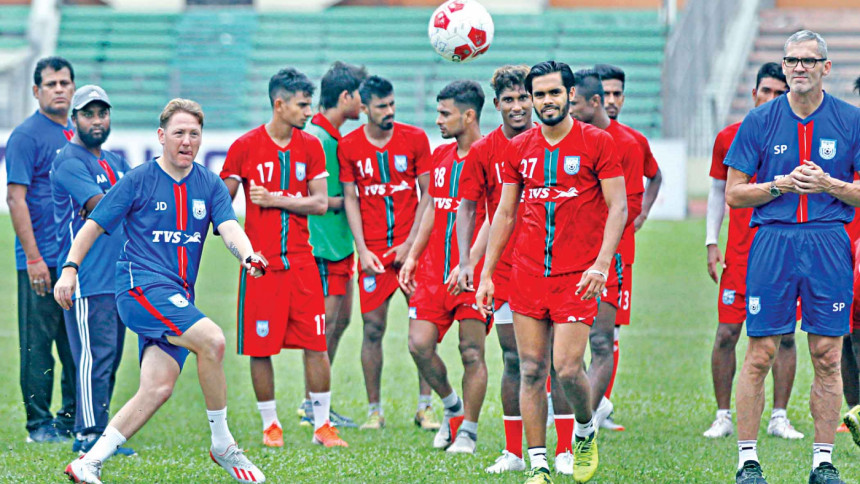 The governing body of Asian football, AFC, on Thursday issued a statement following discussions with its member associations, saying that a majority of the remaining World Cup/Asian Cup qualifying fixtures of Round-2 have been deferred to June in light of existing travel and quarantine restrictions caused by the Covid-19 pandemic across the continent.
The statement also said AFC has been working with member associations grouped together to help them make their own arrangements and play out the remaining games at one venue.
The second statement, given AFC's rigid stance on finishing the remaining matches by June 15, has put countries such as Bangladesh in a pickle.
How? To understand that we need to take a look at where Bangladesh stand in terms of their qualifying campaign.
The men in red and green have played five of their eight matches -- each team in a group of five teams was originally scheduled to play twice against every other team, home and away -- and they have played four of those five matches away from home.
While Bangladesh only managed one point from those five matches, they were banking on the remaining three matches, or to be more precise, on the two matches against Afghanistan and India to earn some valuable points and move up from the fifth position that they currently occupy.
While qualifying for the next round of World Cup qualifiers was never realistically on Bangladesh's agenda, there was a genuine conviction among the Bangladesh ranks that a third or even a fourth place finish in the group, which could ensure them a direct berth in the next round of Asian Cup qualifiers, was not out of their reach -- a conviction strengthened by their fighting draw against India in Kolkata and a narrow defeat at home against Qatar, both taking place in 2019.
But those hopes could very well be dashed or at least suffer a huge blow if AFC's plans, with consent from a majority of members under unique circumstances shaped by Covid-19, are realised.
The plan is, as stated before, to stage the remaining matches of the group at a centralised venue -- likely in Qatar or Oman -- during the May 31-June 15 FIFA window, so that the travel restrictions and quarantine issues could be somewhat mitigated.
But that puts Bangladesh, who were supposed to play these matches at home, in a very tricky situation. Home advantage is always a big one in football for obvious reasons and the fact that home advantage becomes even more significant for countries like Bangladesh is well documented too -- that performance against Qatar in 2019 and the 2011 World Cup qualifying home-leg win against Lebanon are two cases in point.
Bangladesh coach Jamie Day asserts how important the remaining matches are for his team and how crucial the home advantage could be.
"We all want the games to be in Bangladesh as it would be an unfair disadvantage for us if the games are held at a neutral venue. It would also mean we play five out of six games away from home, which is not acceptable," the coach said during a conversation with The Daily Star.
While it looks increasingly likely, although not absolutely certain at this stage, that Bangladesh might have to play against India and Oman at a centralised venue overseas, there is still a strong possibility of hosting Afghanistan in Sylhet on March 25 as per the original schedule.
That possibility, though, hinges on a verdict from the AFC, to be delivered on February 23, following presentation of arguments from Bangladesh on staging the match in Bangladesh and arguments from Afghanistan against it.
What we know so far is that Afghanistan have appealed to AFC to play this match at a centralised venue in June, citing a lack of preparation time ahead of the match due to their players' engagement in leagues of different countries together with the issue of quarantine protocol in Bangladesh.
The argument, by default, is a weak one in light of clear guidelines on club versus country conflicts when it comes to national team engagements. The match falls in a FIFA window, which should suffice to compel Afghanistan to muster their resources and pack their bags for Sylhet.
Any other concern from the Afghans regarding the Covid situation in Bangladesh should logically be summarily dismissed by the AFC, which has already given its go-ahead to four matches to take place as per previous schedule, among those is Nepal hosting Australia in Kathmandu on March 30.
Nepal's current Covid situation is not much better than Bangladesh's in nature, if not magnitude, and Australia face the same predicament as Afghanistan when it comes to quarantine protocols and players' availability.
So why is Afghanistan not willing to come to Bangladesh while Australia is happy to travel to Nepal? Probably because Australia know they would be too strong, even without a few of their first-choice players, against Nepal while Afghanistan fear they might lose away to Bangladesh even with their full-strength side.
"We are preparing our case with a few specific points: the improved situation of Covid-19 in the country, the FIFA friendly matches held against Nepal in November, the ongoing leagues in the country and recent cricket series against the West Indies held in Dhaka and Chattogram," Bangladesh Football Federation (BFF) general secretary Abu Nayeem Shohag told The Daily Star.
Jamie Day, however, was less forgiving in his assessment of the situation.
"I think if teams refuse to travel to Bangladesh to play, then we should be given the points," Day said, his comment likely based on the benchmark that the likes of FIFA and AFC have come to set.
Day has every reason to feel a little frustrated, given that among all five nations in the group, Bangladesh stand to lose the most if the remaining fixtures are moved to a centralised venue. Only Bangladesh have all three home matches left while Qatar have none, Afghanistan and Oman have one each and India have two home matches left.
And given the tight competition at the lower end of the points table, home advantage could play a big part in deciding the final standing -- a win over Afghanistan would see Day's men catapult to third position ahead of both Afghanistan and India.
We would like to be hopeful, though, and believe that the strong arguments in favour of Bangladesh trample those by Afghanistan and would further hope that a smooth staging of that match in Sylhet would convince AFC to move away from its intended path and back to the original plan, even if it needs a bit of flexibility regarding deadlines and enduring the obvious hassles of decentralised football in pandemic times.
With Covid vaccination gathering pace across the globe and travel restrictions easing off, we could be in for much less complicated times come June anyway.