My dream died: Ranieri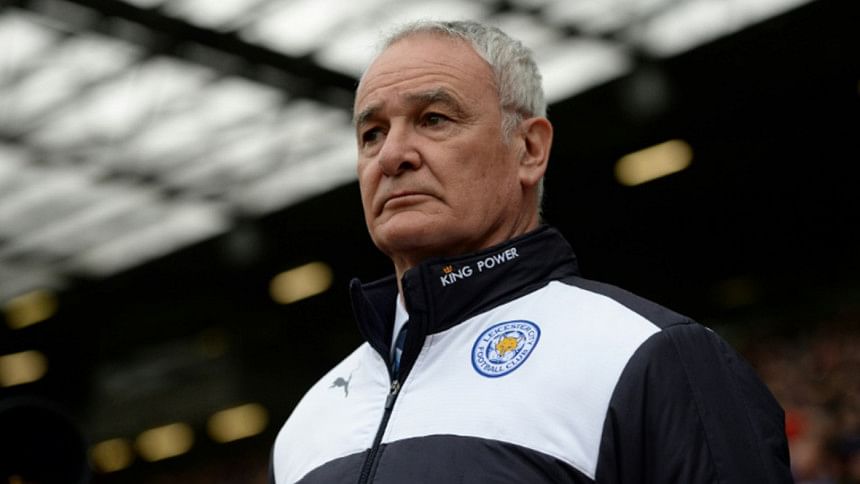 Claudio Ranieri admitted his dream had died after he was ruthlessly sacked as Leicester manager in a brutal move that brought the wrath of the football world down on the troubled champions' Thai owners.

Ranieri was axed barely two weeks after the owners gave him their "unwavering support" despite disastrous results that have left Leicester just one point above the relegation zone.

Leading Premier League bosses including Jose Mourinho and Jurgen Klopp expressed dismay at the move and backed Ranieri, who only last month was named FIFA's coach of the year for scripting one of the most unbelievable stories in football.

British media also aimed whithering criticism at Leicester's Thai owners, King Power, who said they had no choice but to oust Ranieri.

The owners were "snakes", "brutal", "cruel", commentators said amid reports Ranieri had lost the backing of senior players over his tactical tinkering.

- 'My dream died' -

The popular 65-year-old Italian admitted the decision was a huge blow as he had dreamt of staying in charge of Leicester for the rest of his career.

"Yesterday my dream died," Ranieri said.

"After the euphoria of last season and being crowned Premier League champions all I dreamt of was staying with Leicester City, the club I love, for always. Sadly this was not to be."

Despite the pain of his abrupt exit, Ranieri was determined not to sound a bitter note.

"The adventure was amazing and will live with me forever," he added.

"My heartfelt thanks to everybody at the club, all the players, the staff, everybody who was there and was part of what we achieved.

"It was a time of wonderfulness and happiness that I will never forget. It's been a pleasure and an honour to be a champion with all of you."

Mourinho sympathised with Ranieri after being axed by Chelsea last season following a rift with star players and the Manchester United boss turned up for his press conference on Friday with the initials CR on his training gear in tribute to the Italian.

"It is my little homage to somebody that wrote the most beautiful history of the Premier League," Mourinho said.

"Somebody that probably deserves the Leicester stadium to be named 'Claudio Ranieri' -- and he is sacked."

Liverpool manager Klopp was baffled by the decision, describing it as a seismic shock on the same level as Brexit and Donald Trump's election as US president.

"For me there have been a few strange decisions in 16/17: Brexit, Trump, Ranieri. Do I have to understand it all the time -- obviously not. I have no idea why Leicester did this," he told reporters on Friday.

"He is a really special person in this business, a really nice guy."

Chelsea chief Antonio Conte, a compatriot and close friend of Ranieri, said: "I'm very, very sad. He's a really good man. For sure I'll call him."

Former Leicester and England striker Gary Lineker, now a television pundit, added: "I shed a tear last night -- I shed a tear for Claudio, I shed a tear for football and I shed a tear for my club."

But Leicester insisted they had to act to save the club from the threat of an unprecedented relegation one year after winning the title.

Leicester have won just five of their 25 league games this term and are yet to score a league goal in 2017, having also been knocked out of the FA Cup by third-tier Millwall.

- 'Hurt and frustrated' -

Relegation could cost Leicester more than £100 million (118 million euros, $125 million).

Chairman Vichai Srivaddhanaprabha, who bought the club seven years ago, went onto Instagram to defend his actions.

"We have done our best as a management," he said in a statement before closing his account on the site. "We do not have only one problem to solve but there are a million things to do to make our club survive."

Assistant manager Craig Shakespeare and Mike Stowell will take caretaker charge ahead of Monday's match against Liverpool.

Amid reports England striker Jamie Vardy, who has failed to recapture the prolific form that fired Leicester to the title, and Danish goalkeeper Kasper Schmeichel were among the players most unhappy with Ranieri, it was notable that the Foxes squad didn't take to social media to support their departed boss.

However, when Shakespeare faced the media on Friday, he slammed claims key players had told the owners the club would be relegated if Ranieri stayed.

"I'm not aware of any senior players going to the owners so that's news to me," he said.

"They are very hurt and very frustrated."

Former Manchester City boss Roberto Mancini, who had a brief spell as a Leicester player in 2001, was among names mentioned as a possible successor.

Guus Hiddink, who helped arrest Chelsea's decline last season, and Republic of Ireland manager Martin O'Neill are also possible candidates.