Mushfiqur more frustrated than Virat Kohli
Bangladesh Test captain Mushfiqur Rahim and his counterpart India's Virat Kohli were literally on the same page as far as frustration is concerned, while speaking at the post-match briefing of the drawn Test match at Fatullah.
Mushfiqur Rahim was unusually bold and blunt while sharing his thoughts on Bangladesh's overall performance in the rain-affected Test match.
"It's a big crime when a batsman gets out after scoring 30 or 40 runs on this kind of a wicket. It gets difficult," said Mushfiqur in reproach.
He was disappointed in not avoiding the follow-on, and felt the batsmen got themselves out with bad decisions on their part.
India captain Virat Kohli was terribly frustrated with the game getting disrupted so frequently by rain.
He proposed the idea of a reserve day for Test matches, to give a team a fair chance to compete for three sessions and compensate for the loss of play.
 "…the team that deserves to win doesn't get a win. So yes, there might be a thought there. It's a good suggestion actually. " said Virat Kohli in response to a question about his idea during the post-match briefing.
"You might want to add another day seeing the situation of the game. If there is a possible result, there is no harm in giving the team that's winning a fair chance to compete for three sessions." the Indian captain added.
On a positive note, Virat Kohli praised his off-spinners Ravichandran Ashwin and Harbhajan Singh for bowling beautifully in tandem and their intensity during Bangladesh's first innings.
Ashwin, registered his first five-wicket haul outside India. Harbhajan Singh captured three good wickets in his comeback Test match, together routing the hosts for 256 in 65.5 overs.
"Watching them bowl together in a pair was really exciting as a captain. And I think both of them enjoyed bowling together as well - if one put pressure, the other took a wicket and vice-versa." Kohli said.
In contrast to Virat's delight, Bangladesh captain Mushfiqur was unable to hide his frustration about the performance of his bowlers during the rain-curtailed Test match.
Mushfiqur admitted that the bowlers were inconsistent with their line and length, which made it extremely difficult for him to set a field.
"In countries like Australia and England by the time a bowler comes to this level, he is expected to be able to tell the captain what his plan is or how he wants to set up a batsman so that the captain can set a field. We have a big gap in that area. Bowling on either side of the wicket doesn't help," said Mushfiqur.
Tigers captain raised an important point here. His bowlers do not apply their cricketing acumen enough to work out a dismissal.
Bowling good overs on a consistent basis to bring about a wicket was sadly missing for Bangladesh during the Test against India.
When the Indian batters went for quick runs, Bangladesh's slow bowlers were able to effect breakthroughs, but the damage was done by then.
Mushfiq had reasons to be upset with his bowlers, considering India's healthy run-rate throughout their first innings.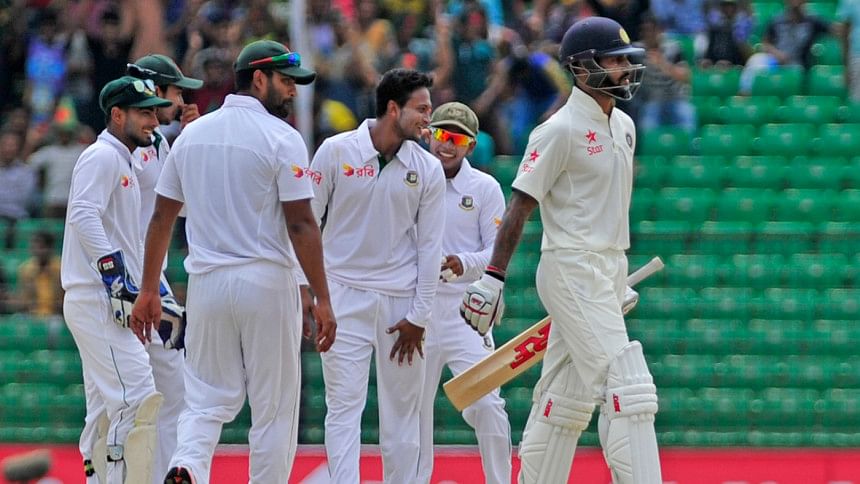 Jubair Hossain gave nearly six runs an over in 15 overs. Shakib Al Hasan and Taijul Islam both gave over four runs per over in their spells of total 44.3 overs. Mohammad Shahid also conceded four runs per over in 22 overs with the ball.
Mushfiqur Rahim was visibly and verbally frustrated while explaining Bangladesh's bowling woes in Test matches for another time in his career.
Indian captain Virat Kohli felt the weather denied him a possible victory, after all Bangladesh were forced to follow-on after being dismissed in 65 overs.
Bangladesh skipper Mushfiqur was less pleased than his Indian counterpart. He expressed the problems haunting Bangladesh in Test cricket for quite some time now.
He was honest and helpless at the same time. A captain is only as good as his bowlers.