Sabalenka wants shield from 'hate' after Azarenka booing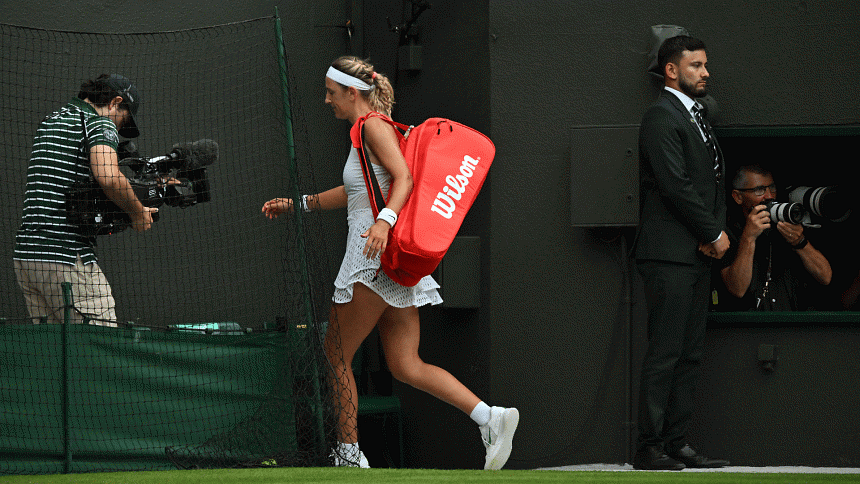 Women's tennis chiefs on Monday pleaded with spectators to show "understanding and respect" when Ukraine players refuse to shake hands with Russian and Belarusian opponents in protest at the ongoing war in their country.
The WTA, which runs the women's game, became the first governing body to acknowledge demands that they publically explain the reasons for the stance.
Earlier on Monday, Aryna Sabalenka backed Elina Svitolina's call for officials to respond to help shield players from "so much hate".
Victoria Azarenka, from Belarus, was booed off court following her defeat by Ukraine's Svitolina at Wimbledon on Sunday.
As has become common, Svitolina did not shake hands with Azarenka in protest over Russia's invasion of Ukraine. Belarus is a key military ally of Moscow.
Azarenka, who held her hand up in the direction of Svitolina, seemingly in a gesture of respect, left the court to a chorus of boos from some sections of the crowd.
The two-time Australian Open champion said her treatment "wasn't fair".
"I thought it was a great tennis match," she added.
"If people are going to be focusing only on handshakes or the crowd, quite drunk crowd, booing in the end, that's a shame."
Svitolina and her fellow Ukraine players all refused to shake hands with Russians and Belarusians at the recent French Open.
She called on the sport's governing bodies to explain the position of Ukraine players.
"I don't know if it's maybe not clear for people, some people not really knowing what is happening," she said.
"So I think this is the right (thing) to do."
Belarusian second seed Sabalenka, who beat Russia's Ekaterina Alexandrova on Monday to reach the quarter-finals, backed Svitolina's call.
"As Elina said, I think someone has to come out on social media with the announcement that there is not going to be a handshake so players will not leave the court with so much hate," she said.
"It would be good for the crowd to actually know what's going on. There is a reason behind no handshake."
Hours later the WTA, describing the war as "reprehensible", said they respected the position of the Ukrainian players as it is a "personal decision".
"We have some of the best fans in the world and are grateful for their passion and dedication, and we thank them for their understanding and respect for the athletes," they said in a statement.
Men's third seed Daniil Medvedev said it was a "pity" that Azarenka was booed.
The Russian added: "I think the people didn't know the story behind it, and that's why it happened."
Personal decision
All England Club chief executive Sally Bolton said Wimbledon had no plans to issue a statement.
"Historically in tennis the decision on how a player reacts at the end of a match is entirely a personal decision for them and I think we don't really want to start mandating what happens," she said.
"I think we have an incredibly knowledgeable audience at Wimbledon and I think in most part they would understand what was happening."
She admitted it is impossible to control the crowd, calling for the sporting action to be centre stage.
There are four players in the quarter-finals at Wimbledon who are representing Russia or Belarus, a year after athletes from the two nations were banned by the All England Club.
Bolton was asked how tournament organisers would feel about handing the trophy to a player from one of the two nations.
"When we made the decision earlier this year to admit Russians and Belarusians we thought really carefully about all of those things and having made the decision to admit them, we are comfortable about how that plays out," she said.