Djokovic reclaims top spot in ATP rankings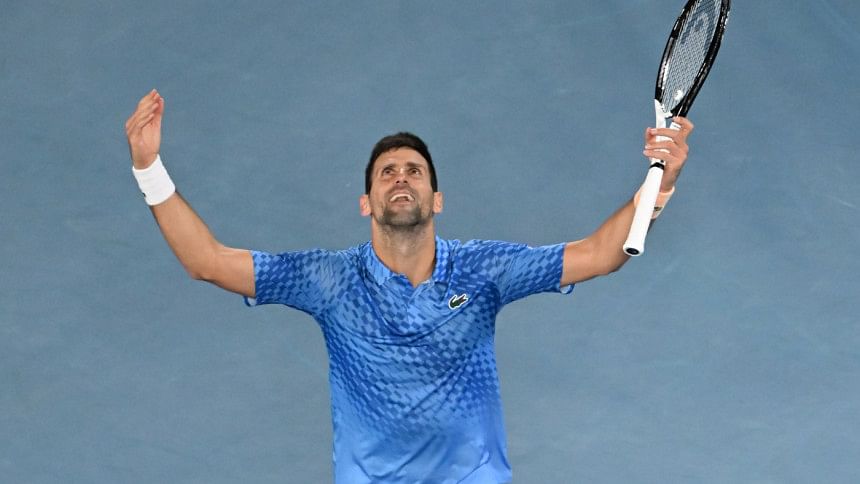 Novak Djokovic reclaimed top spot in the ATP rankings released on Monday after winning his 22nd Grand Slam title at the Australian Open.
The 35-year-old Serbian rose four places to dislodge Spain's Carlos Alcaraz, who missed the tournament through injury and dropped to second.
Djokovic's 10th Australian Open title means he is world number one for the 374th week since July 2011.
Greece's Stefanos Tsitsipas, who lost to Djokovic in straight sets in Sunday's final in Melbourne, overtook Norwegian Casper Ruud in third place, matching a career-best ranking he first achieved in August 2021.
Andrey Rublev of Russia, dominated by Djokovic in the quarter-finals, climbed to a career-best position of fifth.
The shock elimination of Djokovic's long-time rival Rafael Nadal in the second round saw the Spaniard drop four places to sixth.
Karen Khachanov's run to the semi-finals in Melbourne propelled the Russian up seven places to 13th.
Tommy Paul of the United States, who also reached the final four, broke into the top 20 for the first time as he soared up the rankings by 16 places to 19th.
Final rankings (Players representing Russia and Belarus are banned from competing under the name or flag of their countries):
1. Novak Djokovic (SRB) 7070 (+4)
2. Carlos Alcaraz (ESP) 6730 (-1)
3. Stefanos Tsitsipas (GRE) 6195 (+1)
4. Casper Ruud (NOR) 5765 (-1)
5. Andrey Rublev 4200 (+1)
6. Rafael Nadal (ESP) 3815 (-4)
7. Felix Auger-Aliassime (CAN) 3715
8. Taylor Fritz (USA) 3410 (+1)
9. Holger Rune (DEN) 3046 (+1)
10. Hubert Hurkacz (POL) 2995 (+1)
11. Cameron Norrie (GBR) 2760 (+1)
12. Daniil Medvedev 2750 (-4)
13. Karen Khachanov 2515 (+7)
14. Alexander Zverev (GER) 2425 (-1)
15. Frances Tiafoe (USA) 2305 (+2)
16. Pablo Carreno Busta (ESP) 2285 (-1)
17. Jannik Sinner (ITA) 2195 (-1)
18. Lorenzo Musetti (ITA) 1925 (+1)
19. Tommy Paul (USA) 1835 (+16)
20. Nick Kyrgios (AUS) 1825 (+1)