Djokovic may have settled the GOAT debate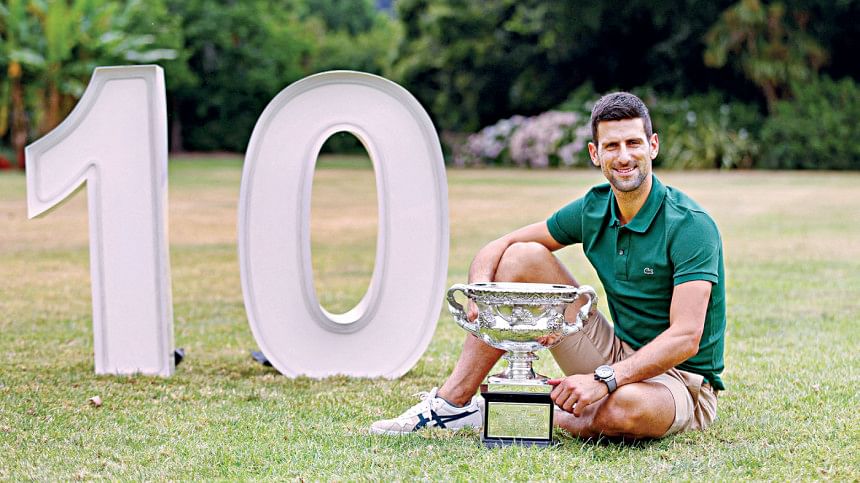 A triumphant Novak Djokovic paraded the Australian Open trophy around the gardens of Melbourne's Government House on Monday, his 10th title having added another notch in the plus column for those who argue he is the Greatest Of All Time (GOAT).
For some, the Serb settled the GOAT debate with his record-extending 10th Australian Open crown.
Certainly his vanquished opponent on Rod Laver Arena thinks so.
'He's the greatest that has ever held a tennis racquet, for sure,' said Stefanos Tsitsipas after losing 6-3, 7-6 (7/4), 7-6 (7/5).
It seems inevitable that Djokovic, who returned to world number one with his dominant victory in Sunday's final, will win more Slams.
At 35 he is a year younger than great rival Nadal and except for hamstring trouble early on in Melbourne, he appears to be in excellent physical shape.
In contrast, Nadal's battered body broke down again at the Australian Open and he limped out with defeat in the second round, his title defence over and the Spaniard in pain with a hip injury.
Roger Federer, the third of the 'Big Three' who have dominated men's tennis for the past 15 years, retired last year with 20 Grand Slam titles. He sent his congratulations to Djokovic on Instagram - "Incredible effort, again!" - but Nadal was back in Spain being treated for the latest in a series of injuries that have blighted his career.
Federer will always be the 'people's champion' in the eyes of many because of the graceful way he played, but it is Djokovic who looks primed to pull away with the record number of men's major crowns.
Djokovic seems to thrive on pain and feed off adversity.
Two years ago he won in Australia despite tearing stomach muscles, this year it was a hamstring that did not allow him to practise between matches.
If not for Djokovic's vaccine status, which saw him deported from Australia a year ago and prevented him competing at the US Open, he may well have already been on 23 or 24 Slam wins.
"Haha, I told you. We created a monster... Sat on my couch and enjoyed the entire show. Soak it all in," Nick Kyrgios, beaten by Djokovic in the Wimbledon final last year, tweeted on Sunday.
Nadal, at 36, may be able to recover from his latest injury and even find the will to achieve another triumph on the clay of Roland Garros in May. Nadal is a new dad and as the calls grow from family and friends to stop punishing his body, he could bow out sooner rather than later.
There is a theory that he could call it quits at this year's French Open.
Djokovic's coach, Goran Ivanisevic, believes there are a few more years at the top -- and more Slams -- to come.
"Definitely two, three more years," Ivanisevic told reporters after Sunday's final.
"The way he's taking care of his body, the way he approaches everything, the food, it's amazing. It's unbelievable the level."
Some tennis fans will always take convincing to accept Djokovic as the greatest, despite what the number of Grand Slam titles says.
He polarises opinion, whereas Federer and Nadal are universally loved for how they are on and off the court.
There are those who see something too calculating in the intense, brooding Djokovic.
Controversy is never far away.
Last year it was his Covid vaccination status. This year it was his father Srdjan posing with a fan holding a Russian flag featuring Vladimir Putin's face.
But Djokovic supporters say those traits are what have driven him to glory.
Djokovic clearly felt impacted by the controversies this year and talked honestly about them, whereas before he may have just batted questions away.
It was one of the reasons an emotional Djokovic called Sunday's title 'the biggest victory in my life'.
The Grand Slam numbers don't lie. But gaining universal acceptance from tennis fans as 'the greatest' may be an even bigger achievement.