Djokovic father filmed with fans holding Russian flags at Australian Open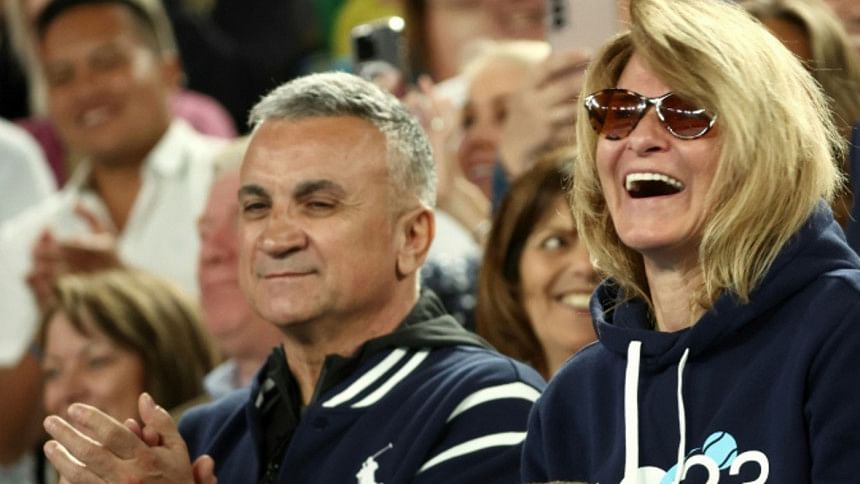 Novak Djokovic's father has been filmed posing with fans brandishing banned Russian flags at the Australian Open, including one featuring Vladimir Putin, in scenes Ukraine's ambassador Thursday slammed as "a disgrace".
The Serbian star Djokovic had just booked his place in the tournament semi-final with a straight-sets thumping of Russian opponent Andrey Rublev at Rod Laver Arena on Wednesday night.
After the match a group of fans unfurled Russian flags -- which are banned at Melbourne Park -- near the stadium and chanted pro-Russian and pro-Putin slogans.
Tennis Australia said four people "revealed inappropriate flags and symbols and threatened security guards". Police were called and they were ejected from Melbourne Park.
A video later posted to a pro-Russian Australian YouTube account showed Djokovic's father Srdjan posing with a man holding a Russian flag bearing President Putin's image.
The man with the flag is wearing a black T-shirt with a "Z" on it -- a symbol supporting Russia's invasion of Ukraine.
The video is captioned: "Novak Djokovic's father makes bold political statement."
Serbian tennis reporters confirmed it was Djokovic's father and the Melbourne Age newspaper reported he said in Serbian: "Long live Russia."
Spectators are banned from having Russian or Belarusian flags at the Grand Slam after Ukraine's ambassador to Australia and New Zealand, Vasyl Myroshnychenko, demanded action when they were seen among the crowd last week.
At the time, Russia's embassy in Australia hit back, calling it "another example of unacceptable politicisation of sports".
Myroshnychenko said on Twitter on Thursday that the latest incident was shameful.
"It's a full package. Among the Serbian flags, there is: a Russian flag, Putin, Z-symbol, so-called Donetsk People's Republic flag," he tweeted with a link to the video.
"It's such a disgrace... @TennisAustralia @AustralianOpen."
Ukrainian player Lesia Tsurenko, who was defeated in the Australian Open first round, tweeted: "No words to say."
Another man was photographed by AFP inside the stadium during Djokovic's match with a pro-war "Z" symbol T-shirt.
Ukrainian former player Alex Dolgopolov, who is currently fighting in the war, asked on Twitter: "This guy will get banned for life, at least for all Australian events, right? @AustralianOpen."